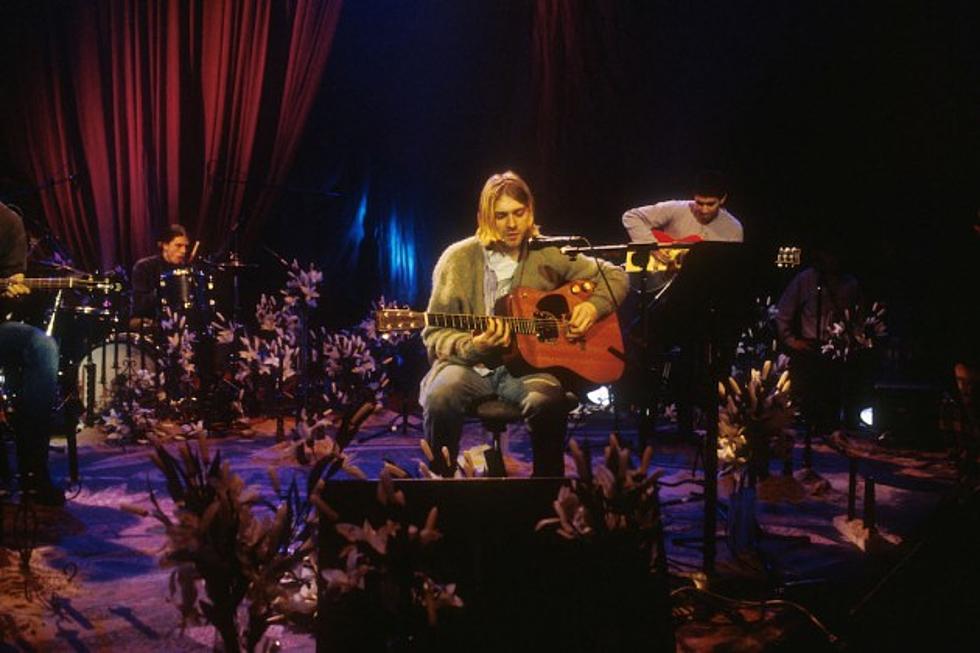 Dave Grohl: Nirvana's 'MTV Unplugged' Set 'Was Supposed To Be a Disaster'
Frank Micelotta, Getty Images
On Nov. 18, 1993, Nirvana's 'MTV Unplugged' was taped in front of a studio audience in New York City. The gig is arguably the most recognized of Nirvana's live performances and one of the most captivating. The live to tape show aired Dec. 16 on MTV, and less than four months later singer Kurt Cobain would be found dead at his home.
In a recent interview with American Way magazine, Foo Fighters frontman Dave Grohl reflected on his days as Nirvana's drummer, specifically talking about the two days of rehearsals leading up to the remarkable performance. Those rehearsals did not go smoothly and everyone on set, including the band, thought 'Unplugged' was going to be a failure.
Grohl explained, "That show was supposed to be a disaster. We hadn't rehearsed. We weren't used to playing acoustic. We did a few rehearsals and they were terrible. Everyone thought it was horrible. Even the people from MTV thought it was horrible. Then we sat down and the cameras started rolling and something clicked. It became one of the band's most memorable performances."
Back in 2013, MTV celebrated the 20th anniversary of the unplugged performance by releasing behind-the-scenes clips and interviews from those involved. One of them was from producer Alex Coletti, who revealed that Cobain almost banned Grohl from the performance, because of his heavy hitting on the drums.
Coletti explained, "Kurt wasn't happy with the way rehearsals were going; he didn't like the way Dave sounded playing drums with sticks … He's a heavy hitter, and the thing about 'Unplugged,' especially with rock bands, is if the drummer doesn't really, really get it under control and tries to play a rock show on a smaller kit, then it brings the show to a bad-sounding electric show instead of a good-sounding acoustic show."
With some quick thinking, Coletti sent a production assistant to a local music store and bought Grohl some wire brushes and sizzle sticks for his drum kit. Grohl was given his new gear under the guise of an early Christmas present, and went on to use the new music tools during the performance. As they say, the rest is history.
You Think You Know Nirvana?