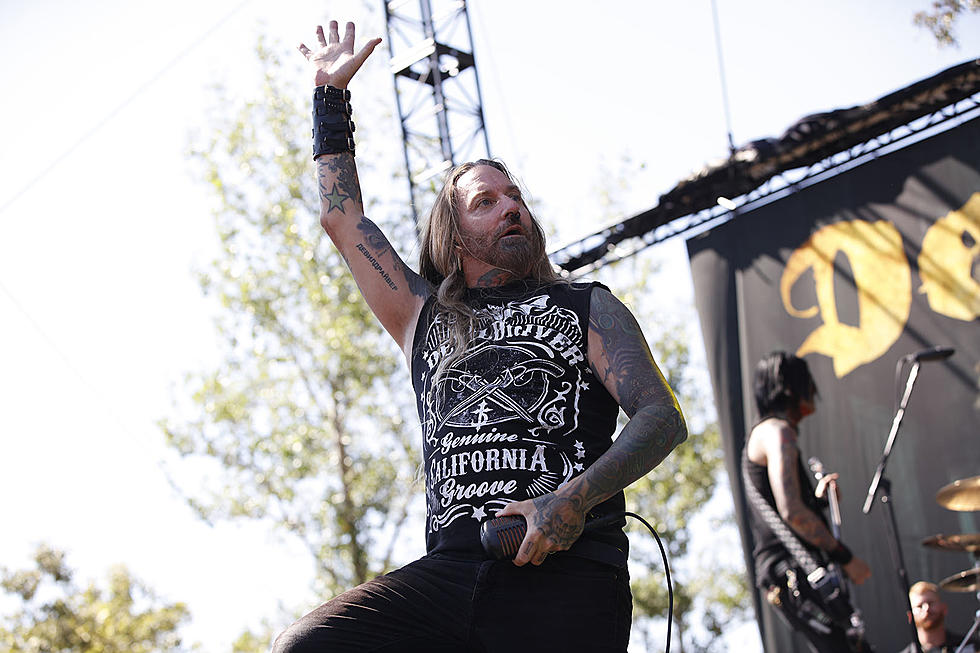 DevilDriver's Dez Fafara on Outlaw Country Covers Album: Metal Fans Will Connect With the Lyrics [Interview]
Alex Kluft, Loudwire
Dez Fafara was the latest guest on Full Metal Jackie's weekend radio program. The DevilDriver frontman elaborated on the band's forthcoming outlaw country covers album, which features over two dozen guest artists. He explains how metalheads who aren't country fans can connect with the music, his own personal connection with these songs and touched on why DevilDriver will begin to play Coal Chamber songs live. Check out the chat below.
Good how are you doing? Thanks for having me. I appreciate it.
Of course, great to hear your voice. Obviously a lot going on with you, as usual. DevilDriver are going to be releasing an outlaw country album next year. I know earlier we heard it was supposed to happen later this year, but it sounds like a logistical nightmare with all the different artists you have guesting on the record.
Absolutely, absolutely. So look, we were shooting for the end of this year at fall time. That's when we were just going to go in and do a cover record, outlaw country tunes, done our way, the way I always hear them, heavy as hell.
But then I thought maybe two or three guests with me, some really close friends. And what I did was I put the word out to about 30 and now almost 25 of them came back and said, "Yeah, we're in." So this thing has been incredible. This weekend alone I had Randy Blythe over from Lamb of God playing "Whiskey River" and "Ghost Riders in the Sky" with John Carter Cash on that song with me. We did it at the Cascade in Memphis. Next week I've got Chuck Billy coming down to the house, so he's been incredible and I cannot wait for people to hear this.
Dez, what makes outlaw country music a natural progression not only for you, but for metal music in general?
Well I think and you know fully well too, if you go to a metal concert you hear country. So the guys outside my bus that are sitting there having a barbecue before the show, I'm listening to them and they are listening to everything from Black Sabbath to Johnny Cash. And it's just a very natural progression. If you go on any tour bus in the United States, a metal tour bus, you are definitely going to hear outlaw country.
There is some kind of form of respect that artists that did their thing that weren't pop country, that did their thing in their own time and branded themselves as heavy artists. Just like heavy metal, blues and punk rock is very underground, those outlaw artists were very underground as well. So there is a very good mutual form of respect there. So it is a natural progression.
And I've always heard these songs, Jackie, like — heavy. I've always heard them very heavy in my head, so when I hear something like "Whiskey River," I don't hear it like [sings cheerfully], I hear it like [sings aggressively] and that's how we are doing them. So people are going to love this.
The emotion of outlaw country reflects the hardship that many people have gone through in their lives and so does metal. Do you remember when you consciously made the connection between the hardships expressed in music and your own life?
Well I remember my parents listening to a lot of country music growing up and the words were always very poignant to me. I didn't know if they'd have the relevance that they did later on in life for myself. I come from an abusive household. I ran away from home when I was younger, I did time in prison and now when I listen back to those things I obviously think to myself, "Okay, this is how people connect."
But the words, the lyrics of outlaw country... I want you to find anybody that can deliver a heavier lyric than, "I shot a man in Reno just to watch him die," by Johnny Cash. You're not going to find me another heavier lyric like that either it be in heavy metal or punk rock. And those lyrics are so poignant. It's one of the things that's driving this record. So for the few people, or the people in metal who are not familiar with outlaw country or refuse to listen to it because it has a country tag, these lyrics are so poignant. And going in and doing these heavy — people are now going to come to these songs, be able to hear them the way that I heard them in my own head and have a newfound love for maybe a different style of music along the way.
There are a few people making guest appearances on the new album. Danzig already overlaps his catalog with the outlaw country, but what do you hear and see in Lee Ving from Fear and Randy from Lamb of God that makes them suited for it?
I mean these are outlaw artists in their own respect. Outlaw artists keep themselves in their own genre. They do their things their own way and I think artists like Lee Ving — certainly a punk rock icon — has done things his own way. Randy Blythe has been doing things his own way. People not moving up in order to get to a pop culture are doing their art and if it affects people along the way. So this is very important to me to have artists who not only feel what we're doing, but can relate to the song titles that they are doing. For instance, when I called Lee Ving from Fear, which, like I said, is one of my childhood idols, he immediately on the phone started singing "The Ride" to me, which is a country song and one of the ones we're covering.
He didn't just sing the chorus and verse, he sang the whole song to me. So, knowing that these artists also look at this music as being outlaw music that's relatable to them, the lyrics are relatable to them — that's the people I wanted to find most to put this record out and yeah, there's a lot of people coming up for it. At this point I think there's a lot of people that I haven't mentioned that I won't mention until the time comes.
But it's fantastic to see people in not only the outlaw country like John Carter Cash or Danny Johnson, tons of — sold millions of records — they love metal. I remember going to the Cash cabin and the first thing that John Carter Cash did is sit me down and talk to me about how Johnny Cash, his father, took him to meet Ozzy and how he went backstage and got to meet Ozzy. His love of metal, a guy like Jamey Johnson — he wears a Lamb of God shirt on stage and — this is a guy regarded as an outlaw country artist that is now selling records.
It's important to get the people that are on this thing to actually feel it. So we've got people from the outlaw country genre. We've got people from the metal genres. We've got people from the punk rock genre. And all these people that are onboard are feeling what we're doing because they've got a link to that music in some form or another as well.
Coal Chamber and DevilDriver have always been distinct, but you've decided to start playing both bands' songs with DevilDriver. What made you finally feel comfortable about integrating your catalog onstage?
This really didn't come from me. It came from a phone call at 11:30 at night, my phone rang from a blocked number — I usually don't pick those up, but I did. It was Glenn Danzig and Glenn has been a longtime friend of mine since the first tour I've ever had.
He's a guy I respect greatly in the industry for a very long time and doing things his own way. What he said to me, was he said, "Put me on speakerphone and make sure your wife Anastasia is listening. I thought, 'Okay here we go. I don't know what is going on here.' He asked us to be on Blackest of the Black. And then he went into saying, "Why have you been running from the music that made you? When I left the Misfits, when I was with Danzig, I was doing Samhain songs, I was doing Misfits songs and when Rob Zombie left White Zombie, he was doing White Zombie songs. So why have you waited this long?"
And I told him I thought it would be better when the band finally got back together, if we ever did, that I kept that to myself and I think after releasing Rivals two years ago, it came out to critical acclaim, going around the world with those guys — most of the shows were sold out. I realized that a lot of people wanted to hear that music.
And also, at the end of that stint, I realized I don't think we're gonna tour ever again together and probably never going to make music together again. So, now do I just put those songs down for the rest of my life, the songs that I wrote? The songs that made me? The songs that people want to hear? No. I go do them, much like I'm doing the country thing, I do them how I've always heard them, which is two guitars, double bass kick drum. I'm hearing those songs even heavier and tighter than they are.
So it made me embrace it and say, "I'm not gonna run from this anymore." So will we do it every tour? Probably not. There's going to be select shows, select place where we'll do three or four Coal Chamber songs. They've got to be the right ones. But once you hear "Loco" with two guitars and double kick and you hear it tight, you're going to understand why I'm doing it.
Covering outlaw country songs with guest musicians from other bands can only widen your perspective. How do you think making this album will affect the way you think about music when you start writing new DevilDriver songs?
Well, we're already far along for the DevilDriver process. Well into 15 to 20 songs. I don't know if it's going to affect the way we write. We found a real great way of writing on Trust No One and it shows too on that record. It came out — our highest debut ever, etc. Around the globe it was critically acclaimed. So the way that we've found to write is just being augmented slightly on what we're learning on how to do this cover thing. But the cover record is something that was suppose to be standalone — an in-between record, something to put out that was fun and cool. Now it's coming to a point where there's so many people on it, it's just an absolute monster of a thing that we're going to move forward with that and we're going come out with another full length.
Thanks to Dez Fafara for the interview. While the wait for this highly-anticipated covers album continues, fans can scoop up DevilDriver's latest album, 'Trust No One' at iTunes and Amazon. Stay up to date with everything the band is doing by following them on Facebook and find out where you can hear Full Metal Jackie's weekend show at this location.
Best Metal Albums of 2017 (So Far)
10 Awesome Covers That Sound Nothing Like the Original