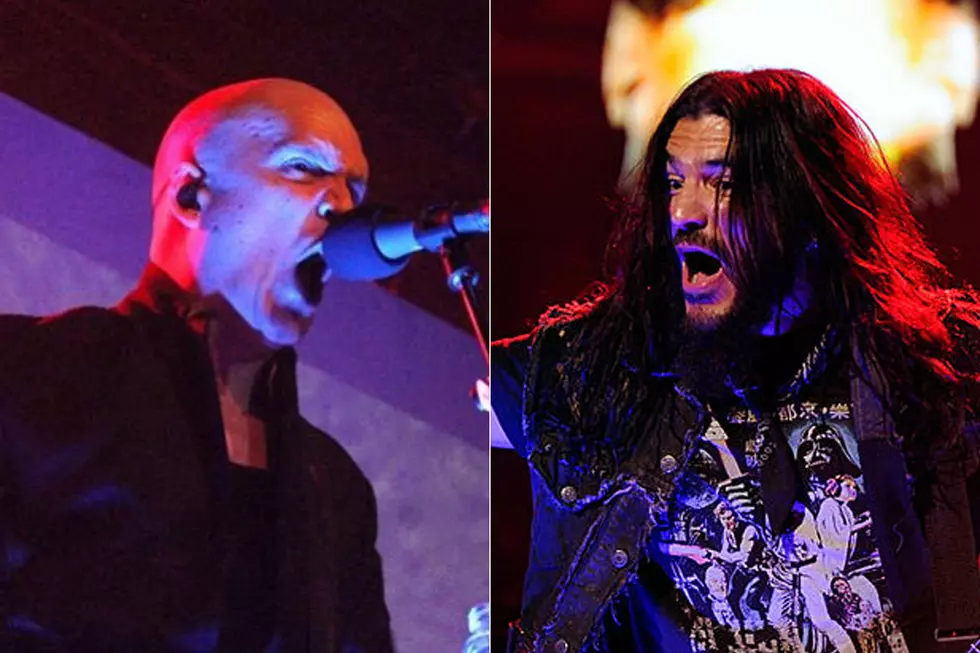 Devin Townsend Downplays Machine Head Riff Similarities, Robb Flynn Responds
Liz Ramanand, Loudwire / Frazer Harrison, Getty Images
Machine Head just dropped new music late last week with a track called "Beyond the Pale" being the first song to surface from their Catharsis album. But keen-eared fans have been calling out the group, feeling that the opening riff of the song sounded a little too close to the Strapping Young Lad track "Love?" While that might have sparked some early outrage, Strapping Young Lad's Devin Townsend has quickly squashed any further debate, downplaying the similarities.
In a series of tweets, Townsend writes, "People asking me about riff similarities: I don't have an opinion really. I've written riffs my whole career that sound like something else. I've used whole themes from other albums, movies or soundtracks. Art is a collage of your experiences, you taking clippings and reassemble."
He goes on to add, "Here's the best part about comparison of MH new song to 'Love' I basically ripped off the SYL chorus from this song," then pointing to Yes' "City of Love." Townsend concludes, "I met Jon Anderson at one point and told him. He seemed to find it funny." See his tweets below.
This is the second time in the past year that Townsend fans have found similarities in another artist's new work, with Deep Purple's InFinite album cover and title closely mirroring Townsend's own Infinity, and in that case as well, Hevy Devy downplayed it, stating that it was "not a big deal."
Meanwhile, Machine Head's Robb Flynn saw Townsend's comments and thanked the musician for being so cool over the situation. "Shout out to Devin Townsend for being so cool," stated Flynn. "The Riff Police pulled me over, I got a $300 infraction for that one!! Like Dimebag always used to tell me 'we're all just sharing riffs man.' Got a lot of respect for you Devin, super talented musician, amazing producer (as the palaces burn production crushes all!) And while I would proudly admit that I stole a Riff from you... Was just a happy accident. Riff on brother!!"
Machine Head's Catharsis album arrives Jan. 26. Look for the band returning to the road next year with plenty of shows supporting the album.
Watch Devin Townsend Play 'Wikipedia: Fact or Fiction?'
Machine Head Albums Ranked