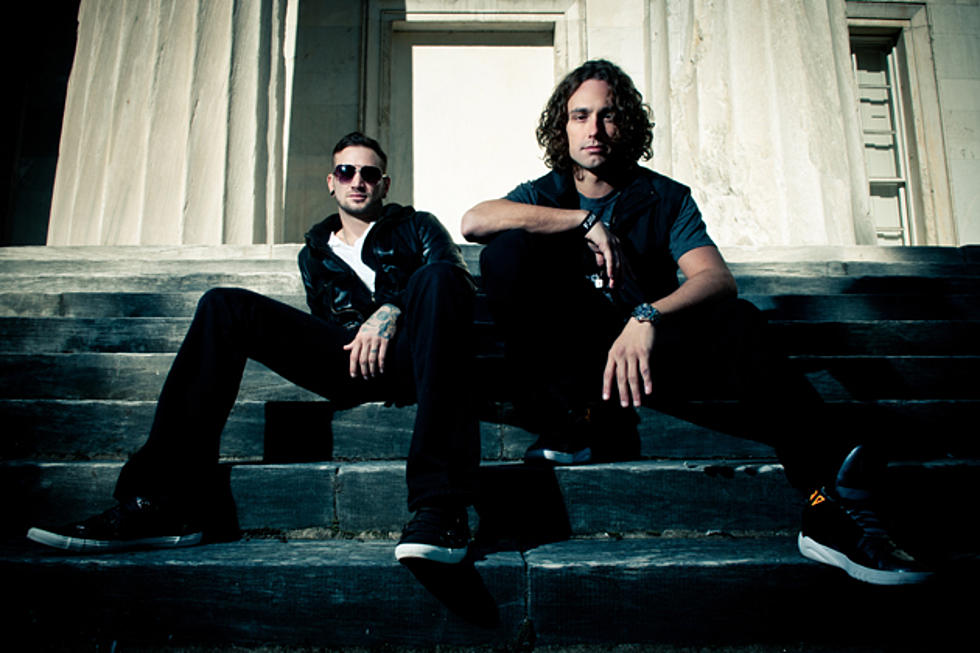 Devour the Day's Joey 'Chicago' Walser Talks Band Origins, 'Good Man' Single + More
ABC PR / Photo: Jeff Chanault
Egypt Central are no more, but rising out of the ashes of that band is the new outfit Devour the Day. The group was launched by two of Egypt Central's primary songwriters -- Joey "Chicago" Walser and Blake Allison -- in the wake of the band's split and the duo used the opportunity to expand their musical horizons with an album that shows a broader variety of styles.
Walser, who plays guitar and bass and lends backing vocals on the band's just released debut album,'Time & Pressure,' recently spoke with Loudwire about the group's origins, their breakout single 'Good Man' and the evolution of their live lineup among other topics. Check out our interview below:
Joey, this record's got such a great flow. You guys rock it out early then decompress and chill it out with a bluesier finish. It's just a true full album listening experience.
Thanks and especially from you guys at Loudwire, man, that's great to hear.
I guess to start out, could you take me into the seeds of this project? What was the jumping off point from Egypt Central?
Right around the turn to 2012, as 2011 was ending and into early January we started to get whispers from the camp that [frontman] John [Falls] was no longer going to continue with the band. Some of which was personal reasons and others are just unknown to this day, but so basically by about March, John told us that he was done.
Blake [Allison] and I had been writing pretty much 99 percent of the music for the last eight or nine years with Egypt Central. We had been writing it and demoing out the songs with Blake and I singing and then John would come in and take over what Blake and I were doing. But being in Egypt Central and obviously we were writing for someone else, there was a different approach for songs concept wise and both lyrically.
We loved Egypt Central and especially the fans and friends we made out on the road and we can never take away from how important that was, but in that moment, Blake and I had always felt like Egypt Central had always stood for 'Never give up and die trying and regardless of your tragedy and circumstance, you can pick yourself up and get back on your feet.' But he and I felt like after ten years of proclaiming that, if we were to quit, it would make our lives hypocritical. So in that moment, even though it was very scary and intimidating, we pulled up our socks and went to work on writing new music without a clear idea of what it would sound like or who was doing what.
But Blake and I were writing at my house in Little Rock and Blake's an experience producer and engineer, so we were just creating organically and there was nothing keeping up from being who we wanted to be and we really found the sound that we felt was a true expansion of the music we were influenced by and also gave us the ability to go in a direction we would never go with Egypt Central. And then, in that, and really in the love of the music we were writing, we developed Devour the Day.
This album is very motivational and uplifting and gives you that swift kick in the ass when needed. Was that part of the goal?
Absolutely. Ultimately to be positive and as you said, uplifting, has always been our goal and our love of aggressive music, like you said, gives it that swift kick in the ass. But it's not me at any time or place telling people what to do. It's me lyrically putting myself in that group that needs the kick in the ass every time. As much as the music is for the people listening to it, it's also something that I relate very much to myself. I think it's also why we named the band Devour the Day, because it's this constant challenge and the idea that when you wake up and part of your business is called Devour the Day, you're responsible to do those things and approach that idea.
I think the overall idea of the songs is honesty. We want to get across and be more honest than it's ever been. Sometimes it's a little harsh, but the songs are definitely like a photograph or a picture of where you were at that time and there was definitely some anger that we were dealing with on this record, with the confusion of what happened with our other band and ten years of hard work and then the other side of just heartfelt sadness of one chapter ending and a new one beginning. I just feel like honesty is the thread that found its way all the way through.
It's intimidating and scary, but we feel so fulfilled with the artwork that we've revealed. There is no gimmick to it. It's just stories about the things we've been through in the last couple of years.
Getting into the record, 'Good Man' just has that raw, chunky guitar and bluesy stomp. What was the feeling like for you the first time you felt that beat coming back at you? You had to know you were onto something.
I did. I definitely felt it when I first started to lay the lyrical idea and there was a place for Blake to kind of come in and lend his musical arrangement power that he does. It was just cool lyrics. It was literally a hard song to write because I'm not a religious person and I was from a religious town where I felt like that stuff was shoved down my throat. And I wanted to paint a picture of someone who maybe doesn't believe in a God or believe in something, but when you come to this point in your life, if everyone is honest with themselves, everyone has, where you get to this place regardless of your belief system, you just are calling out to something. Something bigger than yourself or bigger than an understanding that you don't have.
You don't know. Am I the person I want to be? Can I be this person that I want to be? And I think along with a lot of our songs I wanted to start a conversation and challenge people to be honest with themselves and relate to people maybe feeling the same feeling because this is not a song that I'm feeling, 'Man, people are going to get this.' This is a song that I wrote because I was there in that moment, and I was, even without a belief system calling out to God or whoever is listening to give me direction. I think that's why it translates so well because it is a literal telling of where we were at that time.
You mentioned wanting to get a reaction out of it and start conversations. I know the song is fairly new still, but has that started happening?
Yeah, almost immediately. Especially with the religious connotation, you kind of have those obvious disputes that come up. Is this a Christian song? Is this an anti-Christian song? And I think the great thing about that conversation is does it really matter? Is this really a religious debate or is the song just about being a human being and the fact that we all feel broken at some time and if you're not real with yourself, you may stay stuck there.
But the vibe on this song has been so tremendous and we've been so blown away at the response, all the way from sales to YouTube hits, it's just grown everyday. It's just a huge blessing, it really is, cause we were terrified. Most bands worry about getting a chance the first time around, but what about the second time? There's a very small group of people who can make two bands work so we just feel like we're blessed.
And 'Handshakes to Fist Fights' is a definite standout on this record, as well. How did that song come about?
We started with this punk vibe, a real driving beat, and going back to some of the punk music we loved growing up -- stuff like Hot Water Music and early AFI. And I think in that feeling there's a sense of animosity or anxiousness that matched the vibe of the song as well and we got in there and just said, 'Let's make a list of all the stuff we've been through in the last 10 years. What could have stopped us?,' and then make an alternate statement that there's no way we're going to stop.
We're not going out like that and I love the way … It's very intentional, the incorrect English, I ain't going out like that, because it's definitely the idea of the blue collar man. And that's something that all of us grew up in. The Memphis street is still very much a part of us in Egypt Central and that idea is kind of like the core punk or the ghetto side of us that came out. It's one of my favorites to play as well. It's a really really good track.
I can see the album translating well live. Do you have a track you're really interested to see how it goes over with audiences?
I would say I have a special love for playing 'Respect.' It's so driving and it's so much harder than any of the music that we've ever made. And there's this love of metal that I have that people who listen to our quote unquote radio music would never anticipate that we listen to. I mean we love hardcore music and metal and we have that adrenaline rush and it's just a really fun song and I think people are just going to lose their mind. I'm really excited about that.
I think I saw where Egypt Central's Jeff James is playing with you guys along with Dustin from Bury Your Dead. Can you talk about how the live lineup of the band is coming along?
It's been really exciting. Today we're going into what would be the fourth of fifth rehearsal with the full band and Jeff is on guitar and Dustin from Bury Your Dead and Walls of Jericho. It's just been one of the most awesome feelings ever to be back in a room with just seasoned and disgusting musicians.
I want to be humble here, but it's a really great band. And I don't mean that in that we're so awesome and we're rock stars, no. I'm talking about the furthest from that. I'm talking about a group of musicians who just nerd out on music and talk about the history of music and ideas of how to do things all day. I feel I've just got a wonderful creative community in my band and we all get along really well and it just feels like a really bright future.
I know this is a new band, but with three Egypt Central members will you be playing any of the old material or are you starting completely fresh?
No … ultimately in the end we want to establish that this is a [new] project. This isn't a whim. It's a new band with a mission and a new ability to sound different than we did before and there's still aspects of Egypt Central in there. I think the fans, if you like Egypt Central and that is the core of the music you like, then you're still going to find that same rhythmic based groove rock in Devour the Day and maybe in the future, one day we'll do it nostalgically, but for right now we're really focusing on the music at hand. I don't think we want to cut out any new music for old music is what I'm saying.
And I have to ask about the Harlem Shake parody you guys did (click here to see it)? How much fun was that to film?
[Laughs] Oh man, that was great. Just the drinking and preparation to get ready for the video was just as good of a time. I've got to say our crew of guys walking around Wal-Mart trying on costumes had to be one of the scariest group of idiots ever walking around Wal-Mart.
But we got that all together and had a great time and I think we were pretty influenced by the Miami Heat video that they did and I said, 'We've got three days before this becomes old news, so let's just drop it." And it's been great. We got almost 20,000 views on that thing in the first week.
And I think it's just to show that as serious as we are on the record, we're the kind of guys that just still like to joke around a lot and don't give a s---. Much like the Foo Fighters, who are kind of serious, but when you watch their videos, it's nice to know that a band has a sense of humor. Sometimes in this genre, you get too stuck. Guys with chains and bandanas in a corner trying to look cool, and we're letting our fans know that hey, I'm just like you. We just have different jobs. But we can all get together and have a good time. And I think that's what that was about.
What's on the horizon for the band?
May 11 is our first show in Flint, Mich., at the Machine Shop that we're really excited about and then we're going to start to move, playing shows with Buckcherry and Red Line Chemistry into early June and then in early June we'll start a month-long run with Hinder and some shows with Sevendust after that, so there's just a lot of shows and you can go to DevourTheDay.com to find out where we're at cause we're going to continually be adding shows. Touring life has begun and we will be at a town near you very soon. That is our mission.
Our thanks to Devour the Day's Joey 'Chicago' Walser for the interview. The band's debut disc, 'Time & Pressure,' is out now and can be purchased here.