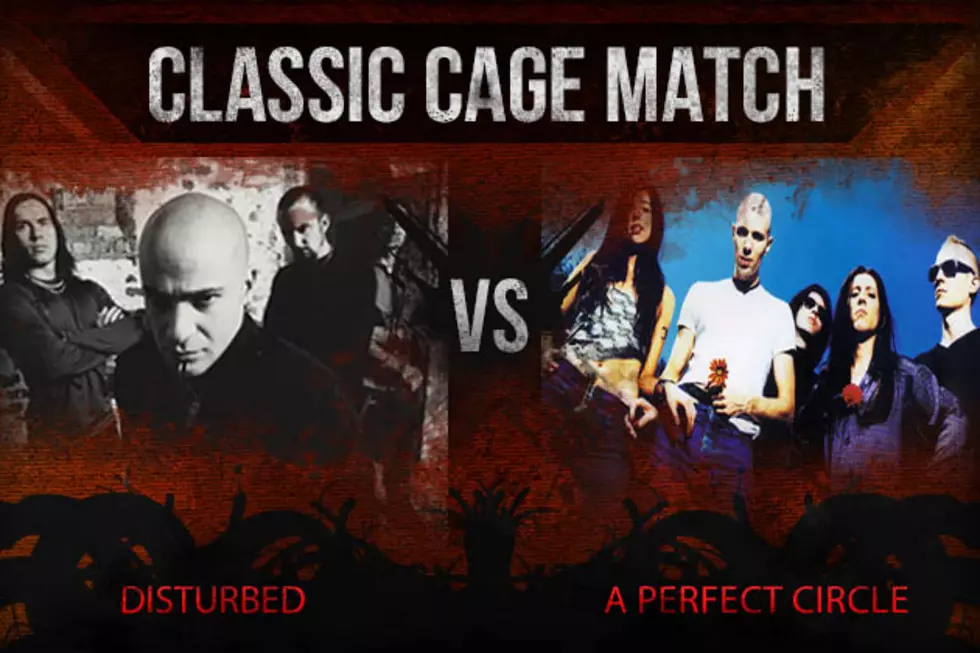 Disturbed vs. A Perfect Circle – Classic Cage Match
Giant / Virgin
It was a hotly contested battle all week long, but Disturbed's 'Stupify' overtook Godsmack's 'Awake' following a late-week rally to emerge victorious in the last Classic Cage Match. The hard rocking single from 2000 featuring Dan Donegan's driving riffs and David Draiman's rhythmically lyrical delivery has now taken two Classic Cage Match battles in hopes of making it to the Classic Cage Match Hall of Fame.
Their next opponent also broke out during the year 2000. While fans were familiar with Maynard James Keenan from Tool, the frontman teamed with guitarist Billy Howerdel and a stellar lineup to form A Perfect Circle. The band's highly successful hypnotic breakout 2000 single 'Judith' off their debut album 'Mer de Noms' now enters the Classic Cage Match to do battle against Disturbed.
Who will win? That's up to you. The winning band will advance to face a new opponent. So turn the volume all the way up to 11, listen to these classics once more and then vote for your favorite between Disturbed's 'Stupify' and A Perfect Circle's 'Judith.'
(This Cage Match will run until Friday, Jan. 31, at 2PM ET. Fans can vote once per hour! So come back and vote often to make sure your favorite song wins!)
A Perfect Circle, 'Judith'
Rules of Classic Cage Match:

Classic Cage Match songs must be at least 10 years old. Fans can vote once per hour for their favorite song. If a band remains the reigning champ for five straight cage matches, they are entered into the Loudwire Classic Cage Match Hall of Fame. With so many great songs out there, we have to give other bands a chance!