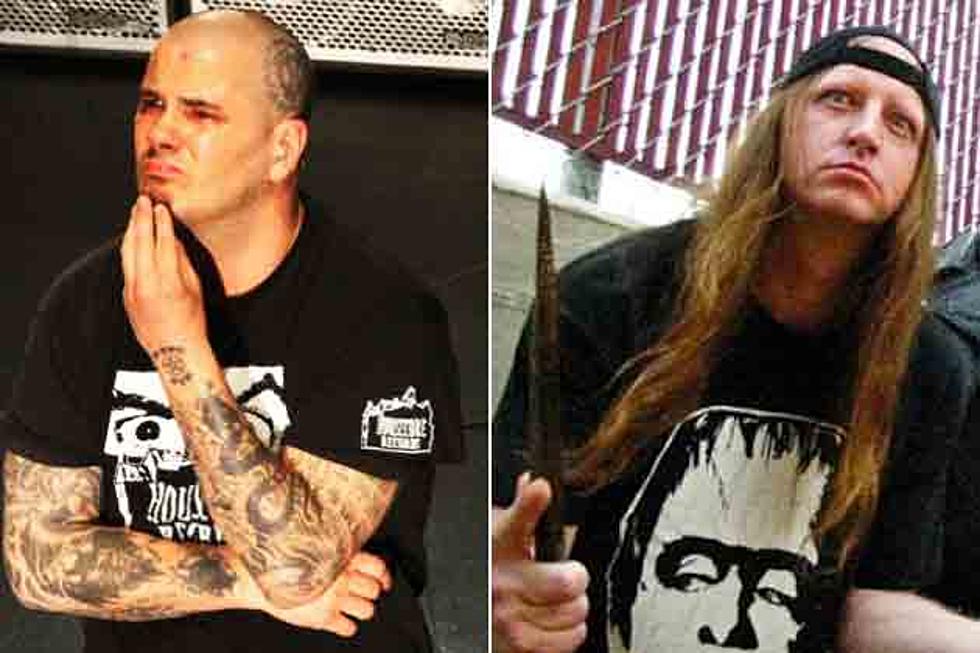 Down and Warbeast Dedicate Winter Tour to Late Rigor Mortis / Ministry Guitarist Mike Scaccia
Liz Ramanand, Loudwire / Housecore Records
The music world was shocked over the holidays when Rigor Mortis and Ministry guitarist Mike Scaccia died after collapsing onstage during a performance in Texas. The musician was performing with Rigor Mortis, which is fronted by singer Bruce Corbitt (picured right, above). The vocalist, who is returning to rock with Warbeast on tour this month, says both his band and the trek's headliners Down intend on dedicating the entire run to Scaccia's memory.
Corbitt stated after Scaccia's passing, "Mike Scaccia left this Earth doing what he loved to do. Tragically, the music world has lost an extremely talented, gifted and unique guitar virtuoso. His music and his legend will live on forever."
Meanwhile, Down singer Phil Anselmo came up with the idea for Warbeast to write some lyrics about Scaccia, with the end result being two new songs. One of the tracks is about Corbitt's late brother Jeff, while the other track was penned specifically about Scaccia. The two songs will eventually be released with a picture of Scaccia on one side and a picture of Jeff Corbitt on the other.
Meanwhile, Anselmo also offered his remembrances in a posting relayed by Corbitt. It reads:
I have traveled the world playing music, and I've been fortunate to play, with extremely talented guitarists, and to have seen living legends right in front of my eyes. But when it came down to extremities, I've known since 1987 who the fastest, most precise player on this planet was, and that was the one and only Mike Scaccia. The playing field is now even.
I can't put into words what it meant for me to be accepted into the Rigor Mortis horde back when I was the new guy in town, and playing in a rival band back in the late '80's. But we were kindred spirits, and Mike Scaccia's kindness helped that bonding process which I still cherish today. Underneath Mike's soft-spoken, quiet demeanor, there lived a monster of mythical size, unbridled passion, and a practitioner of inhuman feats that will never be replicated.
We called his picking hand, "The Hummingbird" because of its blinding speed and accuracy. But now, 'The Hummingbird' has flown.
Let his body of work speak for itself, as a legacy of success not many can achieve. When Mike played, you knew it was him, and with that, he left a mark in music that can't be touched.
The DFW area has lost our era's two greatest guitarists in Mike Scaccia and Dimebag Darrell Abbott, and that is a terrible blow.
But their accomplishments will be considered sacred ground for aeons.
When I think of my fallen comrade Dime, I think of him as a star in the cosmos.
I will think of Mike in the same way, in honor of his legacy and friendship. Celebrate this great man's life. With all my love, sincerely.
- Philip H. Anselmo
In addition, Scaccia's daughter Sarah is putting together a book to honor her father and she's currently welcoming personal stories about her father from fans and peers. She can be contacted at sjska21@gmail.com and will use the remembrances to put the book together.
Those wishing to donate to the Mike Scaccia Family Fundraiser can click here and follow the link.
Down / Warbeast 2013 Tour:
1/5 -- Fort Worth, Texas -- The Rail Club (Warbeast only)
1/11 -- Houston, Texas -- Warehouse Live Ballroom
1/12 -- San Antonio, Texas -- Backstage Live
1/14 -- Tempe, Ariz. -- The Marquee
1/15 -- Las Vegas, Nev. -- Fremont Country Club
1/16 -- West Hollywood, Calif. -- Key Club
1/18 -- Anaheim, Calif. -- City National Grove of Anaheim
1/19 -- Sacramento, Calif. -- Ace of Spades
1/20 -- San Francisco, Calif. -- Regency Ballroom
1/22 -- Seattle, Wash. -- Showbox at the Market
1/23 -- Portland, Ore. -- Roseland Theater
1/24 -- Boise, Idaho -- Knitting Factory Concert House
1/26 -- Denver, Colo. -- The Summit Music Hall
1/28 -- Minneapolis, Minn. -- First Avenue
1/29 -- Milwaukee, Wis. -- The Rave
1/30 -- Cincinnati, Ohio -- Bogart's
2/1 -- Chattanooga, Tenn. -- Track 29