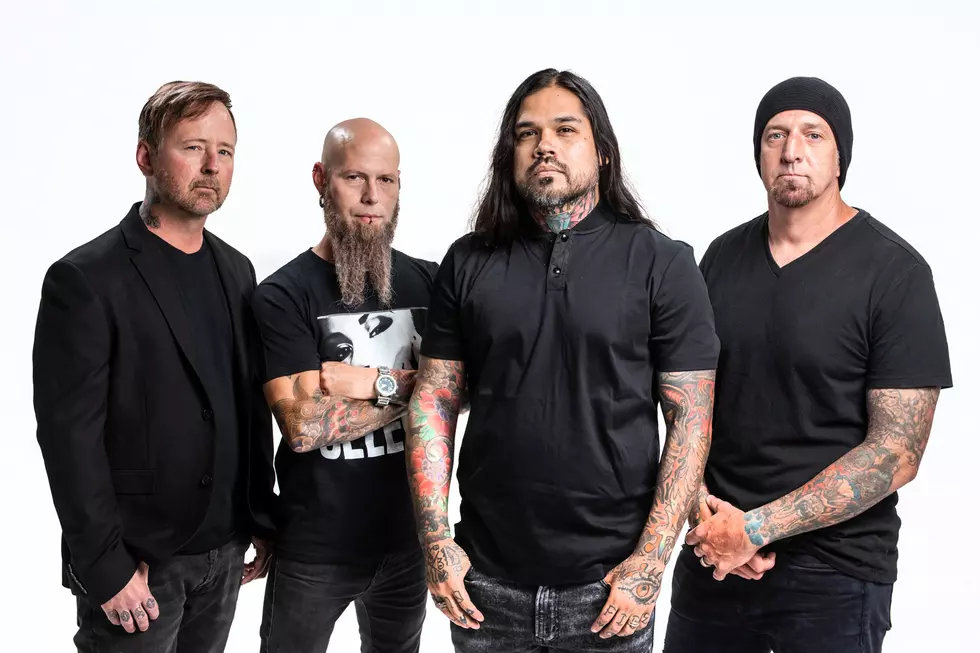 Drowning Pool's CJ Pierce Elaborates on Reason for Singer Jasen Moreno's Exit
T-Boy / UMe
Back in March, Drowning Pool announced that former vocalist Ryan McCombs had returned to the group, taking over for Jasen Moreno who had fronted the group over the last decade. At the time, the band issued a vague statement about Moreno's exit, noting,  "We appreciate everyone asking about Jasen. We can't speak for him but we believe he was just ready to move on to other things in life. Maybe he will make a statement. Maybe he won't. Regardless, we wish him the best." Now, in a new interview, guitarist CJ Pierce has elaborated a bit more on why the split with Moreno occurred.
While appearing on The Logan Show (as seen below), Pierce commented, "Yeah, we felt it coming for a while. I'll let Jasen speak for himself," acknowledging that the former singer could add more insight if he wanted. But Pierce then quickly summed up the reason for the change.
"It's a lot of different factors involved in it, but just to sum up real quick, I think part of it, him being home — a lot of people were home during COVID with the family — he does have a big family, and I think a big part of it [was that he felt] that's where he needs to be, with family right now," Pierce explained (as transcribed by Blabbermouth). "So I totally understand that. And also, he got pretty — all of us got pretty burned by the music business constantly, beyond burned, and it's frustrating as well. So I think with those two factors, he was, like, 'All right. I'm not gonna do this right now.' And understandably so. But here we are, like I said, with Ryan McCombs back in the fold."
McCombs, who came to Drowning Pool from SOiL and returned to SOiL after his first tenure in Drowning Pool, is planning to pull double duty, playing with both bands. "Just being back in the same room together after so many years, gearing up for these shows, was a quick reminder as to why I considered them to be my best friends in the business back in the day," said McCombs back in March. "As everyone living life can attest to, sometimes our days can get messy - but in the words of one Dave Williams, 'Everything happens for reasons, I just don't know…' Some of the greatest moments in my career came about as a member of DP and I'm really thankful for the opportunity to perform with them once again."
READ MORE: Psychostick's Drowning Pool Parody 'Numbers' Goes Viral on TikTok
Stay up to date with Drowning Pool's touring here.
Drowning Pool's CJ Pierce Joins The Logan Show
The 66 Best Rock Songs of the 2000s: 2000-2009
The 21st century started off rocking.
Gallery Credit: Chad Childers, Loudwire