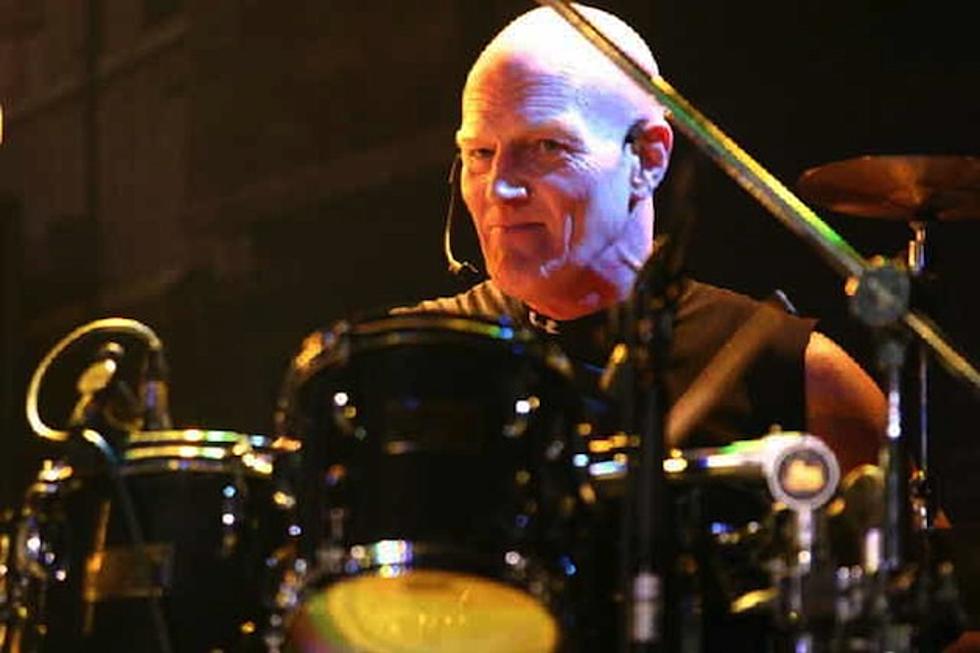 Is Drummer Chris Slade Returning to AC/DC?
ChrisSlade.com
Oh boy, this may be the news we've all been waiting for. AC/DC will perform at the 57th Annual Grammy Awards on Feb. 8, but because of drummer Phil Rudd's legal trouble, he isn't allowed outside of New Zealand until a Feb. 10 court appearance. So who will play drums? Rumor has it that Chris Slade will return to the AC/DC throne.
Phil Rudd is currently facing charges of threatening to kill along with methamphetamine and marijuana possession, leaving his future with AC/DC highly questionable. "Phil created his own situation," says AC/DC guitarist Angus Young. "It's a hard thing to say about the guy. He's a great drummer, and he's done a lot of stuff for us. But he seems to have let himself go. He's not the Phil we've known from the past."
There has been rumblings of Rudd being permanently replaced in AC/DC, and it's very possible that Chris Slade, who played with AC/DC from 1989 to 1994, could be coming back for good. Slade was set for a Jan. 31 meet-and-greet at the Optometry Practice of Dr. Alex Corbin Liu in Rowland Heights, Calif., but the event has been rescheduled.
"Update on Chris Slade AC/DC event. Chris had to postpone Saturday's event until a later date likely within the month," Dr. Liu posted via Facebook on Jan. 29. "We apologize for the inconvenience. New event date will be announced soon. Thank you! Enjoy your weekend!"
A few hours later, Dr. Liu answered a fan's question, possibly letting the cat out of the bag in the process. "There's actually big news regarding Slade and his career coming in next several days which is why he had to reschedule this event," the doctor writes. "Good news is for the Doyers fans who are going to fan fest can now come meet Slade when event is rescheduled. We apologize for the inconvenience to everyone. This has never happened before for any of our events and we will do our best to make sure it doesn't happen again."
Stay tuned to Loudwire for all your AC/DC updates and be sure to watch the 57th Annual Grammy Awards to see AC/DC live for yourselves.
AC/DC Discuss Continuing On Without Malcolm Young
See the Yearbook Photos of AC/DC's Angus Young + More Rock Stars