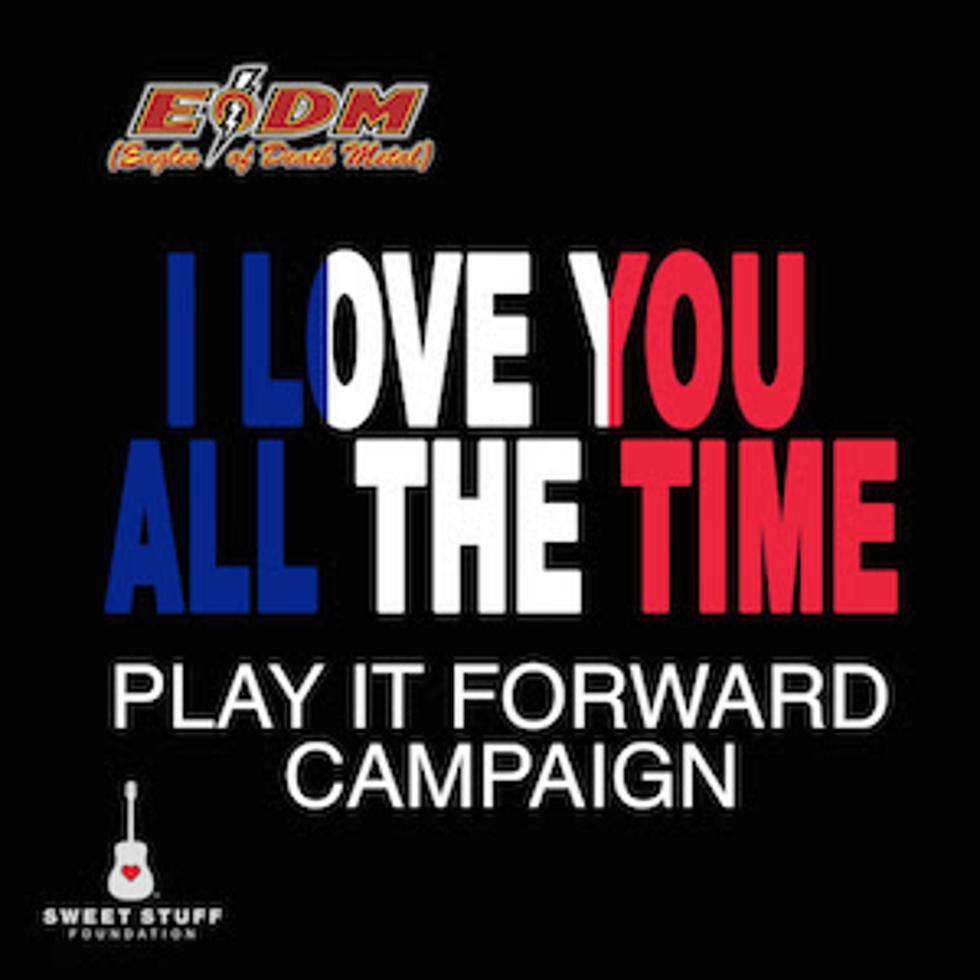 Eagles of Death Metal Announce Play It Forward Campaign Covers of 'I Love You All the Time'
I Love You All The Time Play It Forward Campaign
When the terrorist attacks in Paris invaded the world of music, there were a number of acts looking to help out not only the families of those affected by the mass killings at the Eagles of Death Metal performance at Le Bataclan but also the band themselves. Not long after, the band came up with the idea for their Play It Forward campaign. They asked artists from all genres to cover their song "I Love You All the Time" and for every cover sold, Eagles of Death Metal pledged to donate 100 percent of all its publishing to The Sweet Stuff Foundation, guitarist Josh Homme's charitable organization that has been directing funds to the families affected by the attacks.
The group got the idea when a fan-led campaign was started to send Eagles of Death Metal's cover of Duran Duran's "Save a Prayer" to No. 1 in the U.K. Shortly after, Duran Duran frontman Simon LeBon revealed that all royalties from the cover would be donated to charity.
After Eagles of Death Metal sent out their open letter, the covers started to roll in and the band has now revealed the first wave of acts participating in the Play It Forward campaign. They include: Florence + the Machine (featuring the Maccabees), Ed Harcourt, Imagine Dragons, Jimmy Eat World, Alain Johannes, Kings of Leon, Mini Mansions, My Morning Jacket, The New Pacific, r00ms, Savages, Sinner Sinners and the Dean Ween Group. The band also thanked Amazon, Apple, Spotify and TuneCore Distribution for helping to facility the Play It Forward initiative as well. Those covers are available today via iTunes, Prime Music and Spotify. Those wishing to donate directly may also do so at the Play It Forward campaign page here.
Homme stated, "I made a plea to artists and business people alike to come together to use our solidarity as proof that we are stronger together, and that we can make a difference. We are proud to be a little part of such a big group of talent and good will. We can't thank these artists enough for their donations of talent, love, time, and compassion. Now, the Play It Forward Campaign is in the hands of the fans to help us make a difference, and to help those affected by this tragedy. Please listen, purchase, play, and enjoy – and know that every time you do, you're doing the sweet stuff that makes that difference."
In addition, Eagles of Death Metal praised Pearl Jam and drummer Matt Cameron. Pearl Jam are donating a live cover of the song recorded during a show in Rio de Janeiro, while their drummer Matt Cameron has recorded his own cover. The songs are being bundled for both digital and vinyl releases today at Pearl Jam's website, with the proceeds going to the Sweet Stuff Foundation. Cameron stated, "After reading Josh Homme's email encouraging fellow musicians to cover EODM's 'I Love You All the Time,' I was very inspired to act quickly, so I recorded a version on a night off from tour in Mexico City in my hotel room, 11-27-2015, 8pm-12am. I am honored to be a part of this movement of unity and support. We'll never stop."
In other Eagles of Death Metal news, the band revealed earlier this week that they'll return to Europe next year for more dates. Included in the run is an appearance in Paris, where the terrorist attacks occurred. "The people of Paris have always been incredible to us, and our feeling of love towards this beautiful city and its people has been reinforced a million times over this past month," commented EODM co-founder and frontman Jesse Hughes. "Hearing the stories of the survivors, the injured and those who have lost loved ones has been overwhelming. Not returning to finish our set was never an option. We look forward to coming back in February and continuing our mission to bring rock 'n' roll to the world."
See How Old Josh Homme and Other Rockers Are