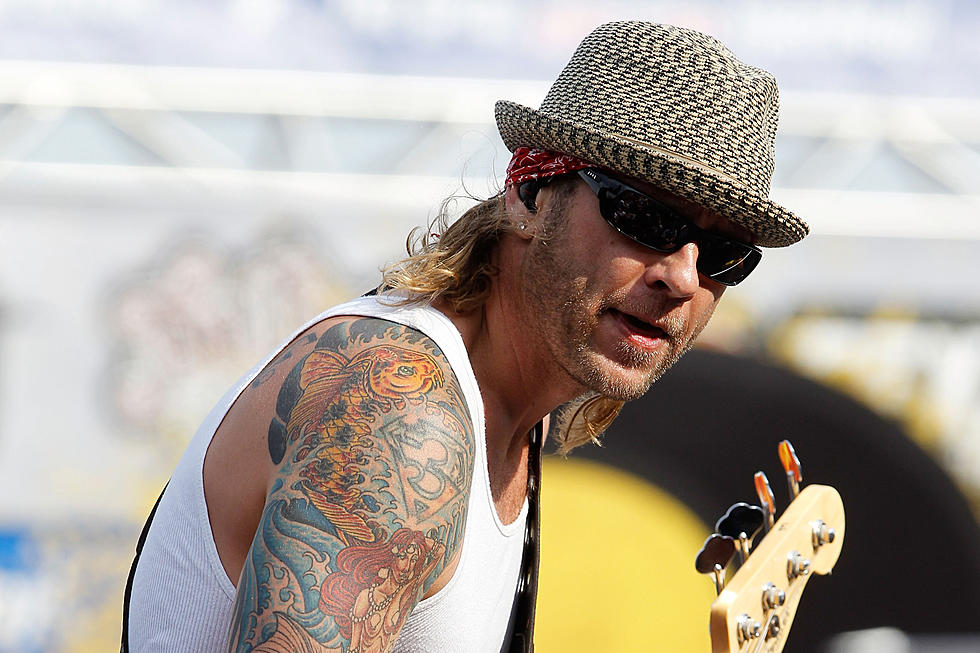 Ex-3 Doors Down Bassist Todd Harrell Gets 10 Year Prison Sentence for Gun Charge
Matthew Stockman, Getty Images
Former 3 Doors Down bassist Todd Harrell is heading back to prison. After being arrested in June earlier this year, he received a 10-year prison sentence earlier this week.
On June 18, Jackson County Sheriff Mike Ezell responded to an alarm at Harrell's St. Martin, Mississippi home where they later learned a domestic dispute broke out and turned physical. Noticing guns and drugs in the home, authorities obtained a search warrant and brought him in on charges of possession of a firearm by a convicted felon, possession of a controlled substance and domestic violence simple assault. After Harrell pled guilty to the weapon charge, Judge Robert Krebs gave him the maximum penalty under the law: 10 years in custody of the Mississippi Department of Corrections, reports WLOX.
After being arrested in June, Harrell faced more legal woes after being caught sending narcotics to prison. The narcotics were intercepted after a screening of mail sent to the jail and the charge could lead to a seven-year prison sentence.
Harrell's arrest record runs deeper than these 2018 charges. He served one year of a two-year sentence (being let out early for good behavior) stemming from a 2013 vehicular manslaughter charge where he was also found to have had Alprazolam and Oxycodone in his system at the time of the crash. He received another DUI charge in 2014 while out on bond from the previous charge.
In 2016, Loudwire Nights host Toni Gonzalez discussed Harrell's problems with 3 Doors Down, who had kicked the bass player out of the group in 2013. "For us, he was more than our bandmate, he's our brother," said singer Brad Arnold. "I've known Todd for a lot longer than we've been in the band together ... We'll never turn our back on him. He's definitely got his things to face right now. And [our song] 'Fell From the Moon' is sort of about him, just of how you can have everything going your way and it can all fall apart," he added.
3 Doors Down Discuss Todd Harrell's Legal Troubles
60 Infamous Rock Star Mugshots