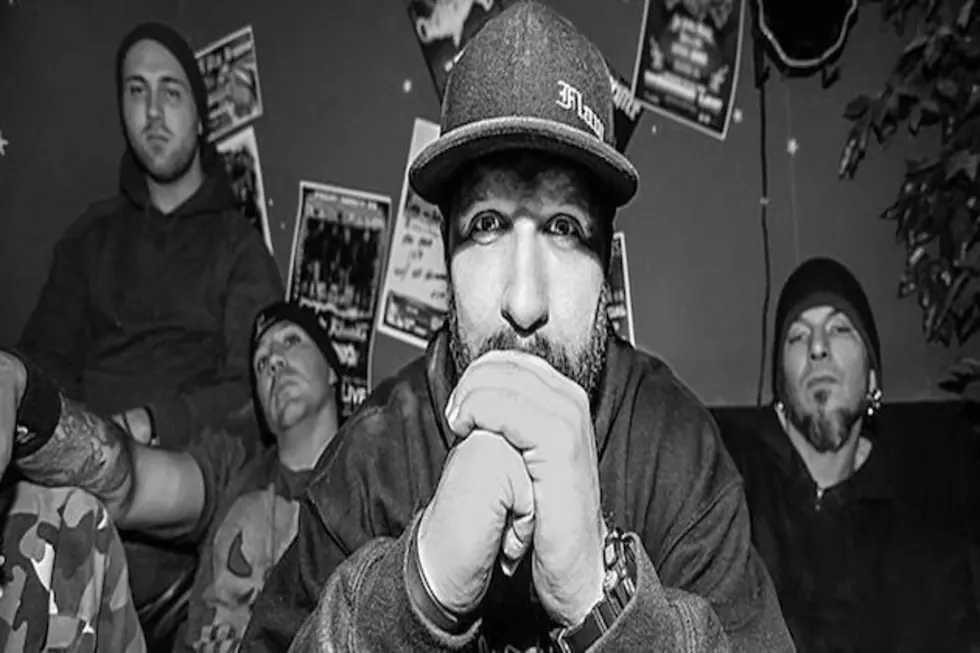 Flaw to Hit the Road Stateside With Righteous Vendetta + Source
Pavement Entertainment
The return of Flaw is complete! The band reunited in 2013, got back to touring and last year released their first studio album in 13 years. Now, in 2017, the rockers are ready to provide more touring support for their Divided We Fall album.
Singer Chris Volz says the tension felt amongst the band members that they've suffered between albums has been creatively channeled into their new music, resulting in a raw and powerful disc. But having spent some time apart, Flaw are definitely appreciating their return to recording and touring.
"We would not be where we are today without our hardcore fans," said Volz. "The Flaw Family is the backbone of everything we do, and we cannot wait to get out and tour in support of this new record."
The tour will also feature support from Righteous Vendetta, who are supporting their Cursed album. Meanwhile, the opening act for the tour will be the progressive metal act Source, who recently released their Return to Nothing album. Flaw return to the road Feb. 16 at Liquid Joe's in Salt Lake City, with the support acts joining the run a day later in Colorado Springs. See all the tour dates below.
Flaw / Righteous Vendetta / Source 2017 U.S. Tour
2/16 -- Salt Lake City, Utah -- Liquid Joe's **
2/17 -- Colorado Springs, Colo. -- Sunshine Studios Live
2/18 -- Merriam, Kan. -- Aftershock
2/19 -- Tulsa, Okla. -- The Shrine
2/20 -- Oklahoma City, Okla. -- Thunder Alley Grill & Sports Lounge
2/21 -- Wichita, Kan. -- The Elbow Room
2/23 -- Little Rock, Ark. -- The Revolution Room
2/24 -- Clarksville, Tenn. -- The Warehouse Concert Lounge
2/25 -- Cincinnati, Ohio -- The Mad Frog
2/26 -- Knoxville, Tenn. -- Open Chord
2/28 -- Spartanburg, S.C. -- Ground Zero
3/1 -- Chesapeake, Va. -- Riffhouse Pub
3/2 -- Camp Hill, Pa. -- Gullifty's Underground
3/3 -- Halethorpe, Md. -- Fish Head Cantina
3/4 -- Troy, N.Y. -- Trickshots
3/5 -- Clifton, N.J. -- Dingbatz
3/7 -- Pittsburgh, Pa. -- Diesel Club Lounge
3/8 -- Rochester, N.Y. -- Montage Music Hall
3/9 -- Akron, Ohio -- The Empire Concert Club & Bar
3/10 -- Flint, Mich. -- The Machine Shop
3/11 -- Mansfield, Ohio -- Whiskey Warehouse Bar & Grill
3/12 -- Toledo, Ohio -- Frankies
3/14 -- Valparaiso, Ind. -- Big Shots
3/15 -- Dubuque, Iowa -- The Venue
3/16 -- Des Moines, Iowa -- Vaudeville Mews
3/17 -- Janesville, Wis. -- The Back Bar
3/18 -- Stevens Point, Wis. -- Live on Main
3/19 -- St Louis, Mo. -- The Firebird
3/21 -- Omaha, Neb. -- Lookout Lounge