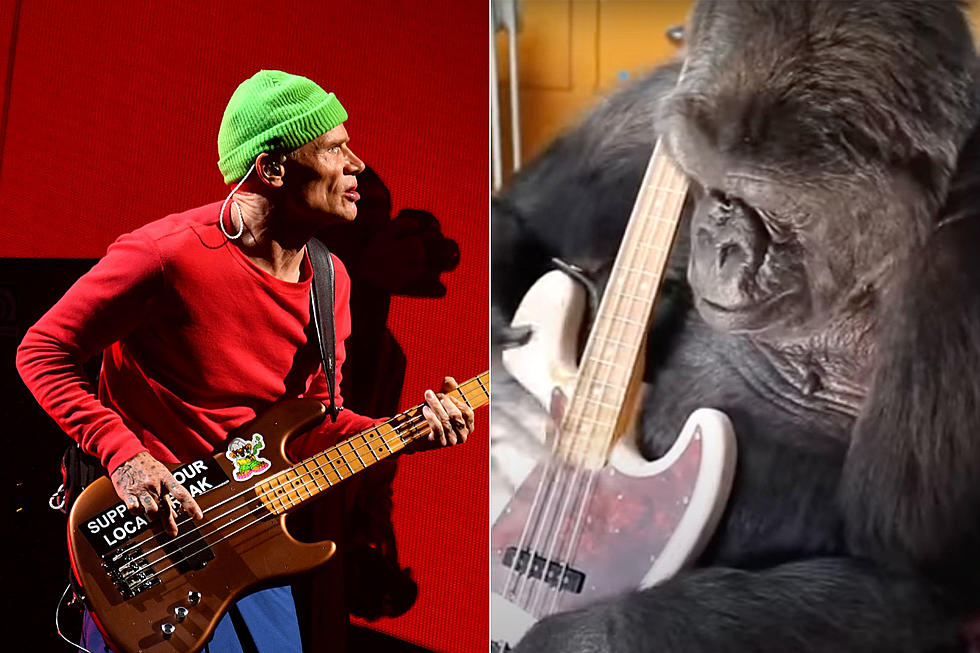 How Did Flea Charm Koko the Gorilla During 2016 Visit?
Noam Galai, Getty Images / YouTube: Red Hot Chili Peppers
Flea may have looked comfortable in videos showing him hanging with Koko the Gorilla, but he had to turn on the charm in order to win her over.
The Red Hot Chili Peppers bass player was on the newest episode of First We Feast's Hot Ones where guests chow down on hot wings with increasingly hotter sauces as they are interviewed, and the topic of his viral visit with Koko came up.
How Flea Won Over Koko the Gorilla
Hot Ones host Sean Evans asked Flea about his relationship with Koko. Videos of the gorilla playing bass with Flea were released in 2016. Sadly, Koko died two years later.
"She was going for my nipples the whole time," Flea said about first meeting Koko
Flea's admiration for Koko started after reading about the gorilla in the '80s when she was featured in National Geographic magazine. He was willing to put in the work to gain Koko's acceptance.
"(Koko's handlers) said talk to her, like she really likes to be complimented," he said about their first encounter.
Flea started to play bass for the gorilla as he did his best to win her trust through compliments.
"I'm like 'Koko, you are so beautiful. Oh my god, you look so beautiful. Your eyes, your face, your whole body. You're so beautifui,'" he said recounting his first conversation at the enclosure.
Koko, who is said to have known more than 1,000 words in sign language, started making a heart with her hands. At that point, Flea was welcomed inside.
When it was time to go, Flea told Koko's caretaker that he had a flight to catch at 3:30PM that day. and Koko immediately crossed her arms and began to pout.
"She understood English really well even though she couldn't speak and there was much stuff she couldn't sign, she understood everything that was said," Flea said on the show.
Flea Eats Hot Wings And Talks About Koko The Gorilla on Hot Ones
READ MORE: How Did Flea Get His Name?
Brutal Injuries While Performing With Red Hot Chili Peppers
Evans also asked Flea about the the rigors of performing live including any injuries he has suffered while on stage with the Red Hot Chili Peppers.
"One time Anthony (Kiedis) was swinging a mic around and boom, caught me in the head and took me out," Flea said while rattling off a list of injuries that also included being hit in the head with bottles and even his own bass.
He also said there has been a lot of "long-term wear and tear." "To be honest, it's mostly emotional pain," he concluded
Red Hot Chili Peppers Albums Ranked
Funk rockers have delivered some timeless classics ... and a couple of forgettable releases, too.
Gallery Credit: Corey Irwin