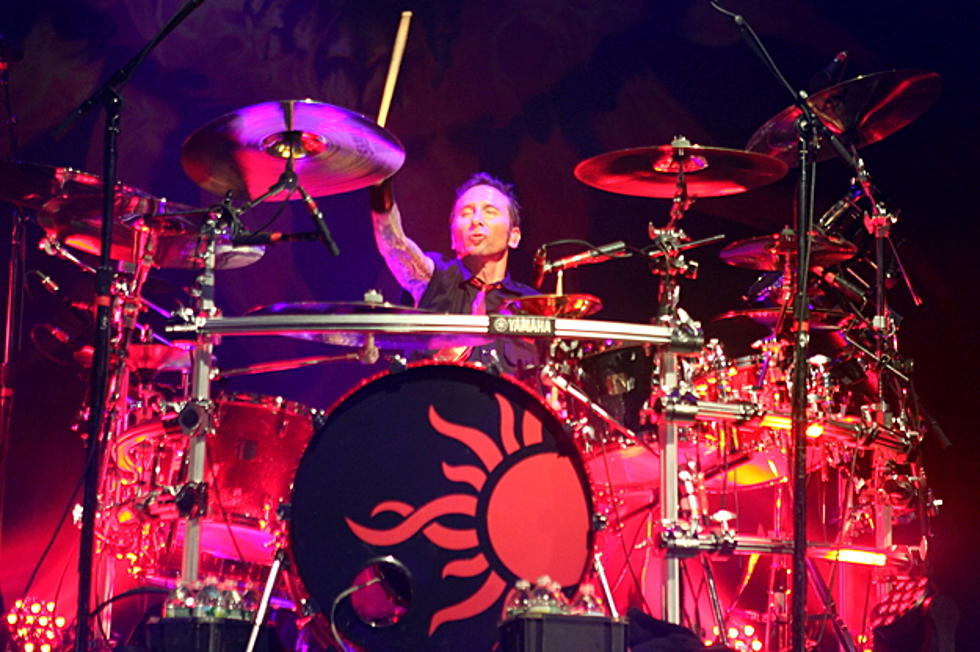 Godsmack's Shannon Larkin on Drumming For Black Sabbath: One of the Best Things That Ever Happened To Me
Not many drummers can say they've had the opportunity to play for the legendary Black Sabbath but Godsmack's Shannon Larkin holds that honor and considers it to be one of the best things that ever happened to him.
It all went down back in 1997 when a rescheduled Ozzfest show made it impossible for then drummer Mike Bordin to play the make-up date. Bordin was heading out on the road with Faith No More, requiring a replacement drummer for both Black Sabbath and Ozzy Osbourne at the show.
Shannon Larkin got the job thanks to a recommendation from his friend Robert Trujillo, and yes, that's the same Robert Trujillo who now plays for Metallica. Larkin explains, "Robert Trujillo was playing for Ozzy Osbourne at the time and he's a bro of mine. He had come to see me in other bands so he knew I was a player. He went to Sharon [Osbourne] and said 'I got the guy.'" Larkin continued, "Through Robert, who everybody knows is probably one of the greatest musicians ever to grace a metal or rock stage, Sharon knew that I was okay okay. If he [Trujillo] says this guy is great than he is."
But Larkin still had to try out to play with the mighty Sabbath. "I still had to audition," explains Larkin. "So I flew out to Ozzfest. I got on this giant stage in Phoenix, Ariz. and the Fear Factory drummer let me use his drum kit. Tony Iommi and Geezer Butler came up on the stage and I played like three songs and luckily I nailed it." The audition landed Larkin a spot behind the kit for both Black Sabbath and Ozzy Osbourne during one Ozzfest show.
Getting to the show would be more than Larkin bargained for though. As he boarded a private jet with Black Sabbath and Ozzy Osbourne's band, things got a little intense. "The plane starts getting all hot and Ozzy's wigging out, saying, 'It's f---ing hot in here,'" Larkin recounts in his best Ozzy accent. "Smoke started coming out of the air conditioning vents and I'm just sitting by the window, looking out this jet. It's definitely the biggest moment in my life besides my wife having my kid and I look out the window and all I can think is, if this plane goes down, I'll be a legend. No one would know my name but I'd be 'that dude that went down with Sabbath.'"
Luckily the plane didn't go down and after swapping jets Larkin and crew made it to their destination. Larkin explains how he felt going into the gig of a lifetime, "It was a full on rockstar thing that up to that point I had never lived. I wish that I had some kind of footage, any kind of footage, because it was such a monumental moment that I can't really remember it." He continued, "The main thing I remember is that at the very end of the Sabbath set, I was just getting up to walk backstage after the show and the three guys, you know how the big bands will go to center stage and bow, Ozzy was like, 'Hey Hey get out here' as I'm walking off the stage. So I walk out and we all put our arms around each other and bow to the crowd."
"So I had my moment in Black Sabbath," Larkin concluded. "One of the best things that ever happened to me in my whole life."
Stay tuned for our full interview with Shannon Larkin.