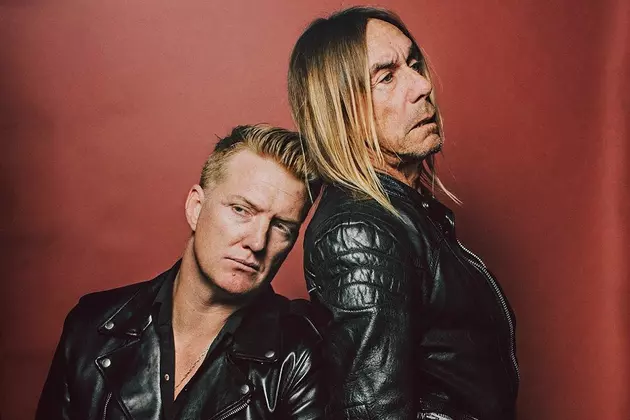 Iggy Pop + Josh Homme Release New Song, 'Break Into Your Heart'
Official Queens of the Stone Age Twitter
It was recently revealed that punk legend Iggy Pop and Queens of the Stone Age frontman Josh Homme secretly collaborated on an album slated for a March 18 release. "Gardenia," the first song off Iggy Pop's Post Pop Depression, was performed just last Thursday (Jan. 21) on the Late Show With Stephen Colbert. Now, a second single comes in the form of the bleak "Break Into Your Heart."
The song, heard below courtesy of Zane Lowe's Beats 1 program, gets to the point quickly as Iggy Pop's voice follows the guitar melody, introducing the chorus in the first seconds. Following suit with "Gardenia," "Break Into Your Heart" is a gloomy and sullen number drawing comparison's to iconic post-punk outfit Joy Division. Driven by fuzzy distortion and slack-wristed rhythm playing, the album's title is a perfect indicator of the music. The structure still largely resembles the pop formula, but with obviously darker overtones.
The two musicians self-financed the record, which helped in maintaining its secrecy as no record labels were brought in and the result is an album bereft of outside influences. Iggy Pop commented to the New York Times, stating, "We paid for whatever ourselves, but it was made to be heard — not to be some quirky thing that we did with our own money."
For those anticipating seeing Pop and Homme onstage together, there might never be a chance. Homme stated, "There won't be hardly any shows, and they won't be in big places, and you won't be able to get a ticket, so almost everyone won't see it. It will be like trying to catch smoke in your hands. And that makes it even better. It will be special, and it will be over in the blink of an eye."
Pre-orders for Iggy Pop's Post Pop Depression can be placed here.
Iggy Pop + Josh Homme, "Break Into Your Heart"
See Where Iggy Pop Ranks Among the Top 50 Hard Rock + Metal Frontmen of All Time
See Iggy Pop in 20 Painful Stage Dive Fails