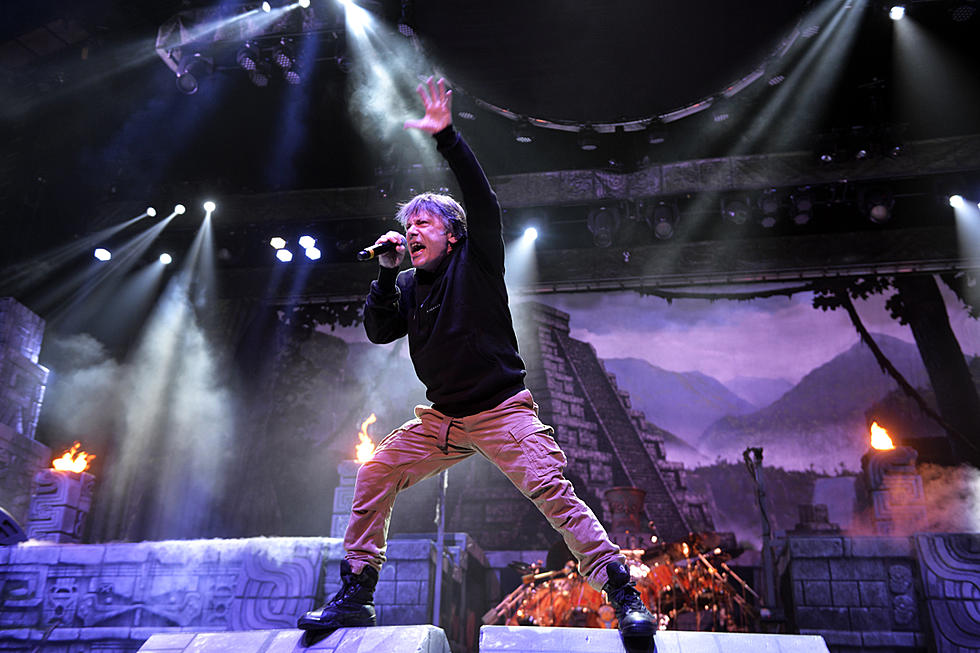 Iron Maiden Kick Off 'The Book of Souls' Tour With Explosive Florida Performance [Exclusive Photos]
Photo: JOSHUA LOWE
If you live in Florida and happened notice a hell-jet screaming across the state on Friday morning and a "Death or Glory" level of type of event happening in Fort Lauderdale on Wednesday night (Feb. 24), you can attribute it to Iron Maiden's kick-off of their Book of Souls World Tour performance at BB&T Center. This year, the rockers from across the pond are bringing a live vision of their Book of Souls album to the colonies, and it'll blow the minds of fans new and old.
Beginning with a video of ancient Mayan ruins, we see Ed Force One crash landed, wrapped in vines and as a sentient vessel trying to escape. It is offered a giant helping hand in the form of Eddie, who literally push-starts Ed Force One to soar to the sky.
Maiden blasted out from the brand-new elaborate stage set-up, an ancient Mayan temple to reflect Eddie's new look. Bruce began above the stage conjuring things up in a brewing pot to howl the first vocals of the night and kicked things off with "If Eternity Should Fail," an intro like no one has ever seen yet, with drummer Nicko McBrain, bassist Steve Harris, and guitarists Dave Murray, Adrian Smith and Janick Gers ripping into the rabid crowd with searing guitar squeals, tumbling bass runs and thunderous rhythms.
"Scream for me Floridaaaaaaa!" Bruce Dickinson screamed, and Maiden fans came from near and far to do just that. Dickinson proclaimed his signature cry over and over in between performing a total of six Book of Souls cuts. His call to action usually came in waves of three during a musical vamp in songs like "Speed of Light." A lot of the songs in this set had not been heard live for years, especially Number of the Beast classic "Children of the Damned"
Occasionally the crowd was louder than the band, although the physical energy of the six people onstage could not be matched. Dickinson would sprint from one end of the scaffolding to the other while singing his highest notes, never taking breaks to catch his breath. Gers was the most acrobatic of the bunch, showing off his literal guitar slinging tricks and playing notes alongside the fans in the pit. Smith and Murray traded off complex solo lines while Harris ran from side to side with as much vigor as Dickinson.
Performance effects special to this tour included Eddie's live cameos in "The Book of Souls" and and another atop the back risers during "Iron Maiden," as a living version of The Book of Souls album cover. Before the night's encore, Bruce screamed his classic war cry, "Iron Maiden's gonna get all of you!"
Closing off the set, Iron Maiden put together a unique trio of songs beginning with the live staple "The Number of the Beast." Maiden pulled out Steve Harris' tribute to his late father, "Blood Brothers," before the band tied a bow onto the set with "Wasted Years," a departure from the longtime closer, "Running Free."
To fans worrying that Bruce Dickinson's battle with tongue cancer battle took a chunk of magic out of the heavy metal legend's voice -- rest easy. Dickinson's golden pipes are very much in tact, as you can witness in the fan-filmed footage below.
Check out our exclusive photos from Iron Maiden's first Book of Souls gig above and check out the band's full setlist below!
Iron Maiden, The Book of Souls Tour Intro
Iron Maiden, 'Children of the Damned' (Live)
Iron Maiden, Feb. 24, 2016 Setlist:
If Eternity Should Fail
Speed of Light
Children of the Damned
Tears of a Clown
The Red and The Black
The Trooper
Powerslave
Death or Glory
The Book of Souls
Hallowed Be Thy Name
Fear of The Dark
Iron Maiden
Encore:
The Number of The Beast
Blood Brothers
Wasted Years
See Which Iron Maiden Albums Landed on the Top 80 Hard Rock + Metal Albums of the 1980s
10 Greatest Iron Maiden Onstage Eddies