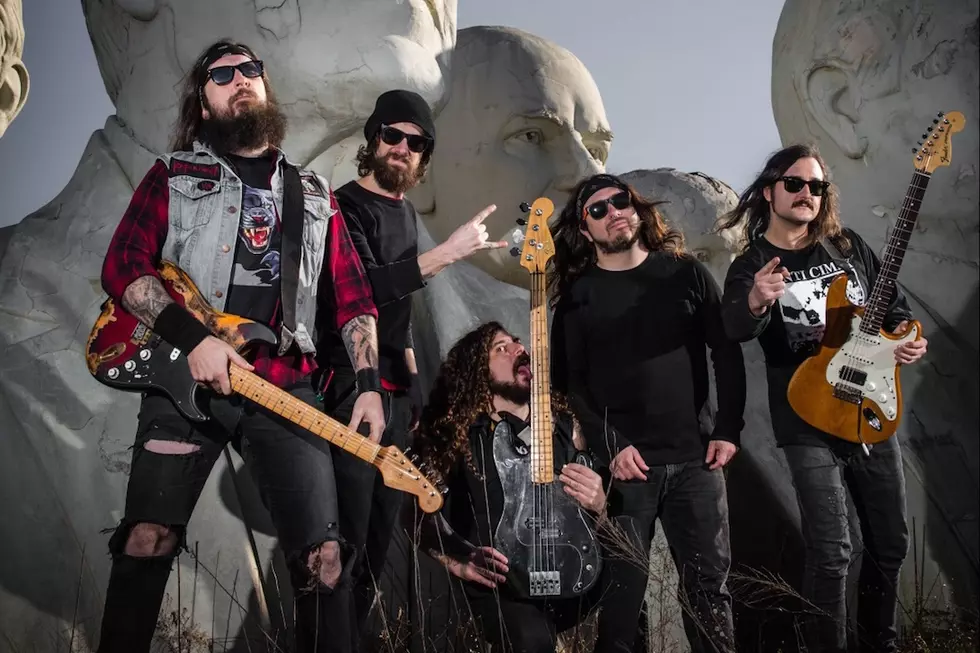 Iron Reagan Release 'Patronizer' from Upcoming EP 'Dark Days Ahead': Listen
Dennis Williford
Iron Reagan, the caustic hardcore-rooted alter-ego of Municipal Waste's Tony Foresta and Land Phil, will release the crossover thrash EP, Dark Days Ahead, on October 12.
The band previewed the EP this morning (Sept. 4) with the surprisingly melodic thrash track "Patronizer." Despite the less aggressive tone, the song maintains the crunchy riffs, headbanging tempos and sneering attitude that are trademarks of Iron Reagan.
"A lot of these tracks were written during the recording sessions for Crossover Ministry but didn't fit with that album," Foresta said. "We've been friends with the Trapped Under Ice guys for years and are stoked to get these tracks out on their label, [Pop Wig Records]."
Foresta is joined on Dark Days Ahead by guitarists Mark Bronzino and Pil "LandPhil" Hall, bassist Rob Skotis and drummer Ryan Parrish. Iron Reagan will tour with Suicidal Tendencies, Sick of It All and Against Me this fall. They will also appear at the Knotfest in Bogota, Columbia in October.
Listen to "Patronizer" below:
Iron Reagan Tour Dates:
Sept. 07 — Boston, Mass. @ House Of Blues w/ Suicidal Tendencies & Sick Of It All
Sept. 08 — Washington D.C. @ 9:30 Club w/ Suicidal Tendencies & Sick Of It All
Sept. 21 — Athens, Ga. @ 40 Watt Club w/ Against Me
Sept. 22 — Orlando, Fla. @ Will's Pub
Sept. 23 — St. Augustine, Fla. @ Sing Out Loud Fest w/ Against Me
See Municipal Waste in the 25 Best Metal Albums of 2017