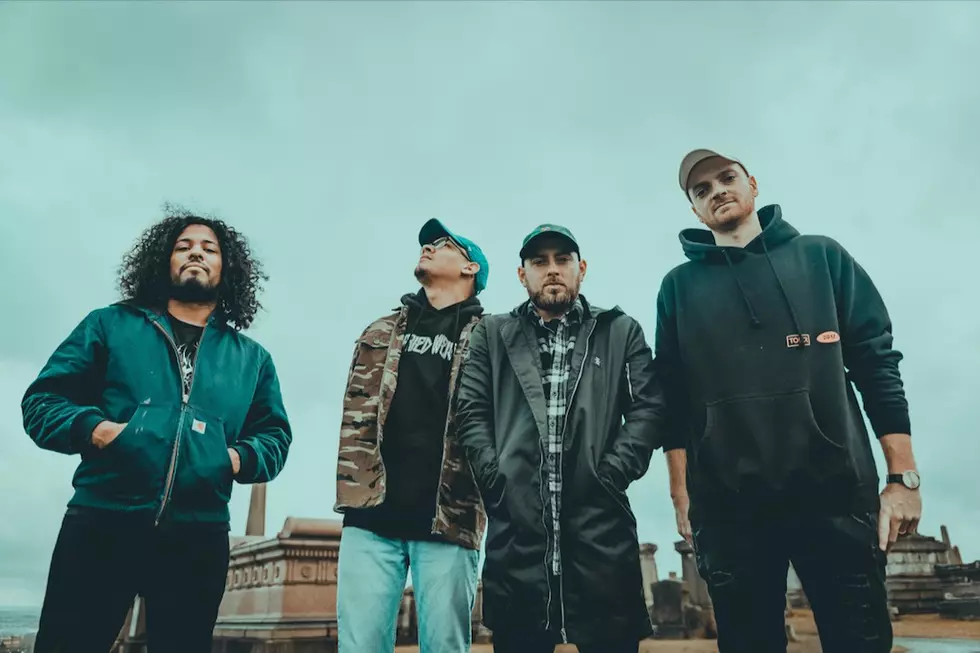 Issues Drop 'Tapping Out,' First Song Without Vocalist Mike Bohn
AtomSplitter PR
At the beginning of 2018, Issues released a statement announcing they had made the decision to part ways with Michael Bohn, who handled the harsh vocals in the band. In the statement, they said they were working on new material and a new song, "Tapping Out," has finally surfaced.
Issues are one of the more dynamic groups under the wide metalcore umbrella, embracing a swath of different musical styles which includes R&B, pop, prog and alternative. "Tapping Out" fluidly moves through it all, isolating certain elements while combining others.
"We couldn't be more thrilled to finally release new music," said the group. "'Tapping Out' is not only a highly anticipated drop for us, but lyrically highlights the struggles of trying to make something work time and time again. Eventually, you just want to tap out. Whether it's in a relationship, with yourself, or even with a band!
Issues are currently on tour with I Prevail and have a handful of standalone dates during the run. See all the stop beneath the video.
I Prevail, Issues, Justine Stone 2019 Tour Dates
May 04 — Boise, Idaho @ Revolution Concert House
May 05 — Spokane, Wash. @ Knitting Factory
May 07 — Salt Lake City, Utah @ The Complex
May 08 — Billings, Mont. @ Shrine Auditorium
May 10 — Council Bluffs, Iowa @ Westfair Amphitheater
May 11 — Wichita, Kan. @ Wave
May 13 — Morrison, Colo. @ Red Rocks Amphitheatre
May 15 — Dallas, Texas @ House of Blues
May 16 — Baton Rouge, La. @ The Varsity Theatre*
May 17 — Houston, Texas @ House of Blues
May 18 — San Antonio, Texas @ The Aztec Theater
May 20 — St. Louis, Mo. @ The Pageant
May 21 — Chicago, Ill. @ House of Blues
May 23 — Ft. Wayne, Ind. @ Clyde Theatre
May 24 — Detroit, Mich. @ The Fillmore
July 11 — London, Ontario @ Harris Park**
July 12 — Niagara Falls, N.Y. @ Rapids Theatre
July 13 — Ithaca, N.Y. @ The Haunt*
July 14 — Mansfield, Ohio @ Mansfield Reformatory**
July 15 — Pittsburgh, Pa. @ Stage AE
July 16 — Peoria, Ill. @ Peoria Riverfront
July 18 — Oshkosh, Wis. @ Ford Festival Park**
July 20 — Cadott, Wis. @ Rock Fest**
July 22 — Clifton Park, N.Y. @ Upstate Concert Hall
July 23 — Huntington, N.Y. @ The Paramount
July 24 — Boston, Mass. @ House of Blues
July 26 — Bethlehem, Pa. @ Sands Bethlehem Event Center
July 27 — Montclair, N.J. @ The Wellmont Theater
July 28 — Philadelphia, Pa. @ The Fillmore
July 30 — Silver Spring, Md. @ The Fillmore
July 31 — Charlotte, N.C. @ The Fillmore
Aug. 01 — North Myrtle Beach, S.C. @ House of Blues
Aug. 02 — Jacksonville, Fla. @ 1904*
Aug. 03 — Lake Buena Vista, Fla. @ House of Blues
Aug. 04 — Atlanta, Ga. @ Buckhead Theatre
Aug. 05 — Nashville, Tenn. @ Marathon Music Works
Aug. 06 — Louisville, Ky. @ Diamond Pub Concert Hall*
Aug. 07 — Belvidere, Ill. @ The Apollo Theatre
Aug. 08 — Indianapolis, Ind. @ Egyptian Room at Old National Centre
Aug. 09 — Grand Rapids, Mich. @ 20 Monroe Live
* Issues only
**Festival Date; I Prevail Only
25 Best Metalcore Albums of All Time