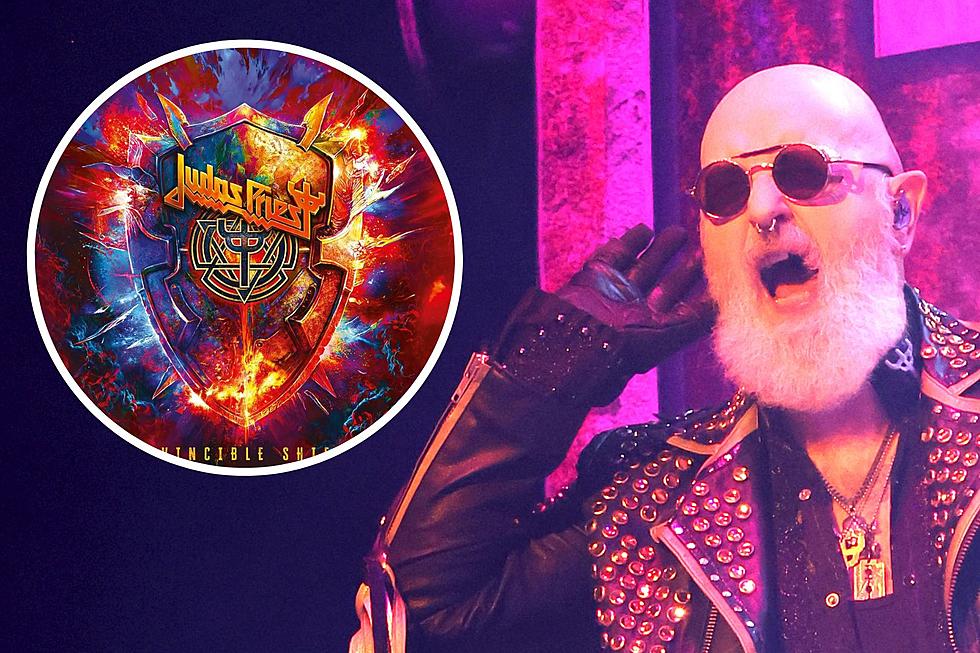 Judas Priest Announce 19th Album 'Invincible Shield' at Power Trip Festival
Jason Kempin, Getty Images / Sony
While onstage at the Power Trip festival, Judas Priest officially announced their 19th studio album, Invincible Shield, which will be released next year.
The highly-anticipated followup to 2018's well-received Firepower will be the band's third with guitarist Richie Faulkner, who joined in 2011 after classic guitarist K.K. Downing retired from the group. Invincible Shield has been in the works for years and will finally be available for fans to hear on March 8, 2024.
The first single, "Panic Attack," will be released on Oct. 13 and a 30-second album trailer can be heard below.
Judas Priest, Invincible Shield Trailer
View the Invincible Shield artwork further down the page and pre-order your copy here.
The announcement came at Power Trip Festival, where AC/DC will close out the night with their first performance since 2016.
After Ozzy Osbourne bowed out of his scheduled Saturday appearance due to health issues, Judas Priest were tabbed as the replacement at the fest which already featured Guns N' Roses and Iron Maiden yesterday (Oct. 6), with Metallica and Tool wrapping things up tomorrow (Oct. 8).
READ MORE: Richie Faulkner (Judas Priest, Elegant Weapons) Plays His Favorite Guitar Riffs
There was speculation that the heavy metal legends were up to something when they wiped their Instagram page clean yesterday (Oct. 6) and shared one brand new post, which is the Judas Priest logo with a caption that reads, "TOMORROW."
Now, it's clear that the group was leading up to the album announcement. The release is also significant as it will arrive an impressive 50 years after Judas Priest's first album, Rocka Rolla, came out.
Judas Priest, Invincible Shield Artwork
The Most Underrated Song on Every Judas Priest Album
Deep cuts, hidden gems... whatever you want to call them!
Gallery Credit: Joe DiVita
The Best Metal Album of Each Year Since 1970
See Loudwire's picks for the Best Metal Album of Each Year Since 1970
Gallery Credit: Loudwire Staff