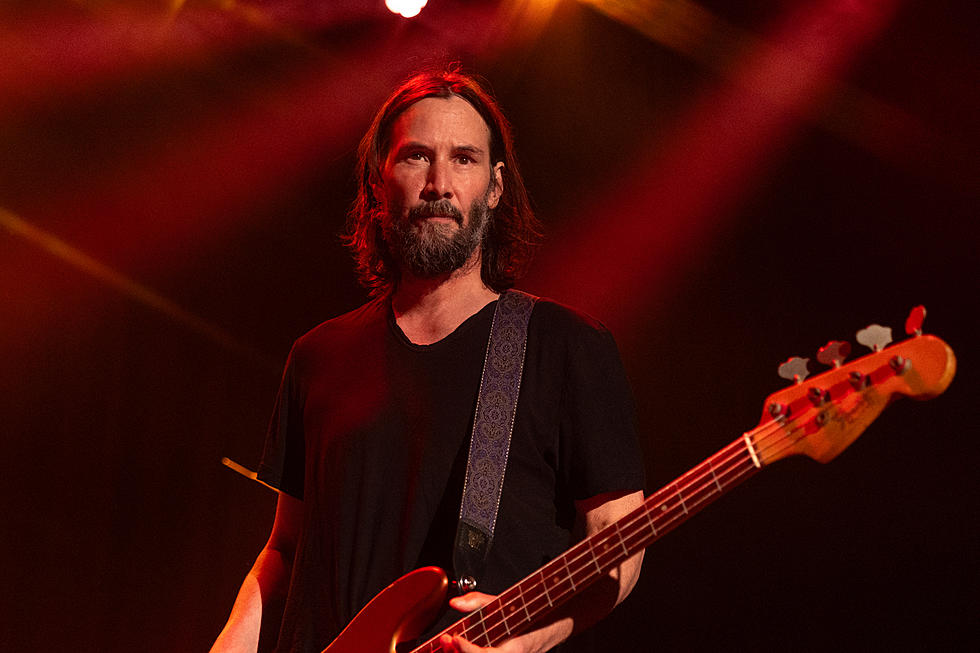 Keanu Reeves' Rock Band Dogstar Release First New Song in 20 Years, Announce Album
Variety via Getty Images
Dogstar, actor Keanu Reeves' rock band in which he plays the bass guitar, released their first new song in over 20 years this week.
The song is called "Everything Turns Around"; it's accompanied by a music video. It will be included on Somewhere Between the Power Lines and Palm Trees, Dogstar's comeback album out Oct. 6.
"We are so excited to announce our new album Somewhere Between the Power Lines and Palm Trees out on October 6th on our label Dillon Street Records," Dogstar said on Wednesday (July 19). "Listen to the lead single 'Everything Turns Around' and watch the music video now."
Check it out down near the bottom of this post.
READ MORE: Celebrity Appearances in Rock Videos
Dogstar, which includes singer-guitarist Bret Domrose and drummer Rob Mailhouse, made their first public appearance since 2002 at California's BottleRock Festival 2023 in May. The high-profile gig came after the group had initially announced their comeback.
The last time Dogstar released a song was in 2003 with their cover of Mr. Big's "Shine" for a tribute album. They haven't released their own material since their 2000 album, Happy Ending. In 2022, they said they were reuniting. They offered more info in April.
"Thank you everyone for the kind comments," Dogstar had said in comment on one of their Instagram posts regarding their current activities. "We are overjoyed to see such a response!" they added. "Didn't expect this. It makes us want to play out even more."
As promised, Dogstar said they would be "rolling out some new music this summer, followed by some gigs. As soon as it's all figured out we will let everyone know."
Dogstar History
Dogstar, despite limited initial success, loom large in '90s rock lore. Fellow rockers Weezer decided their name before opening for Dogstar in 1992.
Dogstar formed in Los Angeles in 1991 and featured Reeves on bass guitar, Robert Mailhouse on drums and Gregg Miller on guitar. The band played alternative rock with influences from punk and grunge, becoming known for their energetic performances.
Keanu Reeves in a Band?
Dogstar was a project for Reeves while he worked in acting. Their EP Quattro Formaggi emerged in 1996. It has guest spots from River Phoenix and John Frusciante. Dogstar first disbanded in 2002.
Dogstar, "Everything Turns Around" (Music Video)
Somewhere Between the Power Lines and Palm Trees Cover + Track List
1. "Blonde"
2. "How the Story Ends"
3. "Everything Turns Around"
4. "Overhang"
5. "Dillon St."
6. "Lily"
7. "Lust"
8. "Glimmer"
9. "Sunrise"
10. "Sleep"
11. "Upside"
12. "Breach"
49 Actors You Might Not Remember Are Musicians