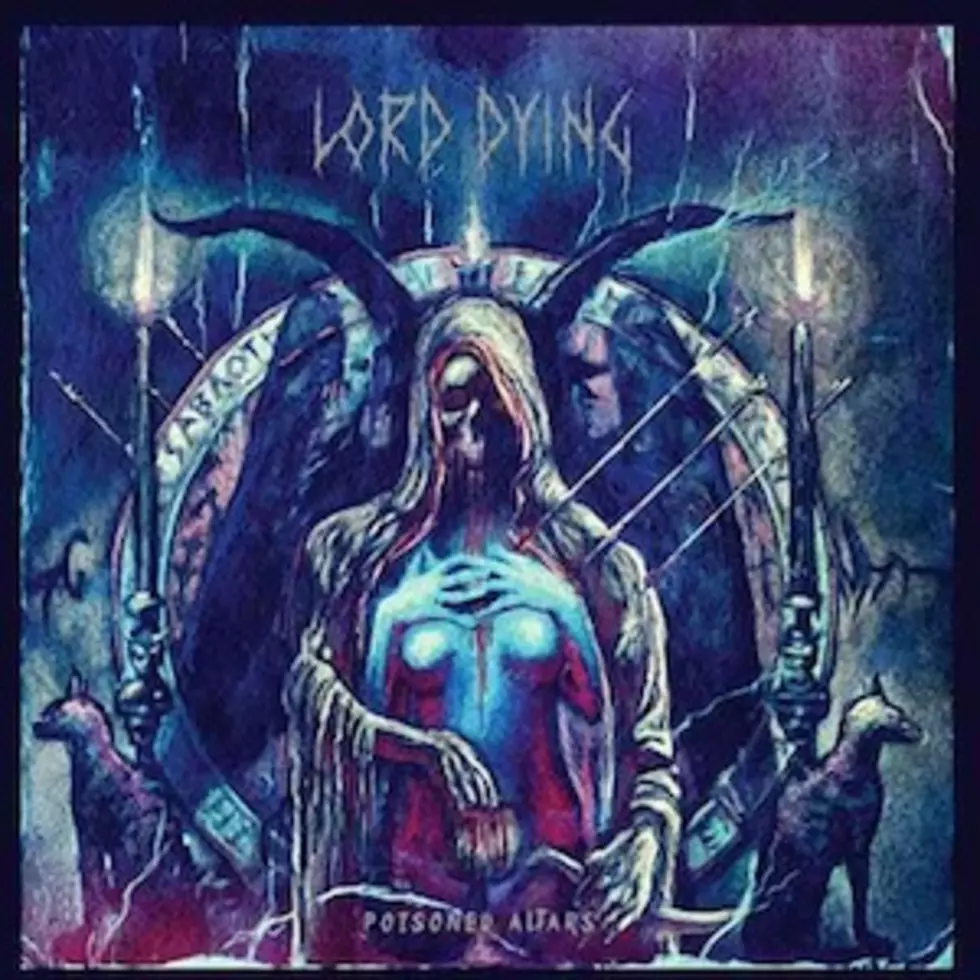 Lord Dying, 'Poisoned Altars' – Exclusive Album Stream
Relapse
Portland, Ore., sludge merchants Lord Dying are about to release their sophomore album, 'Poisoned Altars.' The record won't hit shelves until Jan. 27, but we've got the full album streaming right now!
Formed in 2010, Lord Dying turned heads in 2013 with their debut album, 'Summon the Faithless.' Sludge metal and its various fusions have been gaining more traction lately, as proven by the continued success of Down, Crowbar, Corrosion of Conformity, Melvins, Kylesa and others.
With 'Poisoned Alters,' Lord Dying may join the ranks of those celebrated acts. 'Poisoned Altars' is a fruitful listen that reminds us of the riff-heavy and aggressively swampy attack of High on Fire.
Regarding the stream, Lord Dying say, "We are extremely proud and excited to unleash this beast of an album, so crank it up and bang your head! See you on the road!"
Lord Dying will be headlining a few U.S. dates before hitting the road with Anvil. Check out the full list of dates below.
Do yourself a favor and immerse yourself in Lord Dying's 'Poisoned Altars.' To buy a copy of the album, head over to iTunes or the band's page at Relapse Records.
Lord Dying, 'Poisoned Altars' Full Album Stream
Lord Dying 2015 Headlining Shows:
1/31 - Portland, Ore. @ Mississippi Studios
2/03 - Crest Hill, Ill. @ Bada Brew
2/04 - Lakewood, Ohio @ The Foundry
Anvil 2015 U.S. Tour With Lord Dying + Sunlord:
2/05 - Brooklyn, N.Y. @ The Shop
2/06 - Frederick Md. @ Cafe 611
2/07 - Secaucus, N.J. @ The Blue Room
2/08 - Fayetteville, N.C. @ Drunk Horse
2/11 - Ashville, N.C. @ New Mountain Theater
2/12 - Jacksonville, Fla. @ Freebird Live
2/13 - Sanford, Fla. @ West End Trading Co
2/14 - St. Petersburg, Fla. @ The State Theater
2/16 - Kansas City, Mo. @ The Riot Room
2/17 - Indianapolis, Ind. @ The Fifth Quarter Lounge
2/18 - Chicago, Ill. @ Red Line Tap
2/19 - St. Louis, Mo. @ Fubar
2/20 - Ft. Smith, Ark. @ Holiday Inn Plaza
2/21 - Houston, Texas @ BFE Rock Club
2/22 - New Orleans, La. @ Siberia
2/25 - Austin, Texas @ The Dirty Dog
2/26 - Ft. Worth, Texas @ The Rail Club
2/27 - Midland, Texas @ The Blue Max
2/28 - McAllen, Texas @ Aces North
3/01 - San Antonio, Texas @ Kapones
3/04 - Phoenix, Ariz. @ Joe's Grotto
3/05 - Tucson, Ariz. @ Flycatcher
3/06 - Albuquerque, N.M. @ Blue Phoenix
3/07 - Colorado Springs, Colo. @ Black Sheep
3/08 - Denver, Colo. @ Marquis Theater
3/09 - Grand Junction Colo. @ Mesa Theatre
3/11 - Salt Lake City, Utah @ Metro Bar
3/12 - Idaho Falls, Idaho @ DB's
3/13 - South Lake Tahoe, Calif. @ Whisky Dicks Saloon
3/14 - San Francisco, Calif. @ The Fillmore*
3/15 - Las Vegas, Nev. @ Adrenaline
3/17 - W Hollywood, Calif. @ The Whisky
3/18 - Morgan Hill, Calif. @ The Granada
3/19 - Portland, Ore. @ Tonic Lounge
3/20 - Seattle, Wash. @ Studio 7