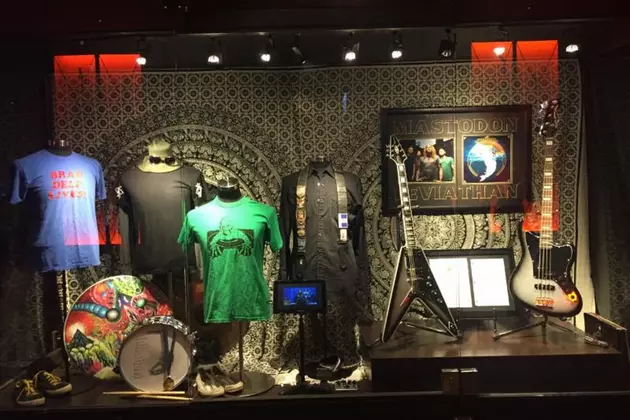 Mastodon Featured in Hard Rock Hotel Las Vegas Exhibit; Headlining Atlanta's Project Pabst Festival
Reprise Records
Mastodon are chipping away at a new album, but fans can celebrate the band's legacy while they wait for the disc to arrive. The metal stalwarts are now featured in their very own exhibit at the Hard Rock Hotel in Las Vegas. The exhibit features a mix of stage clothes, musical instruments and artwork and is currently being housed at the Hard Rock Hotel where it will stay through the summer of 2018.
The band says, "Joining the ranks of some of the biggest and most influential names in rock and roll, we are honored to now be a part of rock and roll history at the Hard Rock Cafe, in Las Vegas. Mastodon's showcase features artifacts from the past, including guitars, drums, set lists, handwritten lyrics, and clothes all used by the band on the long road to the present form over the past 16 years we have been together performing."
Beau Dobney, the Curator and Design Specialist for the Hard Rock Hotel, added, "We are very excited to work with Mastodon, they are elemental in today's metal sound, and aesthetic. The exhibit will be up, here in the Hard Rock Hotel until summer of 2018."
Meanwhile, Mastodon will be breaking from the studio to tour some over the coming months, with one of the stops included being a very special hometown show as they headline the Project Pabst festival at the East Atlanta Village on Oct. 1. The eclectic festival finds the band atop the lineup alongside Run the Jewels, with NOFX, Santigold, Charles Bradley and more set to play. Tickets for the Project Pabst festival go on sale this Friday at 10AM ET at this location.
At present, Project Pabst is the final date on their itinerary, with the band busy through most of August playing shows in Canada and Europe. They'll also play the Pemberton Music Festival in Canada on July 16. See all their dates here.
Project Pabst Festival Poster
See Brent Hinds in 10 Vocalists Who Sound Like Classic Movie Monsters
See Where Mastodon's Albums Landed on the Top 100 Hard Rock + Metal Albums of the 21st Century