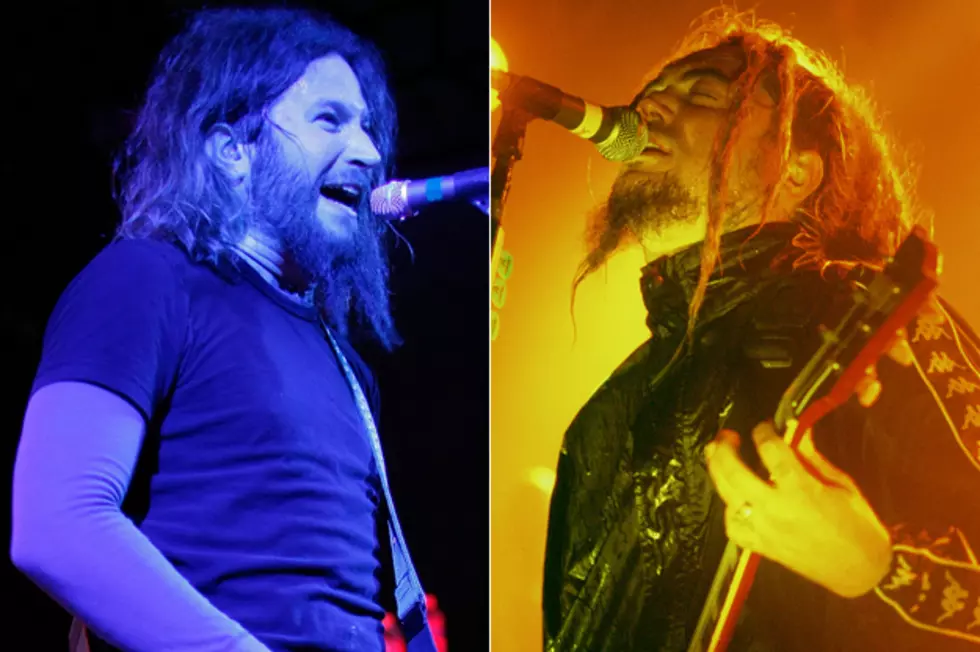 Mastodon's Troy Sanders Joins Max Cavalera in New Supergroup
Michael Buckner / Carlos Muina, Getty Images
Soulfly frontman Max Cavalera has spoken in the past about an upcoming musical project with Dillinger Escape Plan vocalist Greg Puciato and former Mars Volta drummer Dave Elitch, but a new member has been added to the yet-unnamed supergroup. That man just happens to be Troy Sanders, the bassist and co-vocalist of modern metal outfit Mastodon.
During an interview with Singapore metal radio show 'Vicious Volume,' Max Cavalera announced the inclusion of Sanders in the upcoming experiment. "Troy from Mastodon just joined the band, too, so now we've got three singers for the project, which is also really killer," says Cavalera. "I'm really excited about that, too. I think it's gonna be a very original project. I don't know any other metal projects out there with three people singing like this. So it can be almost like a Transplants of metal. Transplants had three singers; this also has three singers, and it can be very, very great."
He continues, "I'm following, in a lot of ways, some of the same footsteps as Nailbomb in my approach to this project — a lot of do-it-yourself, punk-rock kind of feeling to the project. So the songs are written really quick — I don't think too much about it. I like it more like that, so they are very raw. We are working on the [music] in December and then we're hoping to get in the studio in January. The main thing we don't have is a name."
Mastodon are currently cruising through South America and Mexico for a small amount of dates, and none of the other acts with members in the upcoming project are currently on tour, so it seems like the new project will being to grow right on schedule.