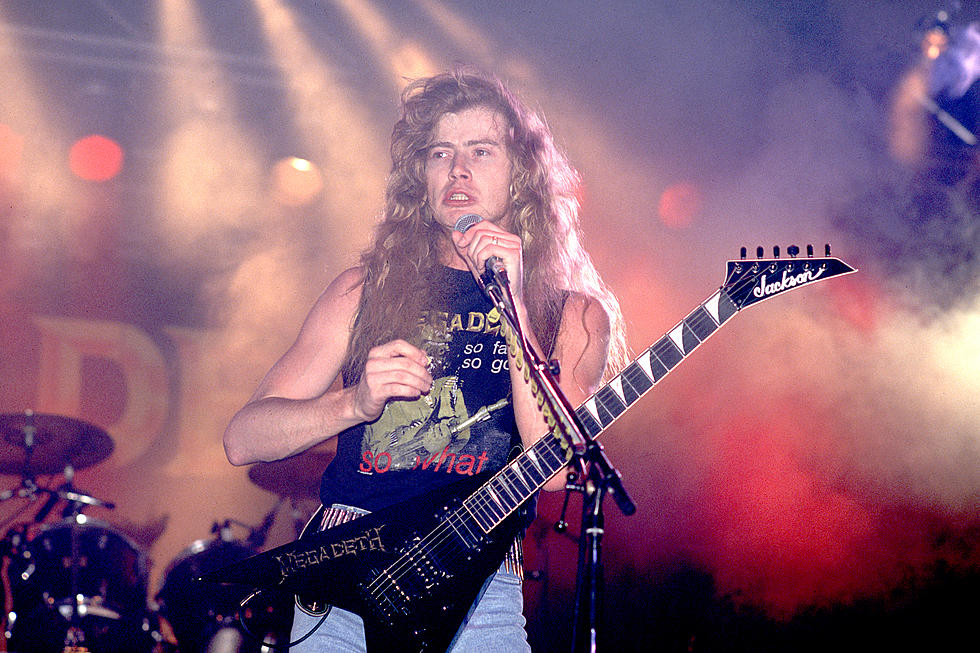 The Rock Album That Changed Dave Mustaine's Life When He Heard the Guitars
Paul Natkin, Archive Photos/Getty Images
Megadeth's Dave Mustaine named five albums he can't live without in a new interview with Spin, citing one particular rock record as having changed his life when he heard both the rhythm and lead guitars.
That album is none other than Let There Be Rock, the 1977 classic by Australian powerhouse AC/DC. It features some of the band's biggest Bon Scott-era hits — "Dog Eat Dog," "Whole Lotta Rosie" and the title track — and Mustaine also speaks about how Scott's distinct vocal style appealed to him.
"That [record] pretty much changed my life when I heard Malcolm [Young] playing rhythm and the tone that Angus [Young] got and just the whole approach. It's supposed to be a boogie woogie band, and it's far fucking from it," Mustaine assesses.
"I loved Bon's attitude. He just seemed like…the epitome of the snot-nosed singer, if you know what I mean," the Megadeth frontman, whose own voice is rather snotty, "I loved him."
In 2005, Megadeth even covered "Problem Child," a standout track on AC/DC's 1976 hit album Dirty Deeds Done Dirt Cheap. Listen to that cover below.
Megadeth, "Problem Child" (AC/DC cover)
READ MORE: How Did Megadeth Get Their Band Name?
While Let Their Be Rock changed his life in one regard, The Beatles' historic White Album helped shape the Megadeth leader's songwriting prowess, taking note of the record's "brilliant bass work and harmonies."
"I think Sir George Martin was immortal amongst mortals and his talent is just mind-blowing," he goes on, underscoring the significance of The Beatles producer's game-changing studio tactics. "Where would we be if it wasn't for his overdubbing? I don't know. We'd still be using four tracks, I'm sure," reasons Mustaine.
Back to the music, he expresses, "I love the combination of [Paul] McCartney and [John] Lennon, although it's really easy to see the difference between John's writing and Paul's writing. John's stuff was kind of the intense stuff and Paul's stuff was kind of the love song, syrupy kind of stuff. I love them both."
The albums Mustaine shouts are Led Zeppelin's Led Zeppelin IV, UFO's Phenomenon and Diamond Head's Lightning to the Nations.
See what he said about each of those classics here.
The Best Thrash Album of Each Year Since 1983
A history of the best thrash metal albums, year by year.
Gallery Credit: Loudwire Staff