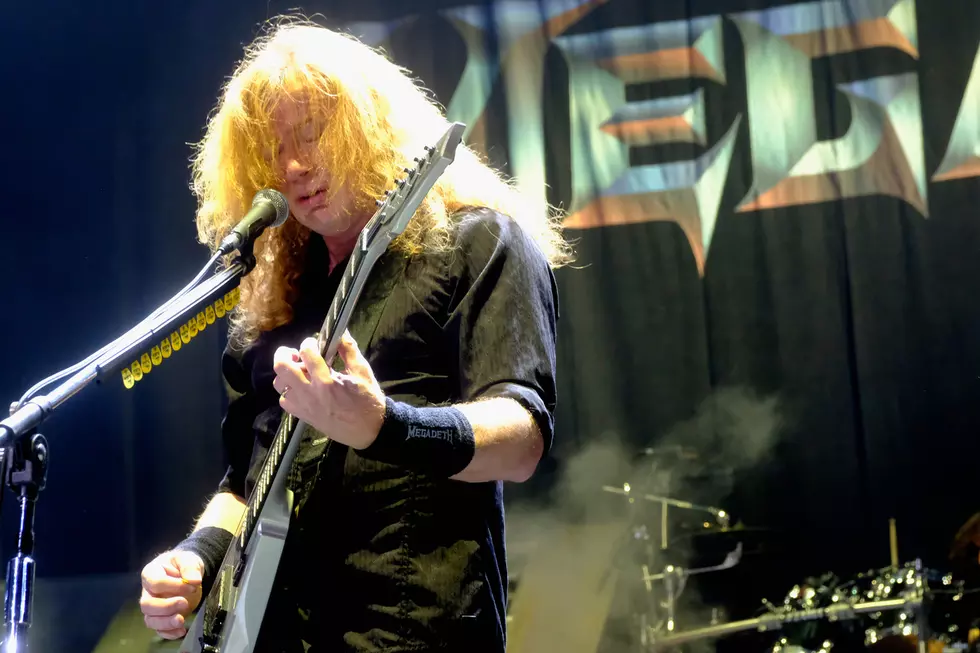 Megadeth's Dave Mustaine Reveals He Contracted Lyme Disease
Frazer Harrison, Getty Images
The Scorpions / Megadeth tour was one of the top tours of the fall for rock and metal fans, but it ended early when Scorpions frontman Klaus Meine was diagnosed with severe laryngitis. Though a shortened tour is never ideal, the early ending of the run did allow for some extra rest for Megadeth's Dave Mustaine, who just revealed a health issue of his own he's been dealing with to fans on social media.
Mustaine, who is one of the more accessible musicians on Twitter, was fielding questions from fans when one asked him about the transition from tour to home and if he was ready for a break. Mustaine responded to the question, "I needed to come home. I have a tick bite from the farm that made me really sick for the last few months and I am really tired."
As expected, that comment from Mustaine garnered some follow-up responses from fans, including one who stated, "Make sure no Lyme Disease." The Megadeth leader confirmed what the fans were speculating, responding, "That's what it is." However, Mustaine later revealed to fans, "I'm ok. Don't worry."
Lyme Disease is treatable, with symptoms including fever, headaches, fatigue and a rash. Treatment most often includes taking antibiotics for a few weeks. As Mustaine stated to one fan, he is ok, and it appears as though this will not factor into his immediate plans.
Where Does Dave Mustaine Rank Among the Top 66 Hard Rock + Metal Guitarists of All Time?
Dave Mustaine - Wikipedia: Fact or Fiction? (Part 1)

Loudwire Music Awards Tickets Available Now!