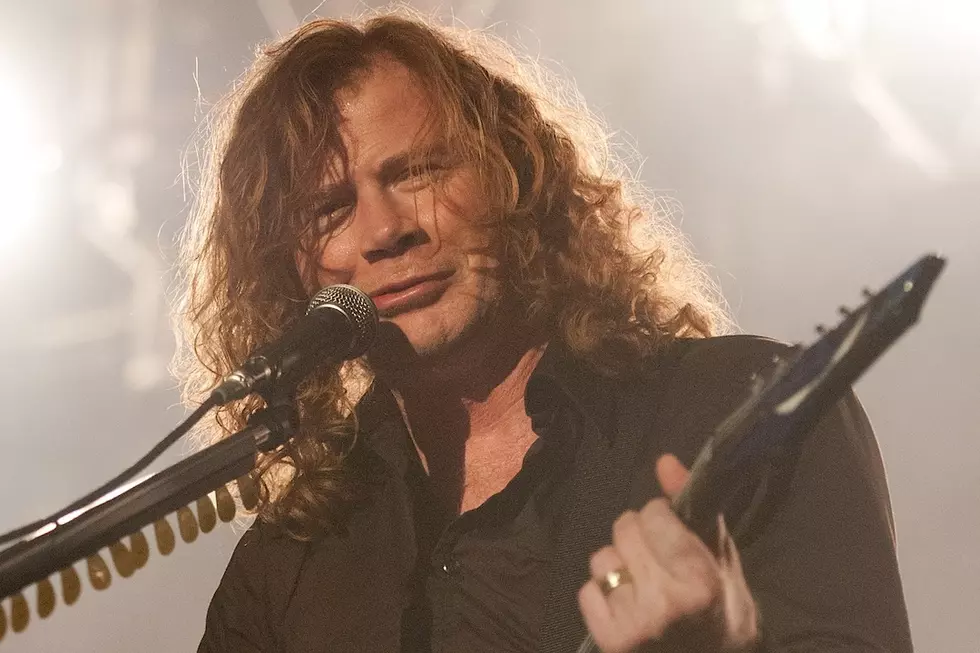 Megadeth's Dave Mustaine Flies to California to Help Find Missing Mother-in-Law
Daniel Boczarski, Getty Images
Yesterday (Oct. 6), we reported that Dave Mustaine's mother-in-law, Sally Estabrook, had gone missing. The Megadeth frontman asked fans to pray for her safe return, but he's now flown to California to help find Estabrook, who suffers from Alzheimer's.
Estabrook, 75, was last seen by her husband at the Pinezanita RV Park & Campground in Julian, Calif. on Oct. 4. After returning from a shower, his wife was nowhere to be found. The sheriff's office were immediately contacted and the search for Sally has been ongoing ever since.
According to KFMB, Mustaine flew in from Tennessee to "help find his mother-in-law." As you can imagine, they [Mustaine's family] are pretty distraught," says Mustaine. "My wife; she's very, very upset. I think with her having Alzheimer's, it complicates it so much. I'm just asking anybody that may have been out here for the Apple Festival; anybody saw anything, just please call 911."
Sally Estabrook is 5'4″ tall, weighs roughly 145 pounds, has shoulder-length blonde hair and was wearing a teal top and white capris pants the day she went missing. Estabrook is reportedly uncommunicative, but may respond to her name.
Dave Mustaine's daughter Electra has been posting lots of tweets about her grandmother, one of which shows a full-body photo of the missing woman:
Mustaine actually spoke with us about his mother-in-law's affliction during a 2013 interview:
Until it happens to you, you really have no idea. And I think that when I saw how upset our family became and yet how we are able to provide the resources for her, it made me think about all the families going through this that don't have the resources to take care of a loved one. It also made me really appreciate our fans because without them I would not be able to take care of things the way I am. Really brings it all home. And then beyond that, like I said, I just did what any good artist does. I put my emotions into my music. That's the pain you hear in the music. It's real. People can say, "We don't want to hear this kind of s–t," but to me, this s–t is important.
If anyone has information about Sally Estabrook, please call 911 or the local sheriff's department at (858) 565-5200.