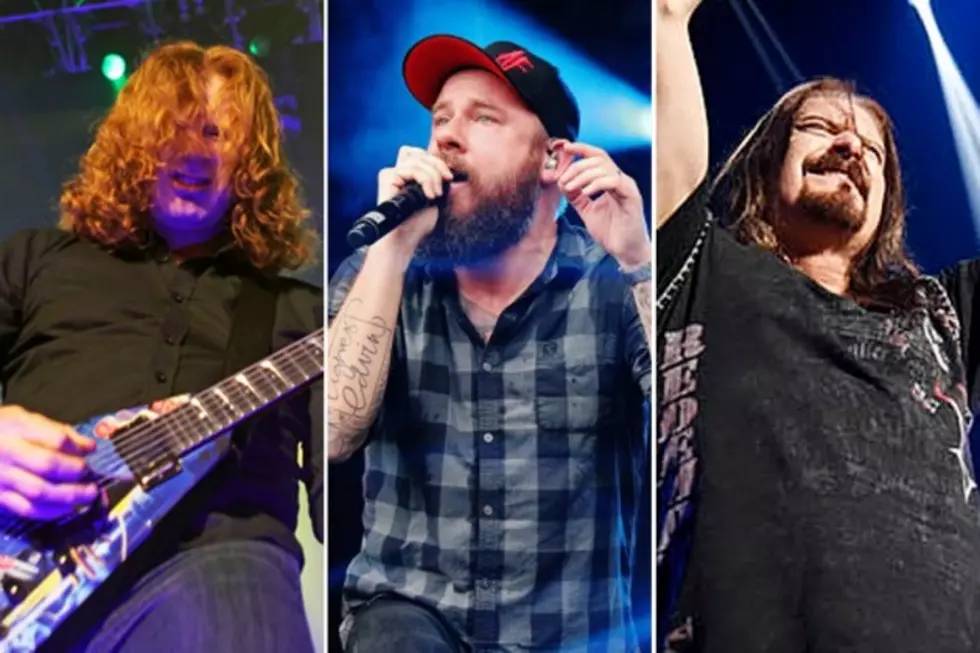 Megadeth, In Flames + Dream Theater Join 'Guitar Hero Live' Playlist
Mary Ouellette, SheWillShootYou.com / Liz Ramanand, Loudwire (2)
'Guitar Hero Live' promises to be one of the top games of the fall, and the creators are whetting your appetite once again with a new announcement of a number of new songs that will be playable in the game.
Megadeth's "Hangar 18," In Flames' "Deliver Us" and Dream Theater's "The Looking Glass" leads a group of new additions. Gamers can also rock out to Blink-182's "The Rock Show," Royal Blood's "Come On Over," You Me at Six's "Lived a Lie," Kasabian's "Club Foot" and Panic at the Disco's "Girls Girls Boys" as well as classic rock tracks like Boston's "More Than a Feeling" and Rush's "Limelight." Plus there's poppier cuts from Charli XCX ("Famous"), Passion Pit ("Take a Walk"), Echosmith's "Cool Kids," James Bay's "Hold Back the River," MGMT's "Time to Pretend" and Kings of Leon's "Sex on Fire" that have been added to the game.
In all, there are now 100 tracks that will appear on the game when it arrives on Oct. 20. Hard rock and metal fans can also look for previously revealed tracks from Asking Alexandria ("The Final Episode"), Disturbed ("Down With the Sickness"), Green Day ("American Idiot" and "Nuclear Family"), Jet ("Are You Gonna Be My Girl"), Iggy Pop ("Lust for Life"), White Zombie ("Thunder Kiss '65"), Korn ("Freak on a Leash"), Red Hot Chili Peppers ("Higher Ground"), Rage Against the Machine ("Bulls on Parade" and "Guerrilla Radio"), Bullet for My Valentine ("Temper Temper"), Weezer ("Buddy Holly"), Alice in Chains ("Stone"), Halestorm ("Love Bites (So Do I)"), Tenacious D ("Tribute"), Pearl Jam ("Mind Your Manners"), Rise Against ("Time + Tragedy"), Soundgarden ("Been Away Too Long"), Chevelle ("The Clincher"), A Day to Remember ("Right Back at It Again"), Marilyn Manson ("Disposable Teens"), Royal Blood ("Little Monster"), Mastodon ("High Road"), Killswitch Engage ("In Due Time"), Marmozets ("Move Shake Hide"), Of Mice & Men ("Bones Exposed"), Deftones ("Diamond Eyes"), Vista Chino ("Sweet Remain"), Trivium ("Strife"), Bring Me the Horizon ("Shadow Moses"), Black Veil Brides ("In the End"), Judas Priest ("Breaking the Law"), Pantera ("Cowboys From Hell"), System of a Down ("Chop Suey"), Alter Bridge ("Cry of Achilles"), The Pretty Reckless ("Going to Hell"), The Black Keys ("Gold on the Ceiling"), My Chemical Romance ("Na Na Na") and Pierce the Veil with Kellin Quinn ("King for a Day"). To see a full track listing of what's available, click here.
Guitar Hero Live will be available for Xbox One, Xbox 360, PlayStation 4, PlayStation 3, Wii U and mobile devices. To pre-order the game, head to this location. If you pre-order, you'll get access to bonus content featuring Avenged Sevenfold.
Rock + Metal Musician Video Game Cameos