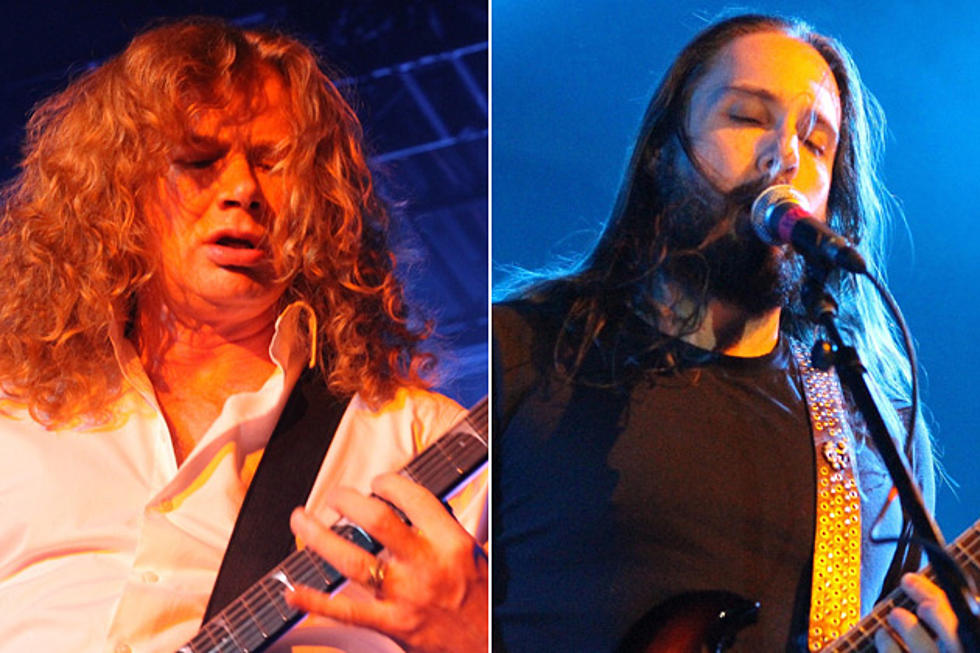 Megadeth + Kyng Deliver Powerful Performances at New York City Show
Liz Ramanand, Loudwire
Megadeth celebrated the 20th anniversary of their album 'Countdown to Extinction' with fans at New York's Best Buy Theater on Wednesday night (Nov. 14) with some serious support from rock trio Kyng.
L.A. band Kyng kicked off the night with a vigorous set as they performed tracks from their debut album 'Trampled Sun.' The energy and power the band displays is quite amazing considering that they are a trio.
Frontman Eddie Veliz not only shreds it up on guitar but his range of vocals echoed throughout the venue as he performed tracks like  'Falling Down,' 'Trails In Veins,' 'Bleed Easy' and many others.
The bass lines of Tony Castaneda boomed throughout Best Buy Theater while the very talented drummer Pepe Clark's thunderous drum patterns shook the foundation of the venue throughout the set.
After numerous "Megadeth" chants, first started by Veliz onstage, the headliners hit the stage with 'Trust,' then had the fans going out of control with 'Hangar 18' and 'Public Enemy No. 1.'
The band then went on to play 'Countdown to Extinction' in its entirety. Of course they also played fan favorites 'Peace Sells' and 'Holy Wars…The Punishment Due.'
Dave Mustaine's famous ginger red hair flopped around as he played some blistering riffs and belted out some Megadeth anthems. Drummer Shawn Drover kept the beat steady behind the skins while guitarist Chris Broderick and bassist David Ellefson worked the very rowdy crowd of passionate fans.
It was one hell of a night for Megadeth die-hards, one they soon won't forget. Check out the remaining dates to see Kyng and Megadeth on the 'Countdown to Extinction' tour here.
Photos of Megadeth and Kyng Performing in New York City

Megadeth:
Kyng: