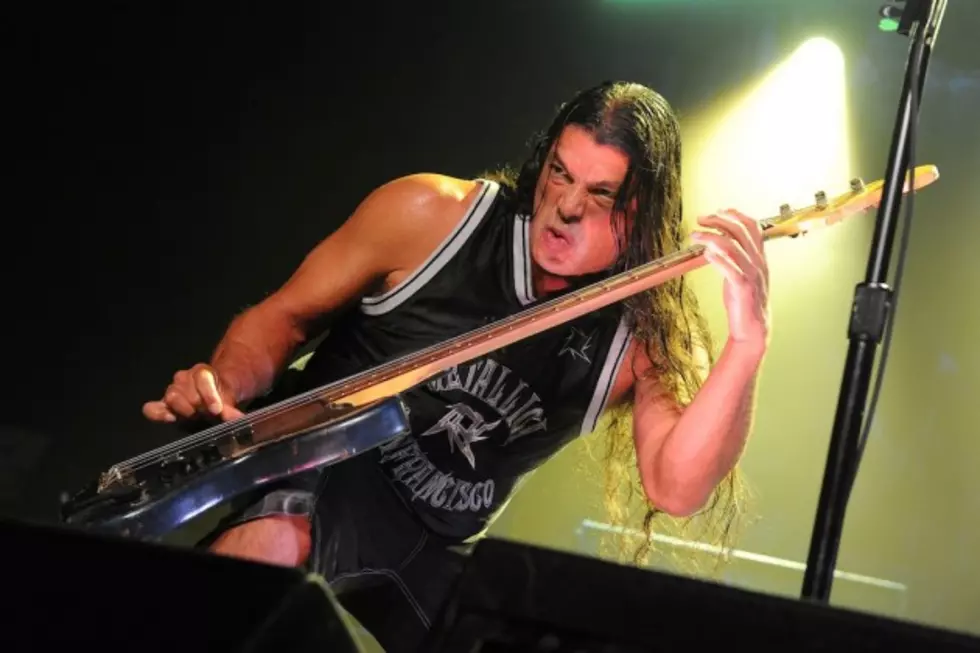 Metallica's Robert Trujillo, Torche's Rick Smith + More Collaborate for New Project
Kevin Winter, Getty Images
An interesting project is brewing between a member of metal's biggest band and a musician from one of metal's most respected underground acts. In other words, Metallica bassist Robert Trujillo has teamed up with Torche drummer Rick Smith, among others, for a yet-to-be-named project.
Not much has been revealed concerning the experiment. All we have so far is a picture of four musicians jamming in a room and a few short descriptions. Along with Trujillo and Smith, the picture shows Bleach Everything members Brent Eyestone and Graham Scala. Eyestone is also the founder of Magic Bullet Records.
Brent Eyestone posted the solo photo and a description via his Instagram roughly two weeks ago:
My first writing and recording project since moving to the west coast was both surreal and inspiring. Thanks so much to my homies behind the scenes at@tonyhawkfoundation and @metallica for logistical support and enthusiasm, my dudes Ricky, Graham, and Robert for bringing their passions for all music, Chris and Vanessa for technical support and tracking, Blind Melon for the studio, and The Melvins/Big Business for drums. Stay tuned...
Eyestone continued with the following Instagram post, which shows the musician / record label founder posing with Trujillo:
Forget fantasy football teams and imaginary dumb crap, it's all about putting together reality rhythm sections. Aside from making new music, we also sat and listened to some of the upcoming @torche_band album "Restarter" and then supported Robert at a private screening of his documentary on the late, great Jaco Pastorius. This week and these guys have reminded me that flash is just flash and that it's most impacting when creatives take their spoils and sink it into making more art versus simply buying shit. Robert rolls around in a beat up Subaru and chooses to live relatively modestly so that he can do massive passion projects like chase Jaco's story around the world over the last 5 years and sink every dime of disposable income into it. Ricky had pneumonia while we were setting up travel, but insisted on keeping the studio time because he was so committed to the project. He is yet another real deal warrior driven to create and grow as a musician. To that end, you can support the completion of Robert's film and receive merch in exchange over at his Pledge Music page (Google "Jaco Pledge"). Torche's "Restarter" drops next month on Relapse and I can't recommend it enough. See them on tour! I am honored to make sounds with these dudes.
Our friend Chris Owens was behind the boards and snapped the accompanying pic. The tracks have been passed along to two other conspirators (that will be named later) and the material will be mixed and mastered in May. Plans for the release of this music will be announced shorty thereafter. Needless to say, the music is on the heavier side of the spectrum.
So there you go! Expect an official release from the unnamed act in 2015! Metallica will possibly release a new album in 2015, while Torche's fourth full-length, 'Restarter,' will see a Feb. 24.
You Think You Know Metallica?
See the Yearbook Photos of James Hetfield + More Rock Stars