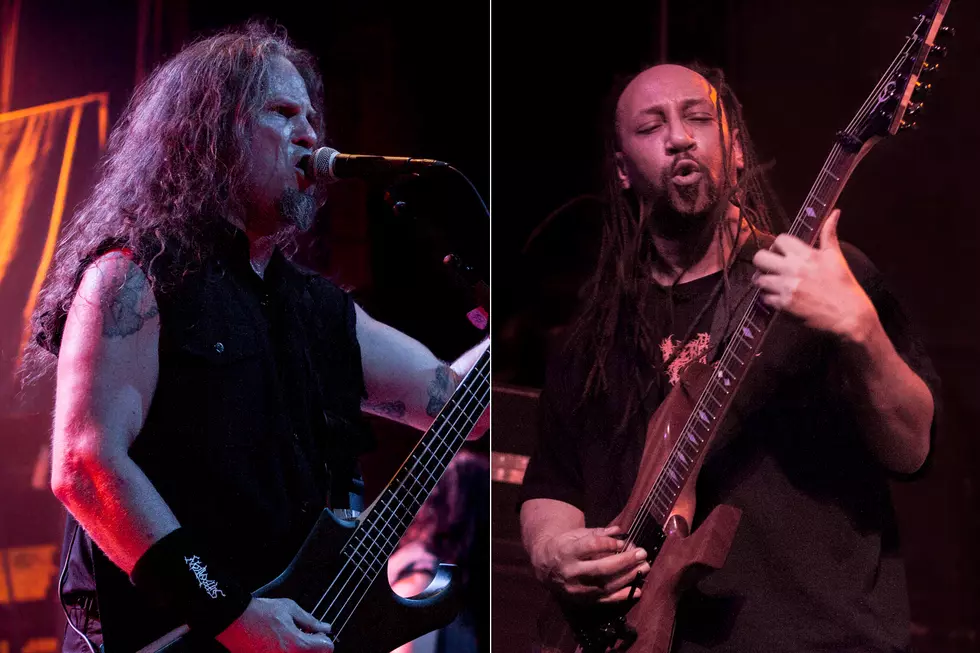 Morbid Angel + Suffocation Unearth True Heaviness in New York City [Photos + Review]
Johnny Perilla, Loudwire
Florida death metal greats Morbid Angel, boasting a rejuvenated lineup consisting of legendary guitarist Trey Azagthoth and vocalist/bassist Steve Tucker, plus fresh additions drummer Scott Fuller (Annihilated, Errorgeist, Abysmal Dawn) and guitarist Dan Vadim Von (VadimVon), are in the midst of a vast U.S. tour playing alongside ferocious death metal brutes Suffocation, tech-death agitators Revocation and blackened dealers of death Withered.
The offensive launched in Orlando, Fla. on May 23 and consumed markets such as Atlanta, Ga. at The Masquerade and Baltimore, Md. at the ravaging and iconic Maryland Deathfest (where Morbid Angel headlined one night) before landing in New York City for a super sold-out gathering at the Gramercy Theatre on Memorial Day (May 29). Withered kicked off the night promptly at 7PM, as droves of eager fans piled into the popular Manhattan venue, dishing out a fury of dread-filled tracks off of their latest metal anguish on Season of Mist, Grief Relic, plus more.
The mosh pit ignited early thanks to Withered and continued into Revocation's crushing set as the Boston rippers flooded the stage for an unfortunately short, but fierce display filled with inhuman shredding courtesy of guitarist / vocalist David Davidson. The foursome tore through malignant compositions like "Crumbling Imperium" from their latest Metal Blade thrashing Great Is Our Sin and "Madness Opus" and "Scorched Earth Policy" off of 2014's Deathless, among other bruising spewings.
New York's own deadly metal beasts Suffocation assembled onstage with guttural belcher Kevin Muller (Dysentery, The Merciless Concept) now fronting the hometown heroes, replacing longtime singer Frank Mullen, who is no longer a full-time touring member of the band. Kicking off their set with the salacious "Thrones of Blood" from 1995's violent Pierced From Within LP, Suffocation had the crowd in a rage as Muller gushed forth the track's overly depraved lyrics of murder and mayhem.
During the first few minutes of the band's set, none other than Mullen himself stormed the stage and snatched the backup microphone to assist Muller on the song's feature breakdown. Obviously, a packed house at Gramercy exploded at the sight of Frank who stated, "You didn't think there was a way I was going to miss a New York show, did ya?" Now reunited with his death metal brethren; guitarists Terrance Hobbs, bassist Derek Boyer and new entrants guitarist Charlie Errigo and drummer Eric Morotti, Frank and crew went on to deliver skull-fracturing hits such as "Effigy of the Forgotten" and "Pierced from Within."
Being as how Kevin is currently taking over the vocal helm for the band, he popped back onstage to take on the new cut "Return to the Abyss" from the band's impending album on Nuclear Blast, ...Of the Dark Light, and eventually tagged Frank the Tank back in so he could discharge bone-breakers "Liege of Inveracity," "Funeral Inception" and "Infecting the Crypts."
Following up a hometown act, especially one like the Earth-churning Suffocation, can often be difficult, but for a sea of fans anxious to witness the return of Steve Tucker to Morbid Angel, there was no sense of competition to be had, just more bowel-threatening heaviness. Opening with the Gateways to Annihilation cut "Summoning Redemption," the slime lord Trey Azagthoth began unfurling his serpentine, oozing riffs and devastatingly dense tone along with Tucker's deathly bellow, which certainly sent out rumbling tremors to the unsuspecting passersby outside Gramercy.
While fans howled for classic tracks from the David Vincent era, Morbid Angel alternated material from all three releases under Tucker's first reign. The Florida legends offered a glimpse at the band's immediate future though, dishing out "Warped" to a crowd who, as Tucker acknowledged, have likely already heard the song unless they don't have the Internet. The track's molasses pace gave fans who had been moshing hard for the last three hours a chance to breathe a bit as they were visibly spent.
The highlight of any Morbid Angel show, of course, is observing the starkly unique Azagthoth, whose unorthodox playing is jaw-unhinging. An entire set of amps were dedicated just for soloing and, for an undetermined reason, the axeman even had a box fan next to the cabinets mic'd up. With every dive bomb a head-first descent into infinitely deep fault lines opened up by Trey's tectonic riffing, the crux of Morbid Angel's plunging sound was on full display.
We can't be certain what future sets hold for Morbid Angel, so fans soaked up the chance to hear tracks that may rarely get played live again if they return to performing material from the entire Morbid discography. Other standouts included "Nothing Is Not" with its jarring pick scraped feature riff, "To the Victor Spoils" and "Ageless Still I Am." Leaving almost no time for banter, the death metal vets continued their thundering intensity with little interruption as the new implants pulled off the material flawlessly. New riff-slinger Dan Vadim Von possesses the same melting solo capabilities as Azagthoth, gyrating onstage with the lava flows.
Closing their set with the Formulas Fatal to the Flesh offering "Umulamahri," Morbid Angel felt like they were hitting their stride as the song transitioned from a crawl to neck-snapping rage. After a night of low-slung guitars and unrelenting blast beats, the final notes rang out and a silence fell over the venue as an incapacitated crowd struggled to return to normalcy after enduring such overt and flattening heaviness.
The night found new school extreme metal uniting with the old school's finest representatives and the infusion of such young blood in vaunted acts like Suffocation and Morbid Angel along with the leaders of the modern era proves death metal is in more than capable hands, even perhaps extending the lifespan of the genre's originators. "Ageless Still I Am," indeed.