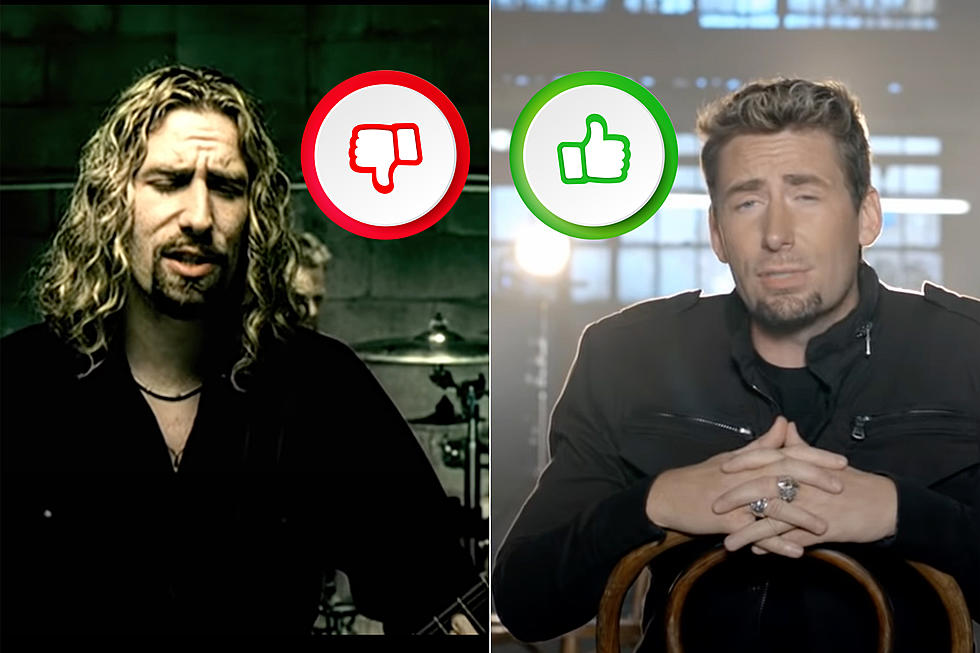 Nickelback's Chad Kroeger Reveals the Reason He Cut His Hair Short (and It's Quite Understandable)
YouTube: Nickelback / YouTube: Roadrunner Records / Getty Images (2)
There's a full history of fans going nuts when rockers cut their hair. Just ask Metallica and Soundgarden. But during the red carpet for the premiere of the new Nickelback: Love to Hate documentary, Toronto's CHUM 104.5 (seen below) got to real reason Nickelback's Chad Kroeger chopped off his famous locks in the early 2010s, and honestly, it's quite understandable.
"It was just an accident," says Kroeger. "That's the honest to God truth. It was an accident. He [My hairdresser] just cut it too short, and it was just in such a weird length. I'm like, 'Nah.'"
Drummer Daniel Adair interjects, "But he had been talking about it for years. He used to say, 'One day I'm gonna cut this off,' and that pushed you over the edge."
Kroeger recalls, "The unfortunate part is we just did all these photo shoots for the new album that we's just done — we'd just done it — and the next day, I bucked it off. And [the band] were all just, like, 'Love the hair. Are we taking new photos now?' But it was funny to walk out onstage for the next two tours — at least two tours — and have everyone just, like… you could just feel the audience go, 'Where's his hair?' Like, 'I cut it. It's hair.'"
Nickelback Speak With CHUM 104.5
Chad Kroeger: A History With Hair
Back in 2015, The Edmonton Journal did a full rundown of Chad Kroeger's hair evolution, giving each era a nickname. The one that most fans became familiar with was "The Cocker Spaniel," which ran from 2001-2002 over the course of the Silver Side Up era. The mop of dyed-blonde curls along with his mustache and goatee didn't necessarily win the musician any beauty contests however.
In fact, a 2002 Kerrang readers poll selected him as the ugliest person in rock, with one respondent noting, "My five-year-old cousin saw him on TV one day and started screaming. I asked her what was wrong and she said, 'Scary Jesus Man on TV!'"
Thankfully, Kroeger started to move on from that look, adopting what the Journal called "The Stooge" over the course of The Long Road and All the Right Reasons eras. It was during this period he shortened his locks a bit, telling the Edmonton Journal in 2003, "Everyone's allowed to walk around with a bad-hair day for a couple of years. I didn't want to cut it, I was holding on to it like it was my '(screw) you.' But I look back and watch the How You Remind Me video and think, 'Good Lord, boy. You look 40 years old.' I'm 28. I shot the video when I was 26 and people are like, 'You're 35? 36?' I'm like: 'OK, Hair's gotta go.'"
Fast forward a few years and the big change came in the early 2010s when Kroeger shored up his locks in favor of a blonde, sometimes spikey on top look that the paper called "the Pop-Punk Sk8er Boi" in reference to his then wife Avril Lavigne (the shortening of his hair actually pre-dated his relationship with Lavigne, but the style remained pretty consistent through that era). By this point, he'd shaved his mustache as well, leaving on a small chin strap of a beard.
Talking with ET Canada in 2011 (as seen below), he noted, "My hair has been getting consistently shorter, progressively shorter over the years. And I got to this point where I was like: 'You know what? I am sick of THIS.' I'm even sick of it being a conversation piece .... When I did it, I walked into a rehearsal space in L.A., they were all giving me big hugs and stuff, like 'Dude, your hair looks great!'
Though the looks have changed a bit over time since then, from that point on Kroeger has maintained a shorter hairstyle.
Nickelback's Chad Kroeger Speaks to ET Canada About His New Hairstyle in 2011
Nickelback's Storied History on the Big Screen
There's little doubt that Nickelback are one of rock's more divisive acts, suffering a massive social media backlash that coincided with the band becoming one of the most played acts on rock radio over the first decade of the 21st Century.
Some of that backlash and how they dealt with it is featured in the new documentary, Hate to Love: Nickelback, which premiered Friday (Sept. 8) at the Toronto International Film Festival. Not only does the film dig into some of that backlash, as the title suggests, but it also serves as a career-spanning document of the highs and lows that have followed them through four decades of rock.
READ MORE: 10 Nickelback Songs That Are Actually Really Heavy
Now that the film is out there, doing the job of answering the band's thoughts on the hate they've received over the years, Chad Kroeger revealed during an interview with People Magazine that he's now done taking interview questions on the topic.
"I'm over it," the frontman affirms, revealing why he is done answering questions about this topic, continuing, "We made a documentary. Everybody can watch it. And now from this day forward, if anybody asks that question in the press, it's like that's the end of the interview. So if you want to end an interview, that's all you have to say and that will be it."
Get a closer look at the trailer for the documentary below.
Hate to Love: Nickelback Documentary Trailer
13 Bands Other People Make You Feel Bad About Loving
No matter what you listen to, there will always be someone out there who will shame you for listening to certain bands. There's no explanation for it, but it's happened time and time again throughout the decades.
Don't be ashamed and let others dictate your life — that's not what rock and metal is about. Smash all those who oppose these 13 Bands Other People Make You Feel Bad About Loving, as listed below.