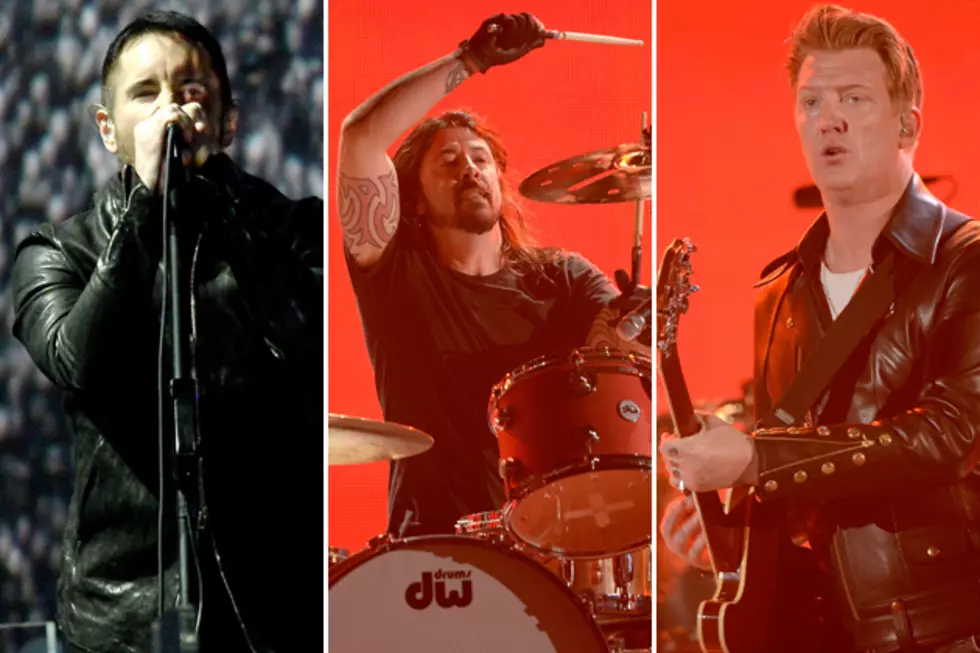 Nine Inch Nails, Dave Grohl + Queens of the Stone Age Close 2014 Grammy Awards, Get Shafted
Kevork Djansezian, Getty Images (3)
The performance opened with Nine Inch Nails' driving single 'Copy of A' with the band and Buckingham silhouetted and dimly lit, but it was eventually revealed that QOTSA frontman Josh Homme was also on hand to both sing and play guitar on the song.
Eventually, the dark, strobelight lit imagery gave way to a bright red orb above the stage and Homme's guitar licks for 'My God Is the Sun' kicked in. The furious rocker found Grohl behind the kit pounding away while Trent Reznor appeared to have moved over to keys.
Unfortunately for rock fans who had been waiting the entire show for the performance, the producers decided midway through the song to show some of the Grammy sponsors and roll the closing credits over a distant shot of the stage while the band continued to play. The broadcast actually ended while the all-star finale was still onstage performing. After the show, Reznor expressed his displeasure with the following tweet:
The one unifying factor of all the members of the finale is that they were linked through Grohl's documentary, 'Sound City,' which helped earn the singer-drummer-turned-director two Grammys earlier in the evening.