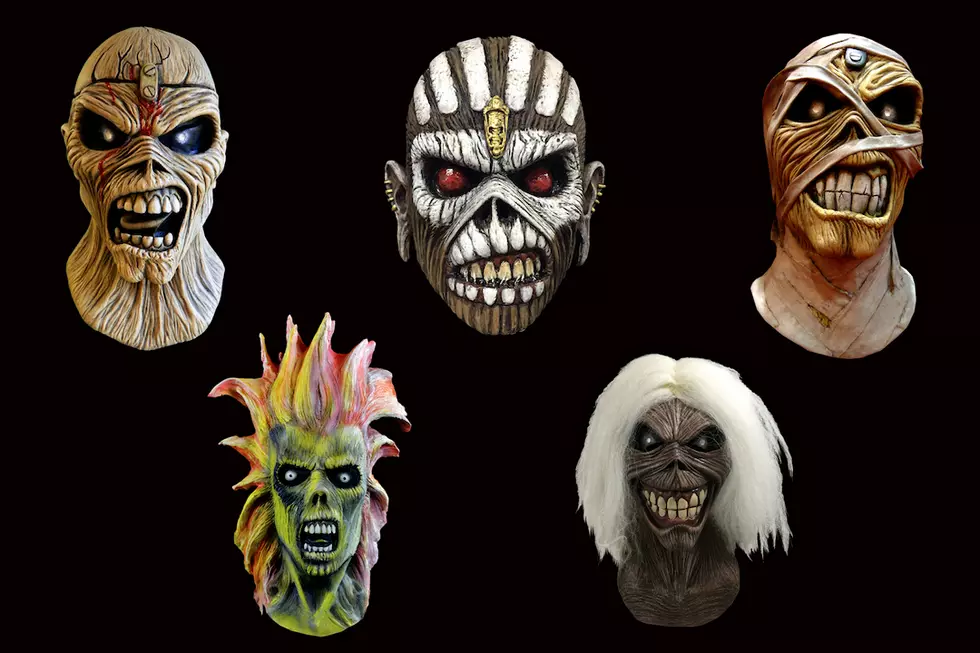 Officially Licensed Iron Maiden Eddie Masks Available This Halloween
Trick or Treat Studios
With just over one month to prepare for the most metal of all holidays, Halloween, it's time to start costume planning. Of course, the decision is never easy, but with six (six, six!; full costume not pictured above) licensed Iron Maiden Eddie items up for sale from Trick or Treat Studios, you can transform into one of the infamous undead mascot's legendary incarnations this October.
Throughout the years, it appears that the iconic "The Trooper" version of Eddie has been spotted the most in the streets and at parties, but this lot offers the chance to stand out even more. The six mask designs include the original, punk-tinged Eddie from Iron Maiden's eponymous debut, a white-haired Killers version, the straightjacketed menace found on Piece of Mind (full costume or just the mask), the Egyptian mummy wraps from Powerslave and the imposing Mayan warrior from the band's latest album, The Book of Souls.
For further details about each item, visit the Trick or Treat Studios webstore.
Iron Maiden also posted on Facebook about the fun their camp was having at the office as they went around "testing" the product, humorously noting that the testing involved "messing about scaring people" as seen here.
The band wrapped up their exhaustive 36 country tour in support of The Book of Souls, closing it out with a live stream at the Wacken Open Air festival in Germany. Indicating they would return in 2017 before walking offstage at the show, they band made good on this promise when they announced a European tour in further support of the record, which will launch in late April of 2017.
See Where Eddie Ranks Among the Top 25 Metal Mascots
10 Greatest Iron Maiden Onstage Eddies