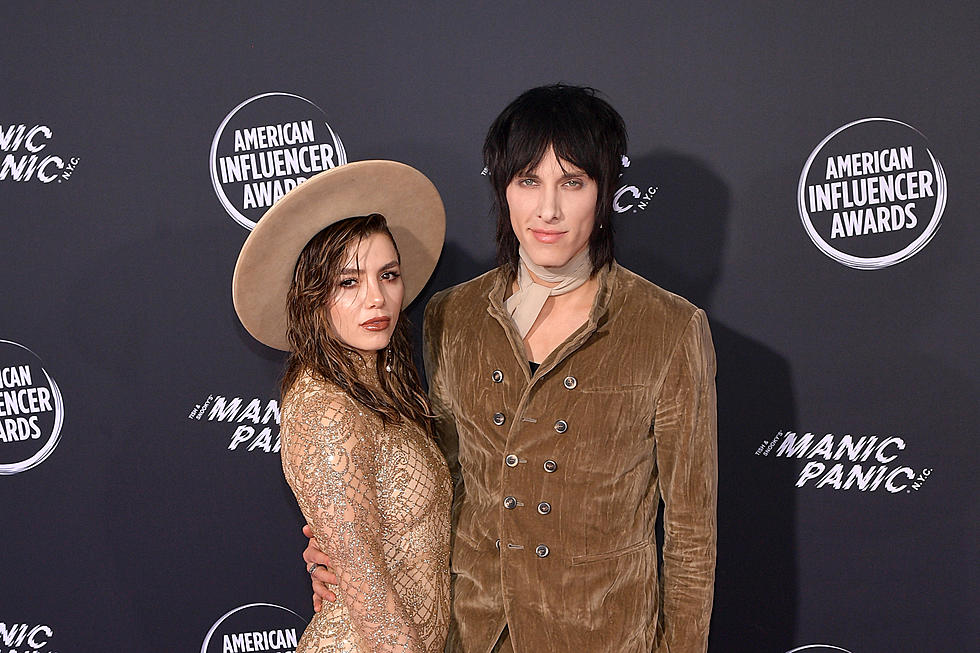 Palaye Royale Guitarist Sebastian Danzig Weds Girlfriend Larisa Love in Scotland
Matt Winkelmeyer, Getty Images
Congrats are in order for Palaye Royale guitarist and keyboardist Sebastian Danzig and his new wife, hair designer Larisa Love. The couple wed on Saturday (Aug. 5) in Scotland.
Danzig and Love have been a couple since 2019, and their wedding came at a particularly emotional time for the musician. Earlier this month, Danzig and his sibling bandmates revealed that their mother, Stephanie Rachel Cowper, had been diagnosed with Stage 4 terminal brain and lung cancer.
As the wedding approached, the musician tweeted, "So much going on in this thing called life. Happiness, sadness, excitement, disappointment, etc. I am glad I am not numb but my gosh this has been the most difficult few weeks: ups and downs. I feel like my emotions is Inside Out they are all fighting for the number one spot."
That said, it was all joy this weekend, with Danzig last tweeting, "Landed in Scotland! Wedding this Saturday. Full fairy tale wedding!" ahead of the ceremony. Understandably, the musician has been off social media, though his new wife tagged him in some video for his Instagram from the wedding weekend.
In one of the videos the couple shared, they filmed video testimonials about why they wanted to marry each other. Danzig noted, "I want to marry the beautiful Larisa because I have finally found my significant other, that we're two halves making one extraordinary couple and someone whose life when I witness theirs and have someone that has my back and be able to travel and spend every moment of this life together and I'm just very thankful that I found my person."
Love stated," "If I had to sum up why I want to get married to Sebastian is because I have never met such an incredible soul, such a selfless soul. He just is a ray of sunshine and I always feels so safe around him. He really truly gives you all that he has of him which is a lot. I hate when people call me lucky, but I will say on this one, I am very lucky. He is literally my bestest friend and I'm excited to start this life with him."
Palaye Royale are currently four albums into their career, with their most recent effort, Fever Dream, arriving last year.
READ MORE: Palaye Royale - 'We Despised One Another After 2019 Tour'
Check out photos and video (soundtracked to Bright Eyes' "First Day of My Life") from the wedding weekend below. The couple will honeymoon in Greece. Congrats to the happy couple.
Couples Brought Together by Rock and Metal