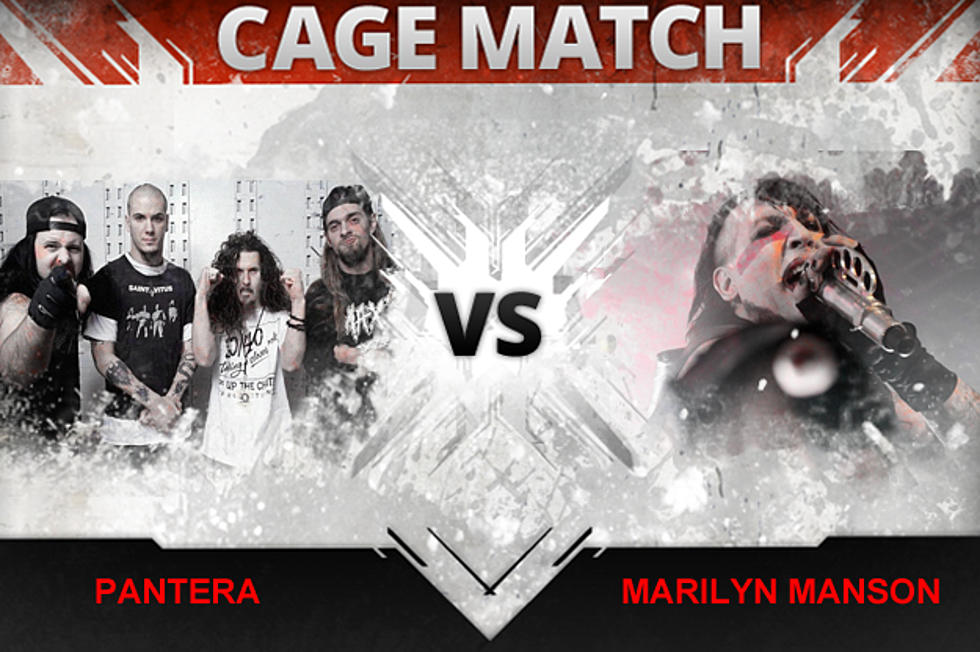 Pantera vs. Marilyn Manson – Cage Match
Pantera and their single 'Piss' took down Megadeth in the last Cage Match but will they be able to enter the Loudwire Cage Match Hall of Fame with their fifth and final victory? To do so, they'll have to take down a fierce competitor.
Marilyn Manson heats up the Cage Match with his new single 'No Reflection' off of his latest album 'Born Villain.' Manson is also on a U.S. trek which wraps up with an appearance at the Rock on the Range festival on May 20 in Columbus, Ohio. For a full list of dates and cities, go here. Also check out Loudwire's song review of 'No Reflection.'
Back to Pantera, check out our exclusive interview with singer Phil Anselmo about the 20th anniversary of 'Vulgar Display of Power' and his love for Dimebag Darrell. The deluxe anniversary edition of 'Vulgar' hits stores May 15 and can be pre-ordered here.
So will the 'Born Villain' Marilyn Manson be triumphant or will Pantera wash away their competition with 'Piss' for one last time and head to the Cage Match Hall of Fame? Get in on the action and vote for your favorite track below:
(This Cage Match ends Monday, May 14, at 8AM ET.)
Listen to Pantera, 'Piss'
Marilyn Manson, 'No Reflection'
Rules of Cage Match:
There are no rules … except this one: If a song remains the reigning champ for five straight cage matches, it is retired to the Loudwire Cage Match Hall of Fame. With so many great songs out there, we have to give other bands a chance!