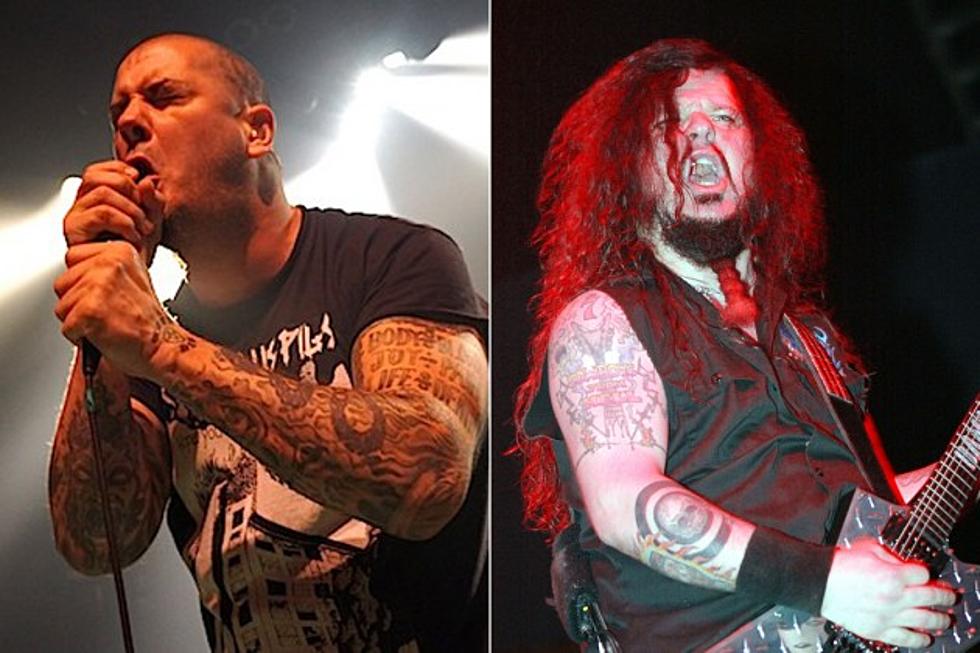 Philip Anselmo: If Dimebag Darrell Was Still Alive, Pantera Would Have Reunited
Spencer Kaufman, Loudwire / Scott Gries, Getty Images
Today (Dec. 8) marks the 10 year anniversary of the tragic slaying of Pantera / Damageplan guitarist Dimebag Darrell. In commemoration of Dime's life and career, Pantera frontman Philip Anselmo has penned a long article for Rolling Stone, saying he "thinks about him everyday" wants "to leave his memory sacred."
In the piece, Anselmo discusses how he still struggles with Dimebag's sudden death. He wrote, "It actually keeps getting tougher and tougher. For me, personally, I've yet to come to terms with it. I don't see the sense. I don't see the everything-happens-for-a-reason attitude. This year is the toughest yet."
Anselmo shared funny stories and recalled their early days in the piece. He also called Dimebag a "warrior" and "an incredible guitar player" who "had a magic way of showing you his appreciation."
In one passage, Philip shared the story of how Dimebag got his name.
When I joined the band, he was going by 'Diamond Darrell.' I was always in the process of morphing the band into what we eventually did become, by controlling the cassette deck and turning them guys onto early Mercyful Fate, Slayer and s--t like that. After awhile, I was like, 'This 'Diamond' s--t ain't gonna cut it anymore. Brother, you ought to change that shit to 'Dimebag,' and the look on his face was priceless, 'cause I could tell he loved it right off the bat. It just cracked his ass up and he went with it from there.
Anselmo also added that Pantera would have reunited if Dime were still with us today:
If he were still alive, I'd damn well know him, because of our love for each other. He was one of my best friends on this planet, and best friends – especially those with strong personalities and integrity – butt heads sometimes. But we always found a compromise. I know for a fact that we would've made more music together. There would've been more Pantera tours. There would've been more albums. Then, when I think about it, the reality of his death collapses that entire pipe dream, and once again the heart is crushed.
He also said that he owes his current work ethic to Dimebag's legacy:
His loss has made me work harder to do his memory justice. I want to leave his memory sacred and do the best that I can do, because I know that's what he would've wanted: my best.
Anselmo concluded his tribute to Dime by honoring Pantera's fans and how he went out doing what he loved.
Pantera fans are and always were the greatest. They are part of the family. And the songs that we wrote, those are their songs now. I just hope that everybody who is trying to find closure, just does the best they can every fucking day, because that's the way Dimebag lived it. And that's the way, honestly, he went as well. He was on that stage playing the fucking guitar.
You can read more from Philip Anselmo's Rolling Stone article here, and see the video tribute he did exclusively for Loudwire below:
Philip Anselmo Remembers Dimebag Darrell [Loudwire Exclusive]
Rock + Metal Musicians Honor Dimebag Darrell