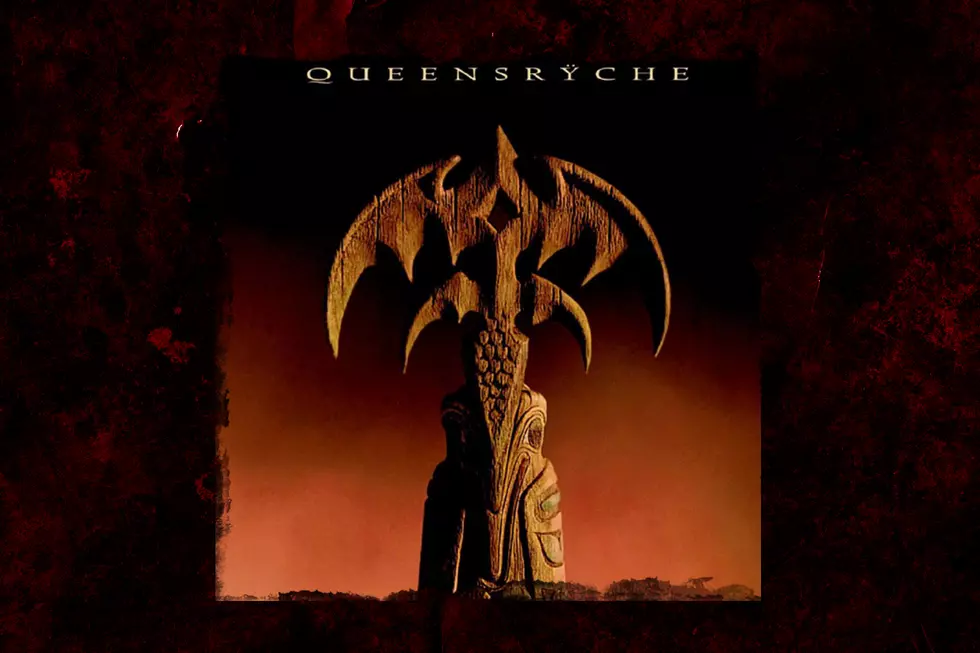 24 Years Ago: Queensryche Release 'Promised Land'
EMI
Queensryche released their fifth album, Promised Land, on Oct. 18, 1994. The effort arrived in a much different musical landscape than its predecessor, the group's 1990 landmark album Empire. By 1994, the band's hometown of Seattle had spawned a grunge musical revolution with the likes of Nirvana, Soundgarden and Pearl Jam leading the rock airwaves and charts. While the popularity of grunge didn't affect the sounds on Queensryche's fifth album Promised Land, it did have a profound influence on the band's 1997 album Hear in the Now Frontier.
While Promised Land is a fan favorite and arguably the original lineup's last great album, it was completely overshadowed by the tremendous commercial success of Queensryche's 1990 album Empire. However Promised Land remains the highest charting Queensryche effort, debuting at No. 3 on the Billboard 200 chart. But the disc didn't have the legs of the band's prior effort and quickly fell off the tally.
Promised Land features the band returning to their conceptual roots. Among the album's themes are life, death, success and how American society shapes our goals. Singer Geoff Tate said the album is all about "going after the brass ring."
The album was written in a tumultuous time for the band. Following the success of Empire, Queensryche had huge expectations looming and that weighed on the band. Tate told us in an exclusive interview that Promised Land is one of his "favorite records." He also shined a light on the process of putting together the effort. "It was an incredibly difficult time when that was recorded, having experienced the world from the Empire album and the commercial success of that record and the massive amount of touring. That kind of stuff has a tendency to really change your outlook on things and it definitely did that for me, it actually made me more introspective, you know."
Tate added, "It made me question what life was all about and what my life was about and what I was doing and adjusting to a completely different way of living, you know. So that album really came from that time of introspection and it's a really great piece of art because it reflects that, it doesn't deviate out of that mood too much. Even though the music is fairly varied it still has this overall feeling of questioning and self-contemplation, you know, which I am really happy about that affect that the album has. I'm glad that people embrace that record that's one of the ones I'm most proud of."
You can hear the introspection on the title track "Promised Land," the centerpiece of the album. The nearly eight minute slow-droning track features a seductive saxophone solo and atmospheric bar sounds as the character in the song contemplates his life. It is also apparent on the album's final song "Someone Else?," a beautifully stripped-down track featuring only a piano and Tate's vocals.
The album features two amazingly high-energy rock songs: "I Am I" and "Damaged." "I Am I" was written by Chris DeGarmo and Tate, and features an Eastern-themed riff in the song was played by DeGarmo on guitar, cello and sitar. The song contains the band's signature digital sound effects and dialogue in the background.
The anthemic rocker "Damaged," features heavy guitar work from DeGarmo and Michael Wilton as well as an amazing vocal performance from Tate, who used the studio to its full potential creating beautiful and haunting vocal harmonies throughout the entire song.
The effort also features the two acoustic-based DeGarmo songs "Out of Mind," the off-time ballad that tells the story of metal illness and "Bridge," which was written following his father's death.
Promised Land also features stand-out deep cuts including "Disconnected," "Lady Jane," "My Global Mind" and "One More Time," which features stellar harmony guitar work from DeGarmo and Wilton.
Queensryche launched a huge tour to support Promised Land performing in amphitheaters. The show featured a theater-like performance of the album's title track each night. Tate wore a wireless headset and sat at a bar onstage while singing the song with fans and contest winners playing extras.
Tate recalled performing the song in concert and how it varied every night. "We had all these people onstage were contest winners from all the various different radio station contests. So they were people from the fan club that won the experience to be up on stage. So, we never knew what they were going to do. You bring people up on a big stage like that and strange things begin happening." He explained, "Some people are very introverted and insecure about it all and other people are extroverts and they start doing things. I remember one couple got up and started dancing. Somebody asked someone to get married at that point in the show, I mean all kinds of weird things happened."
The singer concluded, "It was always interesting. It was a live experience that was unplanned and unstructured where everybody ad-libs and that's definitely what it was an ad-libbed theater piece (laughs)."
Following the Promised Land tour, Queensryche's popularity waned, even among its metal fans. Guitarist Michael Wilton recently told us, "You get people that haven't seen the band since the Promised Land tour and you get people that haven't seen the band since the first Mindcrime tour and you know there going, 'We thought you disappeared? Did you put out any other albums? (laughs).'" He concluded, "It's an never-ending situation that we're meeting and now people are bringing their kids and it's like, 'Oh yeah, so glad your back.'"
Tate added, "We never were a band that appealed to a mass audience very much. We were kind of an eclectic music that appealed to a certain kind of person and not really meant for mass consumption."
Promised Land closes a chapter of sorts for the band. The group would release the grunge-influenced Hear in the Now Frontier in 1997. The effort failed to make any waves, even among their dedicated fans. Founding guitarist DeGarmo left the band shortly thereafter, leaving most fans to look back at Queensryche's first five albums as their glory days.
Nonetheless, Promised Land is a tour-de-force album, which captures the band at a tumultuous and creative peak.
Watch Queensryche's Video for "I Am I:"