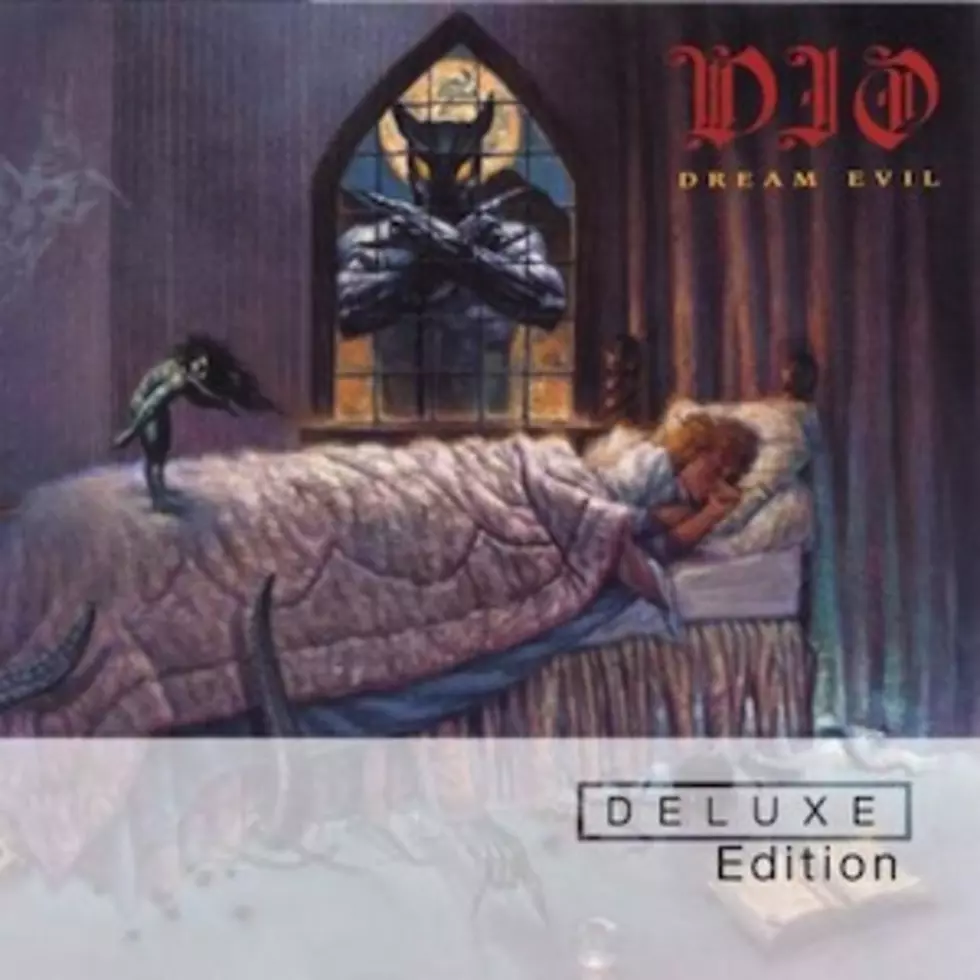 Ronnie James Dio's 'Dream Evil' Album to Receive Deluxe Edition Reissue
Universal
The Ronnie James Dio album 'Dream Evil' is a must-own for any fan of the late legend. For those of you who don't own a copy of the record, or if you're just an avid Dio fanatic, 'Dream Evil' is set for a deluxe edition re-release, which will come out on March 4.
Originally released on July 21, 1987, Dio's fourth album, 'Dream Evil,' contains the classic tracks 'All the Fools Sailed Away,' 'I Could Have Been a Dreamer' and 'Night People,' the last of which Dio had been fooling around with since his days with Rainbow. 'Dream Evil' is also significant for being the last album Dio made with Kill Devil Hill / ex-Black Sabbath drummer Vinny Appice.
The deluxe edition of 'Dream Evil' will contain not only the album in full, but an extra disc featuring 14 extra tracks, both in-studio and live. The majority of the second disc, however, showcases live performances of tracks such as 'Holy Diver,' 'The Last in Line' and 'Rainbow in the Dark' from Dio's gig at the 1987 'Monsters of Rock' festival at Castle Donington, England. The album will also include a special expanded booker with notes by British metal journalist Malcolm Dome, which has been endorsed by Dio's widow, Wendy.
Check out the full track listing of Dio's 'Dream Evil' deluxe edition below.
Dio, 'Dream Evil' (Deluxe Edition) Track Listing:
Disc One:
01. 'Night People'
02. 'Dream Evil'
03. 'Sunset Superman'
04. 'All the Fools Sailed Away'
05. 'Naked in the Rain'
06. 'Overlove'
07. 'I Could Have Been a Dreamer'
08. 'Faces in a Window'
09. 'When a Woman Cries'
Disc Two:
01. 'Hide in the Rainbow' (Dio EP)
02. 'I Could Have Been a Dreamer' (Single Edit)
03. 'Dream Evil' (Castle Donington - 22/08/87)
04. 'Neon Nights'
05. 'Naked in the Rain'
06. 'Rock N Roll Children'
07. 'Long Live Rock N Roll'
08. 'The Last in Line'
09. 'Holy Diver'
10. 'Heaven and Hell'
11. 'Man on the Silver Mountain'
12. 'All the Fools Sailed Away'
13. 'The Last in Line' (Reprise)
14. 'Rainbow in the Dark'