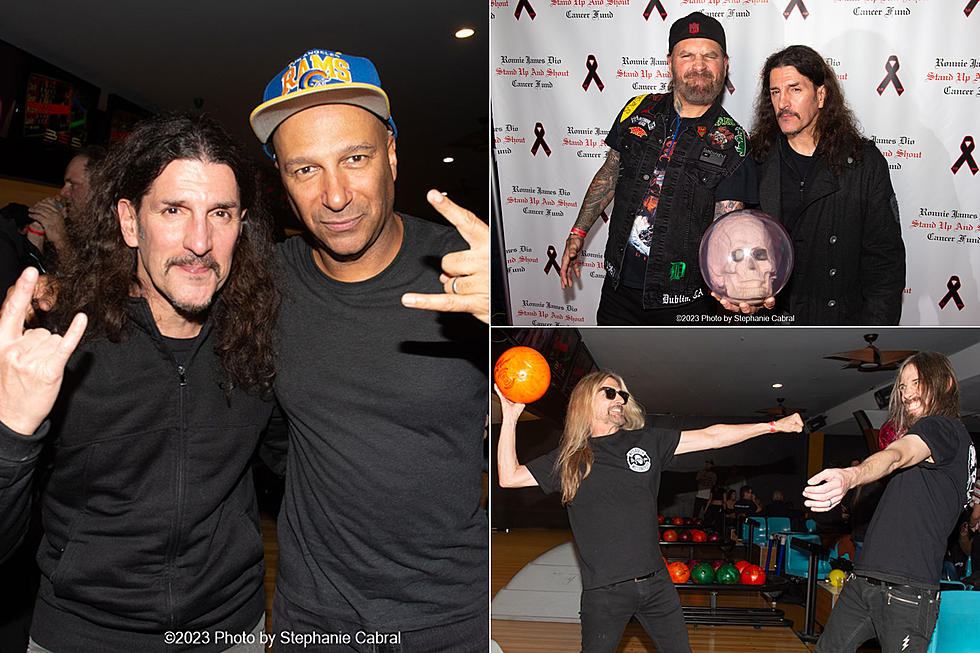 Megadeth, Anthrax, RATM Members + More Roll for the Cause at 2023 Bowl for Ronnie – PHOTOS
Stephanie Cabral Photography (3)
The 2023 edition of the Bowl for Ronnie fundraiser is in the books, with some of rock and metal's finest hitting the lanes at Pinz Bowling Alley in Studio City, California to raise money for the Ronnie James Dio Stand Up and Shout's continued efforts concerning cancer research.
Among the rockers turning out for the event were Rage Against the Machine's Tom Morello, Anthrax's Frank Bello and Charlie Benante, Megadeth's James Lomenzo and Dirk Verbeuren, Steel Panther's Michael Starr, Lita Ford, Vio-Lence's Phil Demmel and Sean Killian, Eagles of Death Metal's Jesse Hughes, Armored Saint's John Bush and more.
SiriusXM's Eddie Trunk returned as the emcee for the event, and fielded a bowling team that included Morello, Chevy Metal and Sebastian Bach guitarist Brent Woods, Anthrax's Frank Bello and special attendee Doug Burgess of Tulsa, Oklahoma who won an eBay auction to join the celebrity bowling team for the night.
The Ronnie James Dio Stand Up and Shout Cancer Fund has annually staged the Bowl for Ronnie, along with their annual spring concert, as fundraisers to continue aiding cancer research advancements in honor of the late Dio singer, who lost his life due to gastric cancer in 2010. To date, the organization has already raised over $2 million, with monies raised being committed to the cancer research work of the T. J. Martell Foundation for Cancer, AIDS and Leukemia Research and the gastric cancer research unit of the M.D. Anderson Cancer Center in Houston, where Ronnie was treated for gastric cancer during the last six months of his life.
For the past seven years, the Dio Cancer Fund has committed funds to support the research of Dr. David Wong and his team at the UCLA School of Dentistry in developing a simple, non-invasive saliva test for the early detection of cancer, which is in keeping with the Fund's mission of cancer prevention, research and education.
READ MORE: Wendy Dio Shares Her Favorite Late Era Dio Song
To learn more about the Ronnie James Dio Stand Up and Shout Foundation's work, click here. And check out photos from the 2023 edition of the Bowl for Ronnie fundraiser below.
Best New Rock / Metal Band of Each Year of the 1980s
Keeping the rock flowing.
Gallery Credit: Chad Childers, Loudwire