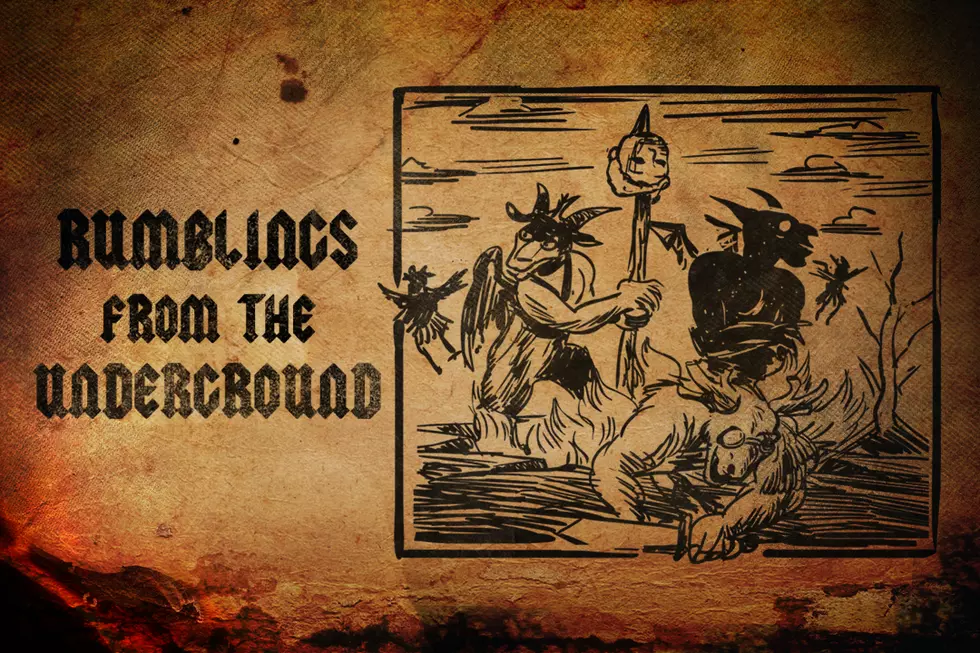 Rumblings From the Underground: Inquisition, Blood Incantation, Necromancing the Stone, Purson (Interview) + More
Loudwire
Welcome back! It's the August edition of Rumblings From the Underground and we've got five more albums that could have flown under your radar this month. It's been a busy month as Loudwire launched a podcast hosted by myself and Graham Hartmann to celebrate the website's fifth anniversary. We've had plenty of guests coming in, but I've still found the time to get you your monthly dose of underground metal!
In this month's column, you'll find out about Blood Incantation's primordial cosmic death metal debut, Starspawn, Inquisition's equally space-faring trance-inducer Bloodshed Across the Empyrean Altar Beyond the Celestial Zenith, Necromancing the Stone's poser-crushing '80s metal glory of Jewel of the Vile, Warpvomit's black bubbling muck of Barbaric Triumph of Evil and finally, The Wounded Kings soul-crushing swansong, Visions in Bone.
At the bottom of the page, you'll find an interview with Purson's Roaslia Cunningham as she answers some of my questions about their mind-expanding sophomore album, Desire's Magic Theatre.
Check it out below and I'll see you next month with another pile of (mostly) filth!
---
Reviews
---
Blood Incantation, 'Starspawn'
I got turned on to Blood Incantation with the Interdimensional Extinction EP as the Colorado-based death metal outfit dug through eons of bedrock until they struck the Earth's oozing subdermal mantle.
Starspawn stands as their debut record, melding technicality with tectonic riffs, cavernous vocals and eerie, Dodsengel-like moments of caustic stillness. Throwing these aspects around with seeming reckless abandon, the paces are head-turning and hair-raising. These dudes are only getting better!
---
Inquisition, 'Bloodshed Across the Empyrean Altar Beyond the Celestial Zenith'
Inquisition's new album is a mouthful, as you can see. One of black metal's most consistently f—king killer bands, the duo of Dagon and Incubus are tough to best. Here, they've switched up their approach a bit from the last three albums, taking on a more primitive production as Dagon sticks to a lower register gurgle opposed to his usual beloved croaking.
The band play around with tempos more than previous efforts as well, centered around Dagon's ceaseless flow of mind (and string) bending riffs. This one might not be as immediate as past albums, but rest assured after a few spins it'll weave its way into your metal subconscious, rendering you powerless and spellbound by Inquisition's cosmic black metal majesty.
---
Necromancing the Stone, 'Jewel of the Vile'
James Malone is one of my favorite guitarists. He hooked me with Arsis' We Are the Nightmare and his love affair with blistering '80s heavy metal has found a new home in Necromancing the Stone. In condemnation of the ever-popular breakdown in modern metal, this quintet has brought back the glory days with unbridled spirit, not just blind imitation just for the fun of it.
'Big' John Williams is one of the stronger singers amongst this traditional metal renaissance we've been enjoying the last decade with a standout performance on the leading single / fierce ripper, "Sirens." If you can't get enough of '80s guitar, use NTS as your looking glass back to that wonderful decade long past.
---
Warpvomit, 'Barbaric Triumph of Evil' (Compilation)
If you're not into war metal, Warpvomit aren't going to change your stance. In fact, their Barbaric Triumph of Evil compilation will probably push you further away and I mean this as a wholehearted endorsement of the now defunct band's sonic slop.
The comp brings nine tracks of primitive gurgles and grunts that explode like bubbles boiling up from the surface of a primordial swamp of blood, (Warp)vomit and fetid black muck. The album cover depicts Hell actually breaking loose and this is the soundtrack of charred angels plummeting from the heavens as riffs rise from widening trenches, reigning in Beelzebub as Earth's supreme ruler and tyrant king.
---
The Wounded Kings, 'Visions in Bone'
The Wounded Kings, unfortunately, are now The Dead Kings. The Brits announced their breakup two weeks ahead of the release of their final record, Visions in Bone.
Opening with a grin-inducing nod to "Electric Funeral" on "Beast," the doomsters play with bombastic moments, countered with emptier moments of light percussion, bass and subdued vocals from returning frontman George Burch. Lurching riffs, crawling paces and Birch's nervous yet calm energy send The Wounded Kings off on a blazing (electric) funeral pyre.
---
Interview With Purson's Rosalie Cunningham
Purson are arguably at the top of this whole retro rock / occult wave that's been steadily on the rise over the last decade. They delivered their sophomore record, Desires Magic Theatre, earlier this year, a true best-in-class effort that if blindly unearthed 100 years from now, it'd be chalked up among the best records of the late '60s to early '70s. Frontwoman and principle songwriter answered some of my questions about the album, including who exactly that Mr. Howard is that they sang about it is. Check it out below:
The production on Desire's Magic Theatre is pristine with each space of the speaker utilized perfectly, yet still retains that warm late '60s edge. What was it like balancing all the nuances of the elaborate production while staying true to the sonic values of the old days?
The album was recorded on to 16-track tape with instruments and amps from that time, so that was a big part of achieving that sound. The limitation of 16 tracks was a blessing really because you have to very carefully consider the arrangements. It was self-produced and I spent a long time living immersed in the songs so I had a very clear idea of where to place everything by the end.
DMT sees a huge stylistic jump from The Circle and the Blue Door. You went from slightly stripped down to a one of the more instrumentally involved records in the retro rock scene. Was the writing process heavy on detail from the beginning or did the songs take on more of a pet project aspect?
I spent about two years writing after The Circle... and it became clear that a good chunk of the songs were going in a particular direction. They were starting to sound like an album, the kind of album I've always wanted to make. I think my songwriting developed naturally just through experimentation at home. The way I demo is often very detailed and the home demos of DMT are virtually identical to the arrangements you hear on the finished album.
"Electric Landlady" is an obvious nod to Jimi Hendrix. Some riffs are just meant to be played by everyone it feels. Do you see 'borrowing' riffs as a way to help keep the legacy and spirit of musicians like Hendrix alive and as a continued sense of appreciation?
I do. The greats of classic rock borrowed so much too, like blues and folk standards and later, with prog, even classical and baroque. I think it's even more important these days to keep it alive as it was such a magical period for all forms of creativity. We could do with some of that spirit back!
Well... George's dad once had a job clearing out vacated properties and came across some very disturbing things belonging to this Mr. Howard, who had just died. He kept some of it and George stumbled across it years later and brought it round to show me. We pieced together the clues to find out what this guy was all about and figured that he was a German who had come over here in the war, possibly as a spy, and then stayed here and eventually became a teacher at a local school.
There were copies of neo-Nazi magazines, xenophobic letters to and from friends, photos of very young girls naked, handwritten amateur erotic fiction.... it was dark! I didn't go into the details much in the lyrics, but it's certainly interesting subject matter so maybe I'll revisit it at some point.
Thanks to Rosalie Cunningham for the interview. Pick up your copy of Purson's 'Desire's Magic Theatre' at Amazon or digitally through iTunes. Keep up with everything the band is doing on their Facebook page.
---
Top 25 Extreme Metal Albums
10 Greatest Death Metal Bands