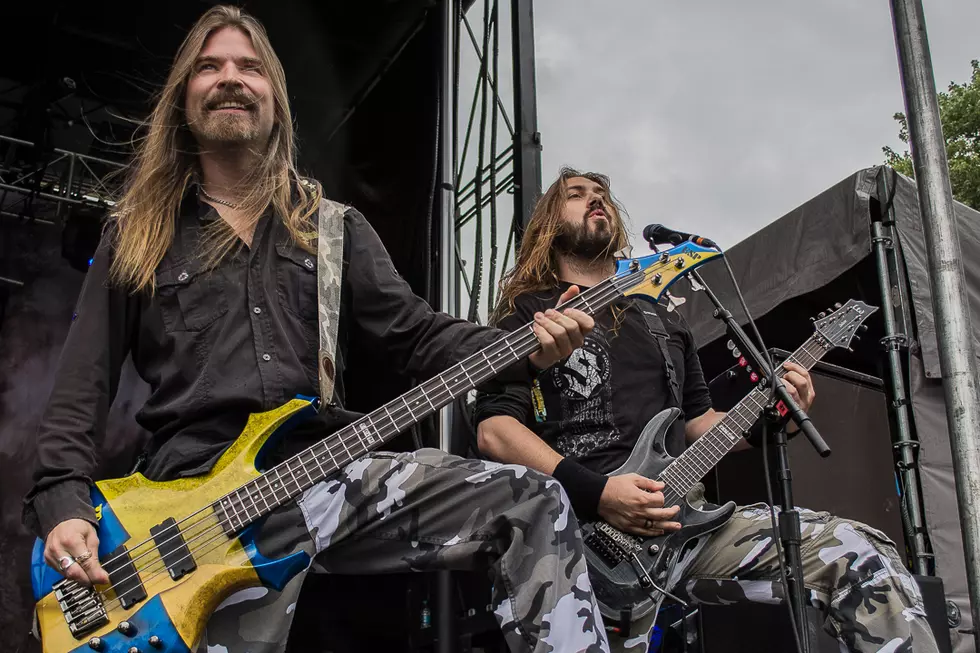 Sabaton's Par Sundstrom: History Is a Passion, But Metal Still Comes First [Exclusive Interview]
Photo by Nick Durcholz
As Sabaton trek through North America on a headlining tour, bassist Pär Sundström took the time to answer some of our questions about the band's latest album, The Last Stand, their unflinching love for history, Twisted Sister and more. Check out the interview below.
The Sabaton sound has evolved from speedier power metal to more of an arena feel on The Last Stand. Has playing bigger shows and more festivals influenced this change in direction?
Where we've played has never influenced our music. Since 2005, Sabaton has performed on big festivals around Europe and moved up to the top of the billing. Sure, it has affected the live show in a positive way and that we can now put on more exciting shows with production big enough for arena-level stages, but it has not affected the way we write songs. I think our songs work great both in clubs and arenas!
Power metal is huge in Europe, but the U.S. has never been a big market for the style. Why do you think Sabaton broke through to this audience?
I don't think Sabaton can only be categorized as power metal, as the two main attributes of power metal are high pitched vocals and fantasy lyrics and Sabaton have neither of those. We simply play our version of heavy metal — what heavy metal is to us. I'm sure that has impacted our reach, in addition to the fact that we don't give up after only a few tries! That, and Sabaton's music appeals to people of all ages.
Does anyone in the band have a university degree in any area of history?
No, nobody in the band has any formal history education. We are not experts at all. It's just a passion and we study the topics we write about when we're writing the lyrics. We can't be experts in history, we are a metal band first of all!
So many people seem to appreciate history as they get older. Do you feel a duty to inspire and educate the younger generation?
As long as fans don't go out and start doing the stuff we sing about, like starting wars! It's good for people to learn about history, the often dark history of man which is often hidden away. But it's not our duty, our main thing is to entertain metal fans at concerts!
Joakim Brodén lost a drunken bet and had to walk 342 miles to a show. Have there been any bets since?
There is always betting going on, but mostly it stays within the tour bus though!
Sabaton have recorded a couple Twisted Sister covers. What did you learn about live performances from them? Their retirement is a huge loss to us all!
Twisted Sister and mainly Dee [Snider] were such an inspiration to us, along with Sebastian Bach of Skid Row. They were two of my main inspirations, even as a bassist, as odd as that may sound. Dee has an amazing energy onstage and is very focused on what he is doing with his career — he is careful. Very inspiring.
Sabaton have undergone several lineup changes. Is it essential that new members have a background in history and does each member contribute towards the lyrics / lyrical ideas?
Since Joakim and I wrote all of the lyrics in the past, we had no plans to bring in anyone who had a historical interest. They'll pick it up along the way!
Do you feel another world war is imminent with the current political tensions around the world?
It's always around the corner, but it's not up to us to scare people into thinking and voting and taking action. We are not here to tell people what is wrong with the world today. We sing about history. Maybe in the future we will sing about what happens today!
Thanks so much Pär and congrats on the success of the new album!
Thanks to Pär Sundström for the interview. Pick up your copy of 'The Last Stand' at Amazon or digitally through iTunes and follow Sabaton on Facebook to keep up with everything the band is doing and to see all upcoming tour dates.
Best Metal Album of Each Year Since 1970