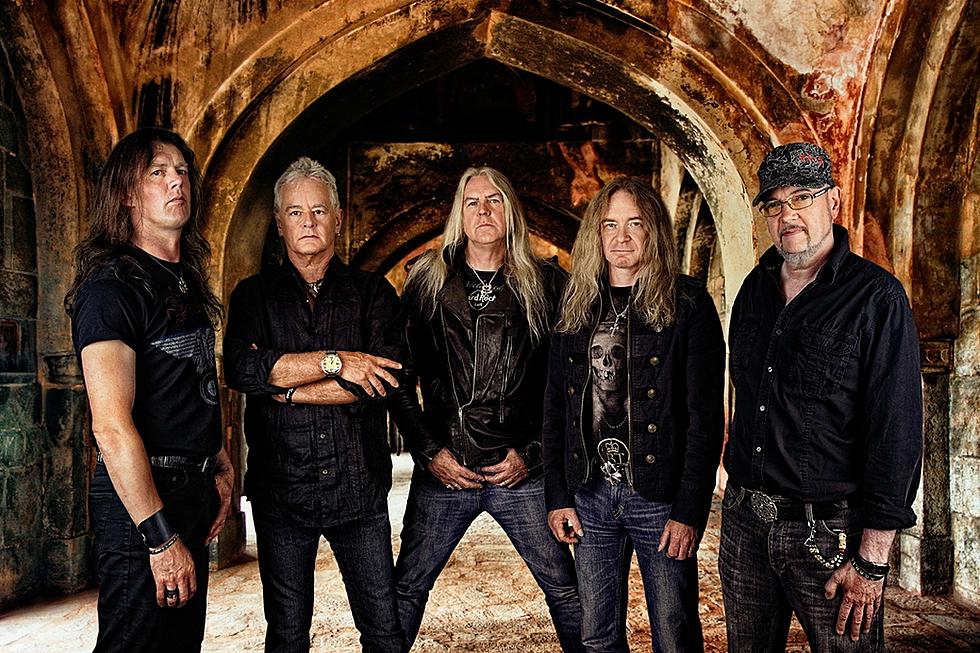 Saxon Targeting August for New Album, Biff Byford Talks Live Reputation + More [Interview]
UDR Music
Biff Byford, singer for legendary New Wave of British Heavy Metal act Saxon, was the latest guest on Full Metal Jackie's weekend radio program. The frontman discussed the band's whopping 10th live record, Let Me Feel Your Power, expounding on the band's live reputation and if there's any difference performing when the cameras are on. He also revealed when the band intend on releasing the follow-up to 2015's studio effort, Battering Ram. Check out the chat below.
I'm fine, thank you. I'm ready to go and getting ready for the U.S. Tour.
There's a U.S. tour and we've got this new live album, Let Me Feel Your Power. It was recorded and filmed in England, Germany and the United States. How do intangible differences between the places you play heighten the level of your performance?
Well, once the cameras are rolling, it's different anyway, generally. But, we record a lot of our shows across the world, so it doesn't really affect us too much now. It's all down to the audience and the atmosphere; for a live DVD, especially. The main bulk of the show was recorded in Munich. The last show was in Montree. We had a show in St. Charles and in Chicago. So, we thought we'd put that out for our American fans. I don't think we should ignore America. We did tour there, so it's good to have film on the DVD.
This is Saxon's 10th live album. What has experience taught you about performing when tape is rolling?
None really. The thing is we're a very live band. We don't have any click tracks or sound reinforcement running so every show is different. We just do what we do and if the cameras capture it, that's good. We don't really change our show in any way for film. We don't wear makeup. We don't have our hair cut. We don't dress differently. We just go on and go nuts and hope that the camera catches it really.
How has longevity made Saxon a better band?
Well, I don't know — you could tell me that probably. Obviously, we're still touring on the last album, Battering Ram, so I think good albums really help to keep the band relevant. We've had some good albums the last 10 - 15 years. I think if you keep releasing quality albums with great songs on there then it links back to the great songs of the '80s which is when we obviously came from. So, I think it's important.
You mentioned you're working on the next studio album. What continues to exhilarate you about being in a recording studio?
Well, it's just good to get started, you know. It's a long process writing songs. Especially really good songs, good quality songs. We like to start early and take our time, there's no rush. So, we get a good choice of ideas to go in the studio with. So, that's the key. I think the key is giving yourself plenty of time so you're not rushing.
What are the similarities and differences on your vocal regiment both on tour and in the studio?
Well, obviously in the studio, you're not really performing. You're not running around headbanging and sweating everywhere. I think in the studio, you can focus more on the atmospherics and the timbre of your voice. Whereas live, it's different. You've already sang the songs in the studio so your interpretation live is slightly different. You sing every night and perform all the songs as well. I think with an album, you're just focused on those 10 or 12 songs that you're doing on that particular session.
You talked about working on the next record. Do you have a timeline for that next year?
We'd like to put it out around August. That would be good. But, it's an album. It's a living thing. We can't really guarantee anything. I might go in on Tuesday morning and say it's all rubbish and let's start again. You can't really pre-plan things too much.
Thats a good idea. It's gotta be ready when it's ready, right?
Looking forward to that. Thank you so much for taking the time.
Yeah. Great. We're going to see you touring with UFO in the States. Brilliant, great talking to you.
Thanks to Biff Byford for the interview. Pick up Saxon's live album 'Let Me Feel Your Power' at Amazon or digitally through iTunes and see a list of upcoming U.S. tour dates at our 2017 Guide to Rock + Metal Tours. Find out where you can hear Full Metal Jackie's weekend show at this location.
See Saxon in the 10 Greatest NWOBHM Bands
Top 10 NWOBHM Albums You May Not Own Yet... But Should!