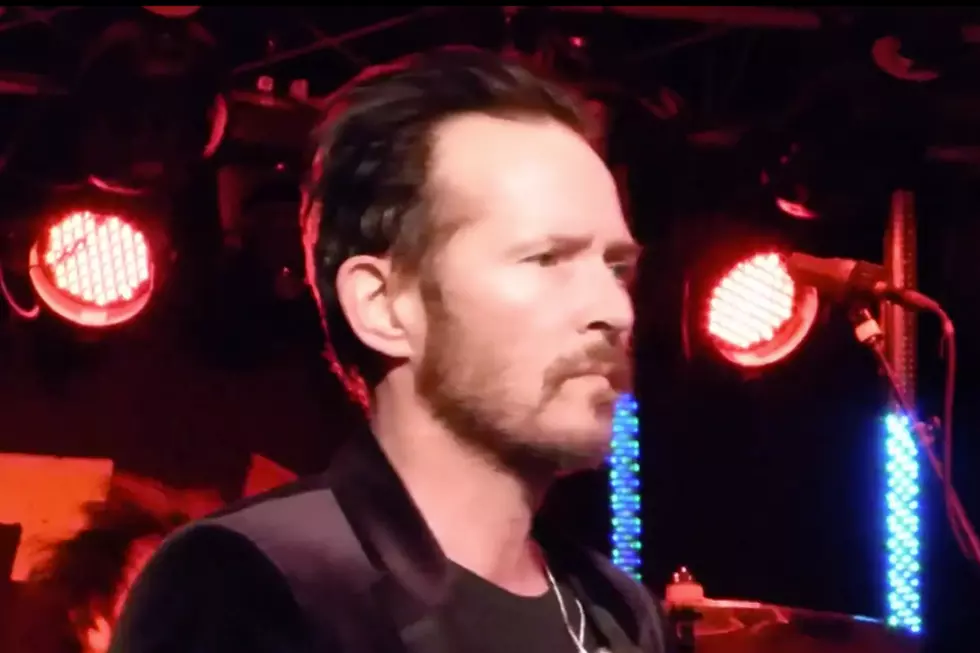 Scott Weiland Delivers Bizarre Performance of 'Vasoline' in Texas
YouTube: Chris Ramon
Scott Weiland is back on the road with his band The Wildabouts after the release of their new Blaster album and the death of guitarist Jeremy Brown. But one of the first shows on the new leg found Weiland delivering a rather bizarre performance of a familiar favorite.
"Alright, this is a new song. We just worked it out today," says Weiland, before the band launches into the Stone Temple Pilots classic "Vasoline," but while the band plays, Weiland delivers a rather monotone, shouty vocal that is not typical of the singer's usual dynamics. Fan-filmed video of the performance at Corpus Christi's Brewster Street Icehouse can be seen above.
As expected, the video has yielded a number of comments on YouTube, ranging from "This is unacceptable" to "How are people cheering for this mess?" Meanwhile, another commenter calls the performance "heartbreaking."
Update: Scott Weiland's rep has spoken to TMZ about the performance, blaming it on lack of sleep, a couple of drinks and an faulty earpiece. The rep says that Weiland has been overnighted new earbuds in time for his show in Baton Rouge, La., tonight.
In other Scott Weiland news, the rocker has taken a few knocks of late from former bandmate Dean DeLeo and Filter frontman Richard Patrick. During a recent interview, DeLeo was asked about a potential reunion with Weiland and stated, "Why the f--- would we want that? That f---ing mess? I just told you earlier we're on a rebirth now. We're with a guy that pushes us. We're with a guy that is 1000 percent present … I've waited almost my entire career for this."
Meanwhile, Patrick recently offered commentary on Weiland, stating that the fans are one of the biggest enablers of his poor behavior. "We all want Scott to be Scott, but Scott's not even really Scott. I love him, but he's turned into a very different person," stated Patrick, who went on to relay stories from his Army of Anyone bandmates Robert and Dean DeLeo about the singer's repeated tardiness for shows.
The singer added, "[The fans are] just sticking up for Scott and they have no idea of [what is going on] behind the scenes. And it's actually, they're pushing him into his death, because they're making him believe that whatever I did is acceptable and I can be as high as I want and I can do as much drugs as I want."
After Patrick's comments, Weiland responded, "Hey Richard -- thanks for your thoughts and opinions on my life. Just so you know, and others do as well, I haven't had a needle in my arm in thirteen years. Overcoming my addiction to heroin was the hardest thing I've ever done, and I'm damn proud of the fact that the time in my life when drugs were stronger than my commitment to my health is so far behind me, and always will be."
He added, "As for my issues with my former band -- just remember the old adage that there are two sides to every story. I haven't been late for a show in a very long time. I have worked hard to be present and on time for my fans. I'm not perfect -- no one is -- but I have worked my ass off to repair the reputation I created by being thoughtless years ago. Why you felt the need to attack me is unclear, but I am happy to set the record straight."
See the Yearbook Photos of Scott Weiland + Other Rockers