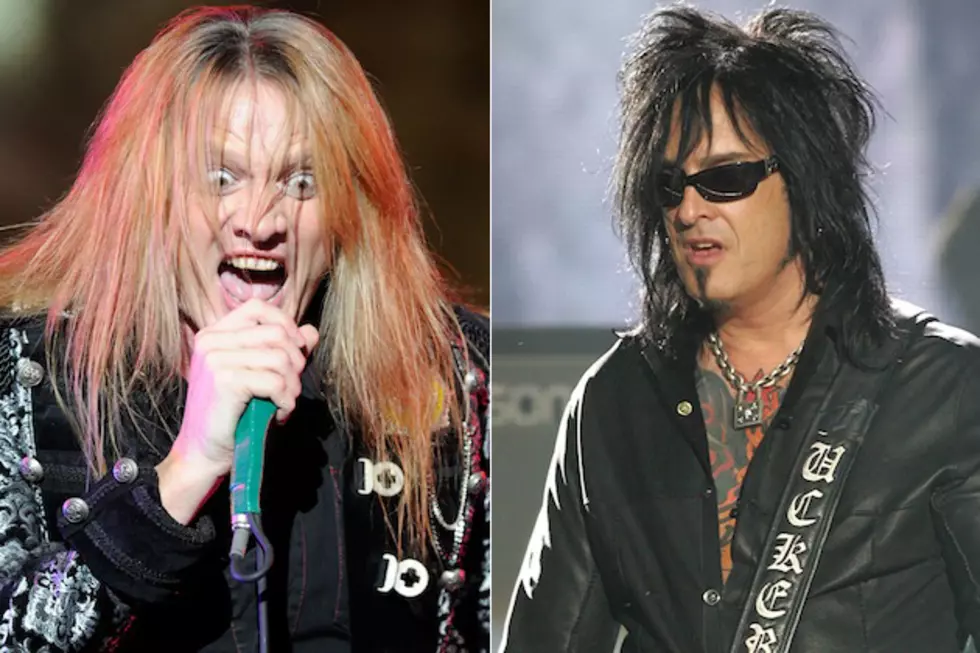 Sebastian Bach Says He Was Asked to Replace Vince Neil in Motley Crue, Nikki Sixx Denies Claim
Ethan Miller / Kevin Winter, Getty Images
A short while ago, former Skid Row vocalist Sebastian Bach claimed that he was asked to join Motley Crue as Vince Neil's replacement after the singer was fired in 1992. He even teased that the full story may be revealed in a future autobiography. However, Crue bassist Nikki Sixx has refuted Bach's claims, stating that it's "absolutely not true."
Bach was asked if he was ever considered to replace Neil by a fan on Twitter last month. On Aug. 29, Bach responded to the fan, "Not considered. Asked." When a different fan inquired as to why Bach turned Crue down, the singer replied, "The short answer is that I actually thought at the time this band Skid Row was better. Gee I sure know how to pick em :/"
Nikki Sixx responded to Sebastian Bach's claim during a recent episode of the bassist's radio show, 'Sixx Sense.' "I read something online. It's not true, and I wanna talk about it a little bit," began Sixx. "Sebastian Bach, who was the lead singer from Skid Row — and I still think he should still be in Skid Row, and I've talked to all of them about that many times; they just can't along — he says that Motley Crue wanted him to replace Vince Neil. And I'm just gonna say right now that is absolutely not true."
Sixx continues, "At the time that Vince left Motley Crue in 1990… '89… '90.. somewhere in there… '91… [Sebastian] was in Skid Row and Skid Row was on top of the world. And [Dave] Snake [Sabo], their guitar player, was one of my very best friends. So I think I would remember that. I don't know where Sebastian got this. I think maybe Sebastian wanted to be in Motley Crue and just forgot to tell us that he wanted to be in Motley Crue when we were looking for a singer. Which I don't think we would have taken him anyway, just because of our friends from Skid Row."
Nikki Sixx was asked by his co-host Kerri Kasem if Bach's Motley Crue gig was possibly part of a drunken conversation. "We were all sober at the time," Sixx claims. "That was part of the problem — that Vince wasn't sober and we all were. And that's kind of part of what the big blowup [with Vince] was all about. In the end, we should have worked through our differences — Motley Crue should have, with Vince, and been where we are today — but we didn't. We were young, and we didn't have managers at the time who were strong enough to say, 'Hey, guys, this is the wrong thing to do.' But Sebastian Bach was never part of this master plan, that's for sure. So I want people to know that."
Listen to Nikki Sixx discuss Sebastian Bach's claims in the audio player below.