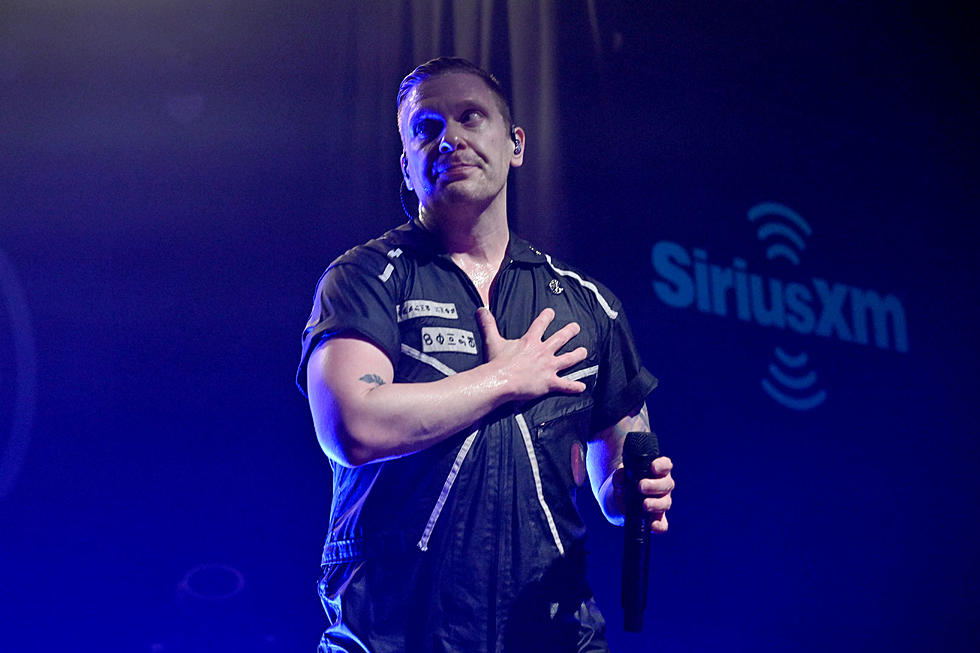 Shinedown Meet With Fan Who Used Band's Music to Aid His Stroke Recovery
Grant Halverson, Getty Images
Chalk another one up for the power of music! A moving, full-circle moment recently occurred when longtime Shinedown fan Brandon Dumais had a chance to meet with Shinedown frontman Brent Smith while attending the band's Sept. 23 show at the Xfinity Center in Mansfield, Mass. For Dumais, it was finally a chance to connect in person with the band that inspired him through one of his toughest life challenges while recovering from a stroke.
Boston television station WCBV-TV recently reported on Dumais' story, revealing how the 30-year-old New Hampshire native had initially connected with the band through his recovery and the ongoing support that they've shown, culminating with an invite to meet at the Xfinity Center.
Last December, Dumais suffered his life-altering stroke. As he explained, "It was like instant. I was trying to talk to my dad that night and I couldn't say what happened." Dumais spent weeks at Mass General hospital on life support, but when he eventually awoke, Shinedown's music started to play a big role in his recovery.
"I've been listening to them since – oh gosh, like 20 years," the fan revealed. Brandon would sing along to the songs he sang for years prior as a way of helping to regain his speech. Meanwhile, the band's music was also pumping him up as he attempted to regain his mobility as well while attending the Northeast Rehab Hospital in New Hampshire.
As for Shinedown's involvement, the band was first made aware of Brandon's recovery through an ICU nurse, Emily Rumble, who had a previous connection to the band. "To have a connection with Brandon, to see how well he's doing, it's just like food for the nurse's soul," she explained to the station.
Upon hearing of Brandon's story, Brent Smith sent along a personal video and initially made a generous donation to his GoFundMe recovery page. "It was another human being seeing another human being needing help and if there was a way we could do something to lift him up, because you lift us up," said Smith of his involvement.
Bringing the story full circle, Smith and Dumais met backstage at Shinedown's concert before the fan got to attend his tenth show watching them from the audience in late September.
READ MORE: Whatever Happened to the Breakout Rock + Metal Bands of 2003?
Later sharing the WCVB-TV report, Smith noted on Shinedown's socials, "A very special experience getting to meet Brandon for the first time in-person! It's all about the #HumanMoments..."
Shinedown are currently out on tour with Papa Roach and Spiritbox. They have dates booked through Oct. 20. Be sure to check out the remaining markets on the run here.
The 66 Best Rock Songs of the 2000s: 2000-2009
The 21st century started off rocking.
Gallery Credit: Chad Childers, Loudwire