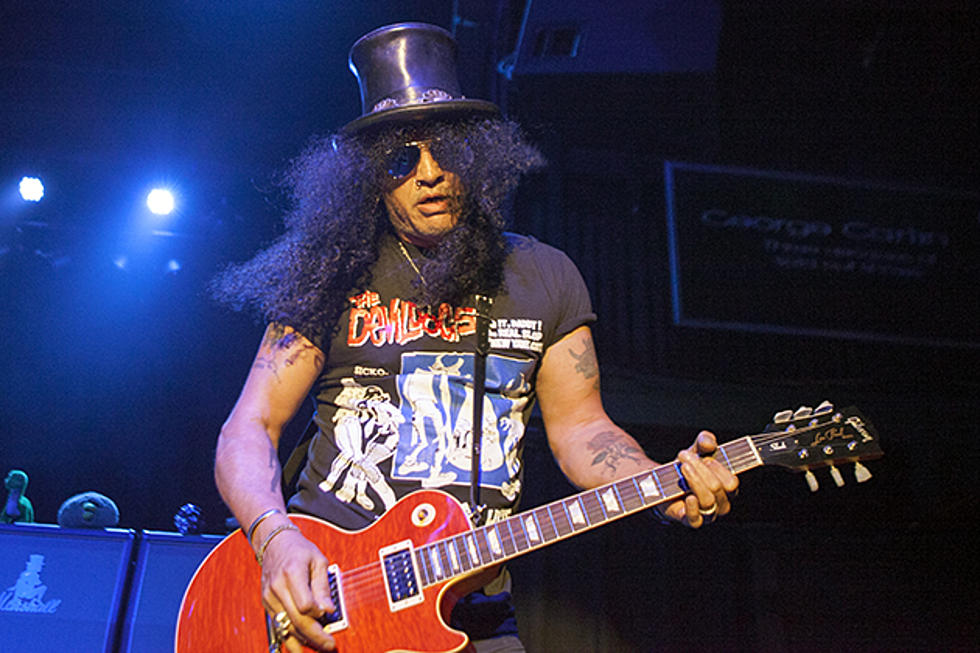 Slash Dishes on 'World on Fire' Album, Touring With Aerosmith + More
Mary Ouellette, SheWillShootYou.com
Slash has found great success with Myles Kennedy and the Conspirators as they lead up to their 'World on Fire' album by playing a summer tour with rock icons Aerosmith. The legendary guitarist took a few moments to speak with 'Loudwire Nights' host Full Metal Jackie about having the chance to play with his idols this summer, what it's been like to find the chemistry with his band and he shared some insights into the 'World on Fire' album. Check out Full Metal Jackie's chat with Slash below:
Full Metal Jackie on Loudwire Nights. Slash on the show with us tonight. Guns N' Roses, Velvet Revolver and now Myles Kennedy and the Conspirators. Some musicians hope to play in one killer band just once in their lifetime. You've been a part of three. What's with your knack for ending up in great bands?
I don't know if I have a knack for ending up in great bands. I think I'm always looking for the right people that are into the right kind of thing that I'm into and are good musicians, good writers. That's basically it.
When you recorded 'Apocalyptic Love,' the band camaraderie was already in place having toured your 2010 solo album with these musicians. So, what made recording 'World on Fire' feel even more cohesive?
I think it was just an unsaid thing that we had developed. When we first started there was a spark of chemistry from the very get-go, the very first rehearsal and that has been blossoming this whole time. The more you tour, and you have to feel each other out in a spontaneous situation you start to get to really know what everybody is doing and so on. Then what happens is you go into a studio or go into a rehearsal and start working on some new ideas and you've developed a sense of certain comfort level that just makes everyone feel like they can just do whatever they want to do. It's just something that happens. You don't really talk about it, it's just there.
Even though your name is up top, this is a true band effort. Do you feel like you've ever come close to tapping into everything Myles, Brent, Todd and Frank are capable of doing?
No. I'd say that we're pretty much just getting going. From the last record, the 'Apocalyptic Love' record to now, we've made huge strides. I think that when we go into the next one it'll still be a lot of untapped resources. I'd like to think that as musicians we'll keep growing so we'll never tap out, so to speak.
It's a well known anecdote by now that Aerosmith's 'Rocks' album changed your life. You've toured with them before and you're out with them this summer. Is it all surreal, and do you actually have moments where it feels like you revert to that kid, sharing the stage with them?
Funny you mention that. When this first came up, we were doing overdubs on the 'World on Fire' record. I talked to Joe [Perry] on the phone. We hadn't planned on going out ourselves to start touring until September when the record comes out. He asked me if we'd be into doing this tour, so of course I was going to jump at it. So we're doing this bonus, summer tour with those guys. We just started doing the shows and they sound amazing. The two bands have a very similar trajectory. The crowd has been phenomenal, so yeah, it's a little surreal to be back out with them after having not toured with them since 1989, 1988. It's just been a lot of fun.
I had a few of the guys come over to my dressing room yesterday, and hanging out with Steven [Tyler] and Joe and Joey [Kramer] and just all the years and all the stuff we've all gone through in the time I've known them. Then to think that these are the guys that I listened to when I was 14 that basically [created] the record that kept me from getting laid [laughs]. So yeah, it's a little surreal. [Editor's Note: Read Slash's awesome autobiography to get the full 'Rocks' story.]
Even though you're regarded as iconic and you've made some timeless music, is music still as simple for you as feeling like a kid who just wants to play guitar?
I think that's what it's all about. That's where I get my drive from. I just like playing. It's what excites me. I love touring, I love going out every day and getting up and jamming. I love playing in front of an audience. I love the energy and volume, and the whole wacky, crazy existence and writing new songs, coming up with new ideas, which I'm already starting to do. That's my lifeblood. Yeah, it's still pretty much the same as when I first picked it up.
Slash, what's the under-the-radar track on this new album, 'World on Fire' -- the one after listening to multiple times, people will eventually realize it's their favorite?
I don't want to put any thoughts in people's heads. I think it's a real diverse record. I think it's got a lot of gems on it. But there's a song that a lot of people who have heard the record really like that surprised me called 'The Dissident.' It's one of those songs that's politically orientated lyrically. It's got a different feel and for some reason, people are calling it really catchy. So that's interesting, we'll see what happens with that.
Thanks to Slash for the interview. His 'World on Fire' album comes out Sept. 15 and is available for pre-order via iTunes. Be sure to catch him on the road with Aerosmith this summer at these locations. Tune in to Loudwire Nights With Full Metal Jackie' Monday through Friday 7PM through midnight online or on the radio. To see which stations and websites air 'Loudwire Nights,' click here.