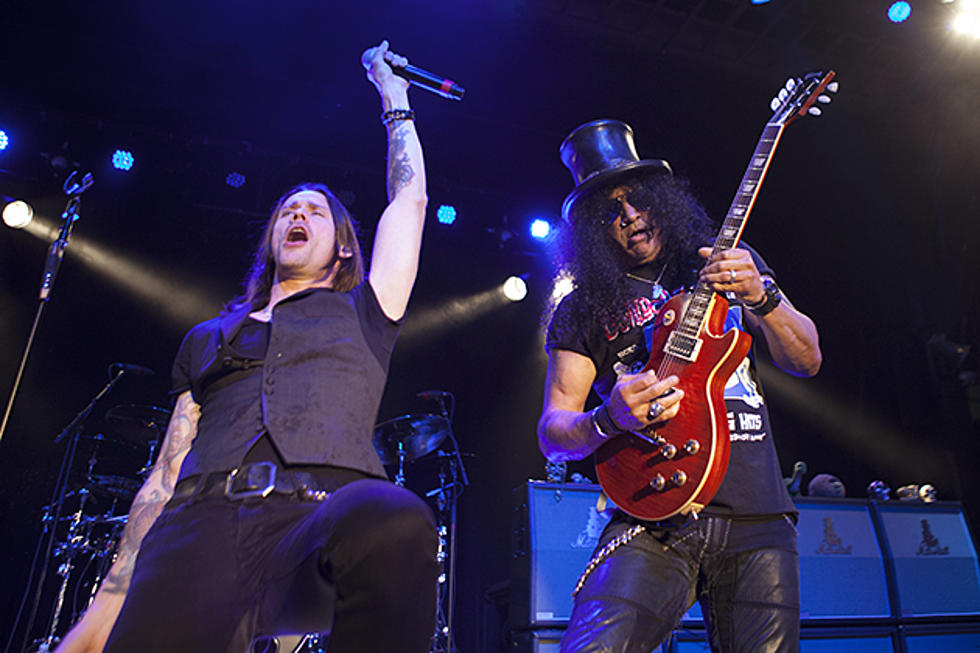 Slash Sets 'World on Fire' With Myles Kennedy + The Conspirators in New Hampshire
Mary Ouellette, SheWillShootYou.com
Before hitting the road with Aerosmith for a North American summer trek followed by their own European jaunt, Slash featuring Myles Kennedy and the Conspirators rolled into the Casino Ballroom in Hampton Beach, N.H. on July 9 for one of a handful of intimate headlining shows this summer.
Slash recently described the title track 'World on Fire' from their upcoming disc as "a euphemism for going a little bit crazy and pulling out all the stops," and along with his all-star band that's exactly what he delivered to a sweaty crowd on the beach last night. Always appearing calm, cool and collective, Slash slithered onto the stage sporting his signature top hat and shades perfectly framed by a backdrop of monster Marshall stacks, and with just one note, the night was under way.
The gig offered a little something for everyone, with songs from Guns N' Roses, Velvet Revolver and Slash's solo career making their way into the setlist. It was a down-and-dirty rock show complete with in-your-face, ripping guitar solos, copious amounts of shredding, a healthy balance of rockers and ballads and plenty of fist-pumping choruses throughout.
Myles Kennedy has been performing with Slash for a while now and it's clear that the two are completely comfortable onstage together. Kennedy is a chameleon of sorts, delivering Guns N' Roses classics like 'Night Train' and 'Rocket Queen' with the sleaze and attitude they were originally spun from but also a master of digging deep into his melodic roots to power through a bevy of songs he co-wrote with Slash over the last few years, proving that the outfit is much more than just Slash's solo project.
With that in mind, bassist Todd Kerns, drummer Brent Fitz, and rhythm strummer Frank Sidoris should all be mentioned, too. While Slash is to be commended for his ridiculous skills on the six-string, he certainly has a knack with surrounding himself with the highest caliber of talent out there, and that made all the difference throughout the evening. That aside, he is still the star of the show and throughout the night he made that abundantly clear, humbly taking centerstage to show off the guitar chops that helped him rise to the top.
With 'World on Fire' due out in September, the band showcased a few new songs like the title track, as well as the brand new tunes 'Stone Blind' and '30 Years to Life.' Besides an exciting preview into what they have to look forward to, fans also walked away knowing they were among some of the first to hear the new tracks performed live.
Check out some of our photos from the show below and catch Slash featuring Myles Kennedy and the Conspirators out on tour with Aerosmith now. See their full list of tour dates here.
Slash Featuring Myles Kennedy + the Conspirators in Hampton Beach, N.H.