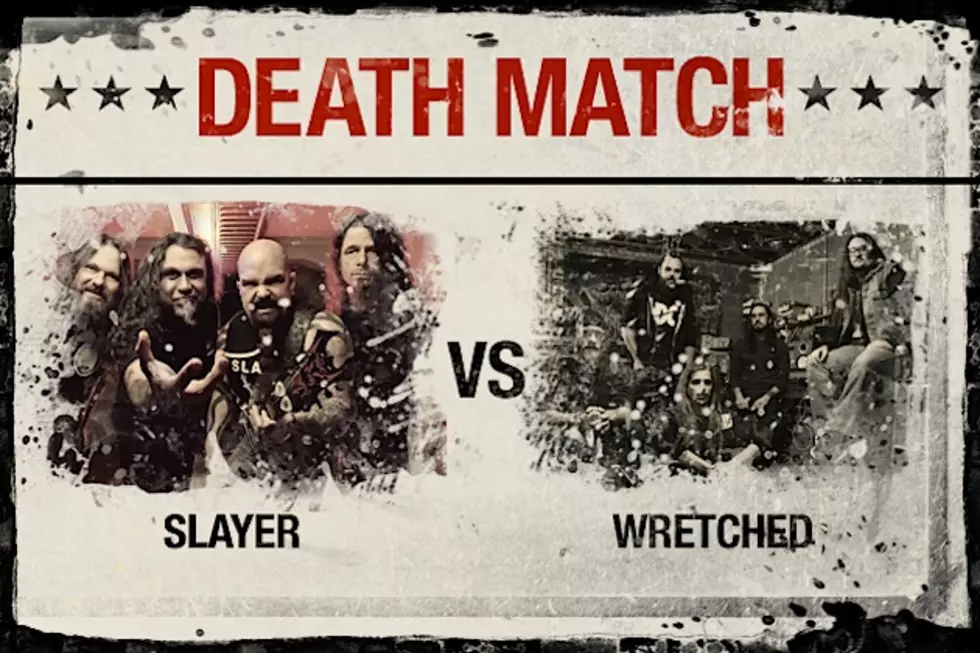 Slayer vs. Wretched – Death Match
Nuclear Blast / Victory
The almighty Slayer have secured one Death Match win with 'Implode.' Having defeated the Haunted in a well-fought battle from both sides, Slayer move a step closer to entering the Death Match Hall of Fame.
Wretched enter this week's Death Match with the new track 'Cranial Infestation.' The cut comes from the band's fourth studio album, 'Cannibal,' which was just released via Victory Records and has received a large buzz.
Will Slayer plow through yet another foe? Or will Wretched pull off a phenomenal win? The vote you cast will decide. Choose your favorite track in the poll below!
This Death Match ends on Wednesday, June 25, at 10AM ET. Fans can vote once per hour! So come back and vote often to make sure your favorite song wins!)
Wretched, 'Cranial Infestation'
Two bands fight to the death each week. Fans can vote once per hour. The triumphant band goes on to compete in the next Death Match. If a band wins four straight Death Matches, its song will be honored as immortal in the Loudwire Death Match Hall of Fame.