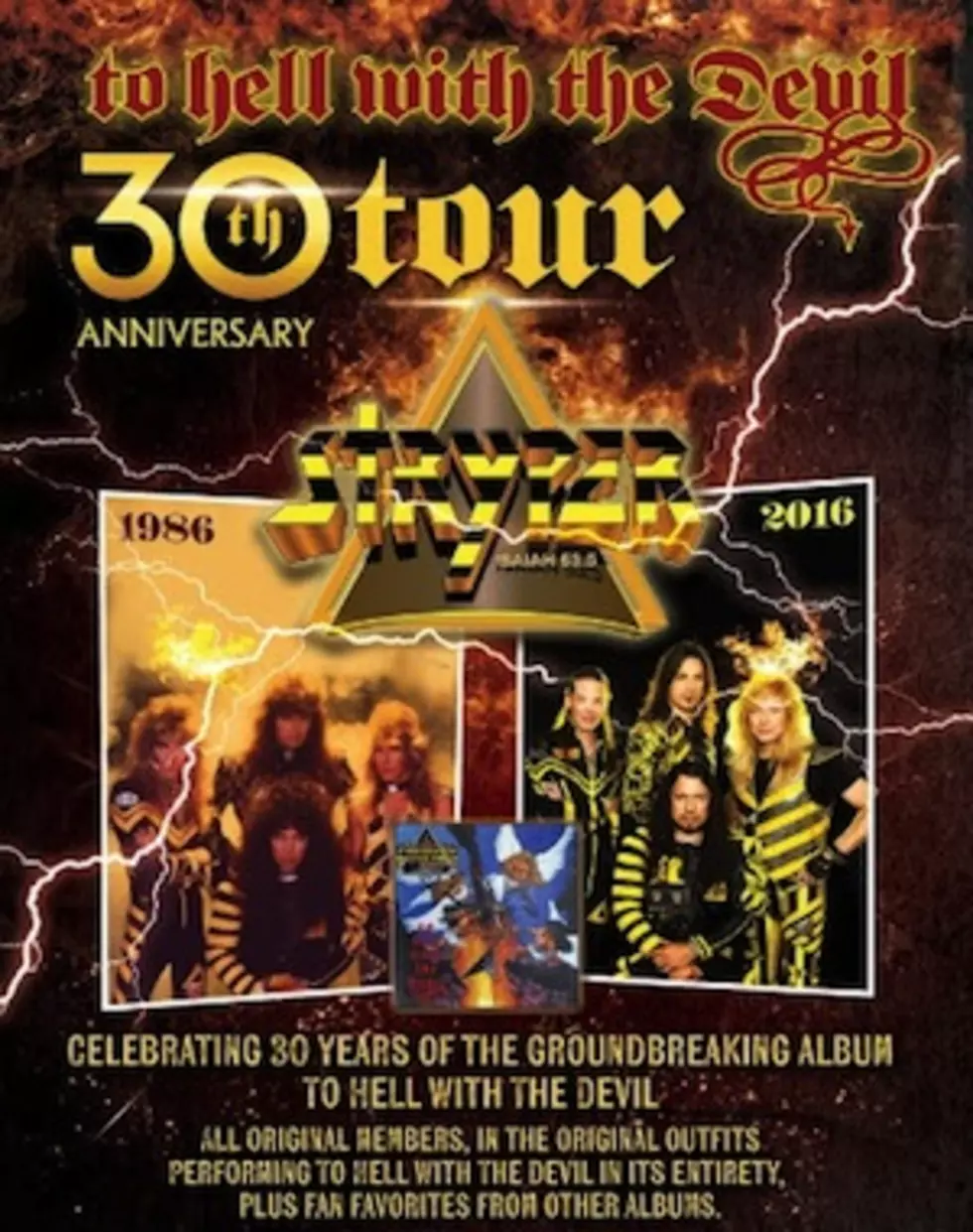 Stryper Announce U.S. Tour Dates for 30th Anniversary of 'To Hell With the Devil'
Stryper
It's been a full three decades since Stryper dropped their landmark To Hell With the Devil record. The Christian metal outfit will celebrate with a tour to commemorate the album, performing it in its entirety while dressed in their classic "yellow and black attack" stagewear they so famously sported in the '80s (photo below).
The anniversary tour is set to launch on Sept 29 in Atlanta, Ga., extending nearly two months out as the rockers will bounce around the East Coast before venturing to the opposite side of the country. Circling back, making stops across the Midwest, Stryper will finish out the trek in Raleigh, N.C. on Nov 21.
Stryper's lauded sophomore effort followed up the Soldiers Under Command debut with massive mainstream success. The music videos for hits "Honestly," "Free" and "Calling You" were in heavy rotation on MTV. Rising in popularity, Stryper became the first band to have two songs simultaneously featured in MTV's Top 10 most frequently requested tracks.
"To Hell with the Devil literally changed our lives," said frontman Michael Sweet. "During that tour we went from playing theaters and mid-sized clubs to arenas, all in a very short amount of time. We never could have predicted the wild popularity of those songs and videos – especially in the mainstream market."
Stryper are made up of the original lineup of singer / guitarist Sweet, guitarist Oz Fox, bassist Timothy Gaines and drummer Robert Sweet, though a poll put out by the frontman last year opened up the possibility of adding an additional singer. In May of 2015, Michael Sweet asked fans what they thought of the idea of bringing in a new singer as he is unable to hit the high notes like he used to. The fan response was overwhelmingly in favor of Sweet remaining the full time singer in Stryper.
Stryper Wearing Classic Yellow and Black Stage Outfits
09/29 – Atlanta, Ga. @ Center Stage
09/30 – Lake Buena Vista, Fla. @ House of Blues
10/01 – Jacksonville, Fla. @ Murray Hill Theatre
10/04 – Charlotte, N.C. @ Amos' Southend
10/05 – Valdosta, Ga. @ Salty Snapper
10/06 – New Orleans, La. @ House of Blues
10/08 – Houston, Texas @ White Oak Music Hall
10/09 – Dallas, Texas @ Gas Monkey Live!
10/14 – Riverside, Calif. @ Riverside Municipal Auditorium
10/15 – San Diego, Calif. @ House of Blues
10/16 – Anaheim, Calif. @ City National Grove of Anaheim
10/26 – Denver, Colo. @ Summit Music Hall
10/28 – Omaha, Neb. @ Sokol Underground
10/31 – Chicago, Ill. @ House of Blues
11/02 – Minneapolis, Minn. @ Cabooze
11/04 – Peoria, Ill. @ Limelight Eventplex
11/05 – Hazard, Ky. @ The Forum
11/06 – Louisville, Ky. @ Mercury Ballroom
11/08 – St. Louis, Mo. @ The Ready Room
11/09 – Nashville, Tenn. @ Venue TBA
11/11 – Grand Rapids, Mich. @ Intersection
11/12 – Cleveland, Ohio @ Agora Theater
11/13 – Columbus, Ohio @ Alrosa Villa
11/16 – Detroit, Mich. @ St. Andrews Hall
11/19 – Asbury Park, N.J. @ The Stone Pony
11/20 – New York, N.Y. @ Gramercy Theatre
11/21 – Raleigh, N.C. @ City Limits Saloon
See Michael Sweet's Celebrity Look-Alike