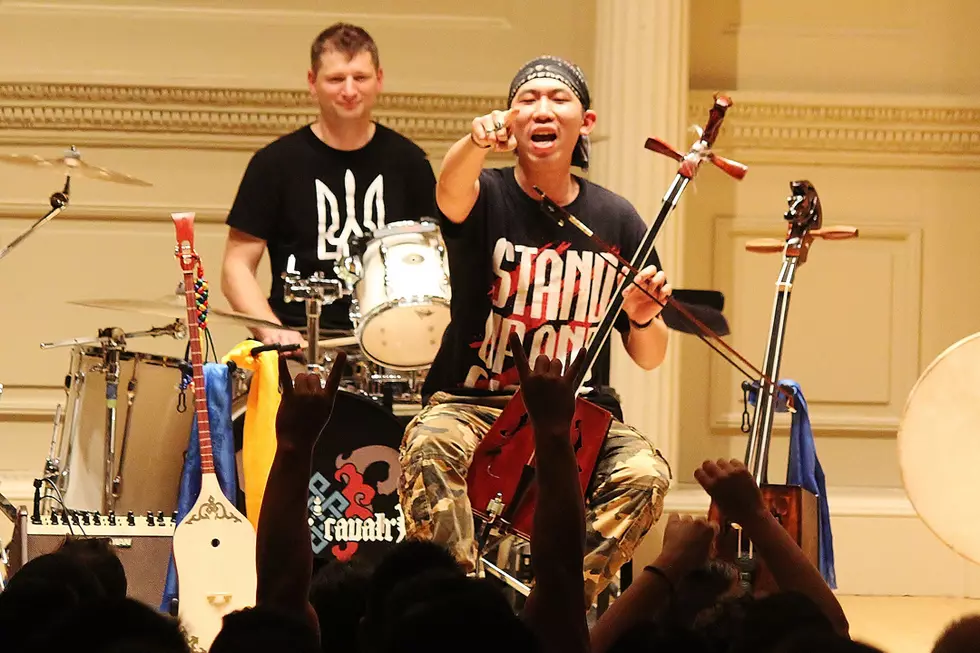 Tengger Cavalry Double Down With Two-Set North American Tour Dates
Liz Ramanand, Loudwire
Tengger Cavalry fans will be getting more bang for their buck this fall as the band is set to playing two sets nightly on their upcoming run. Each night, the band will play an hour-long set of World Music, Mongolian folk and light acoustic jazz, with their second hour-long set coming after a break with the music turning heavier with a set dedicated to nomadic metal.
Frontman Nature G says, "On our fourth North American headline tour, we will showcase two sets every night, featuring both traditional Mongolian folk music (inspired by the success of our Carnegie Hall performance), and brutal, heavy nomadic metal songs. The goal is for us to broaden the musical minds of our audiences on this tour."
The trek launches Nov. 20 in Philadelphia at Kung Fu Necktie and continues through Dec. 23 at Brooklyn's Brooklyn Bazaar. All tour dates for this special run can be viewed below and for ticketing information head here.
The band is also promoting their 2018 album Cian Bi, which can be purchased via Amazon, iTunes and GooglePlay.
Tengger Cavalry 2018 Tour Dates
Nov. 20 - Philadelphia, Penn.. @ Kung Fu Necktie
Nov. 22 - Ottawa, Ontario @ Mavericks
Nov. 23 - Toronto, Ontario @ Hard Luck
Nov. 24 - Québec City, Quebec @ La Source De La Martiniere
Nov. 25 - Cambridge, Mass. @ Sonia
Nov. 26 - Niagara Falls, N.Y. @ Evening Star Concert Hall
Nov. 27 - Pittsburgh, Penn. @ Spirit
Nov. 28 - Canton, Ohio @ Buzzbin
Nov. 29 - Lexington, Ky. @ Cosmic Charlie's
Dec. 1 - Milwaukee, Wis. @ Cactus Club
Dec. 2 - Chicago, Ill. @ Sleeping Village
Dec. 3 - St. Paul, Minn. @ Turf Club
Dec. 4 - Kansas City, Mo. @ Record Bar
Dec. 5 - Denver, Colo. @ Globe Hall
Dec. 6 - Salt Lake City, Utah @ Urban Lounge
Dec. 9 - Seattle, Wash. @ El Corazon
Dec. 10 - Portland, Ore. @ Tonic
Dec. 11 - San Francisco, Calif. @ Bottom Of The Hill
Dec. 12 - Los Angeles, Calif. @ Teragram Ballroom
Dec. 14 - Mesa, Ariz. @ Club Red
Dec. 16 - Dallas, Texas @ Three Links
Dec. 17 - Austin, Texas @ Come And Take It Live
Dec. 19 - Atlanta, Ga. @ Basement
Dec. 20 - Chapel Hill, N.C. @ Local 506
Dec. 21 - Lancaster, Pa. @ Lizard Lounge
Dec. 22 - Sparrows Point, Md. @ Yulefest @ Sparta Inn
Dec. 23 - Brooklyn, N.Y. @ Brooklyn Bazaar
The Best Metal Albums From 40 Subgenres