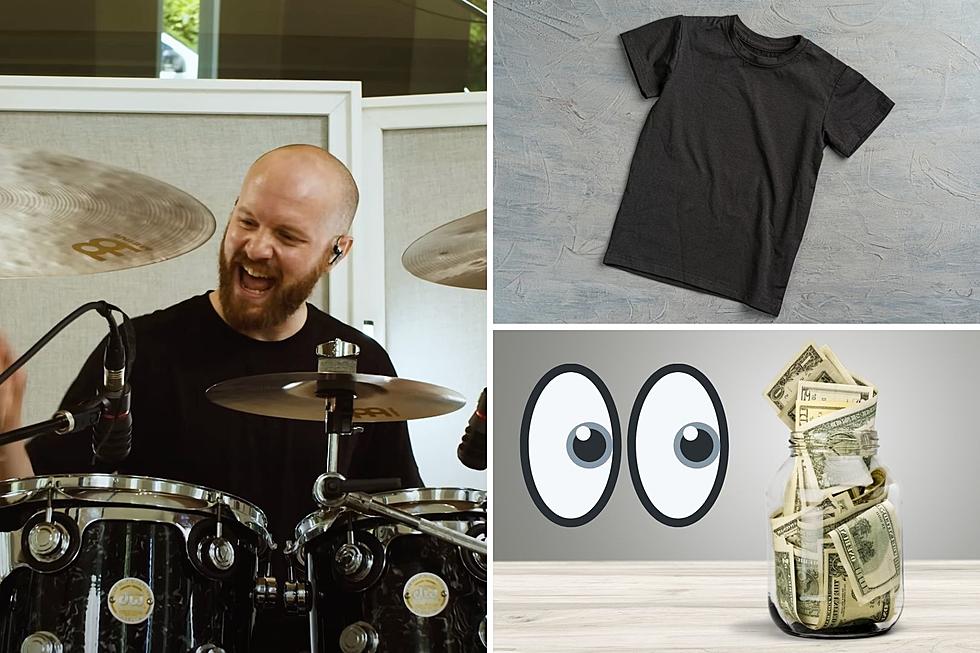 TesseracT Drummer Stunned by Tip Money for Merch Person, Wants Them to Share
YouTube: MEINL Cymbals / FabrikaCr, iStock/Getty Images / aristeer, iStock/Getty Images / Canva
UPDATE: TesseracT have since issued a new statement in response to the controversy regarding tips for merch sellers, walking back notions declared by drummer Jay Postones. See that post further down the page.
TesseracT drummer Jay Postones recently learned how much money the band's merch person is making in tips on tour and wants that to change. He thinks the money should be shared between everyone on the tour, which has been met with some backlash by other musicians and touring crew members.
Why Jay Postones Doesn't Think It's Fair That a Merch Person Keeps All the Tips
Postones shares his thoughts in a statement on Instagram, noting that when a fan puts money in the tip jar at the merch stand, that money is going to the individual running the stand, not to the band and its members. He says that some fans were unaware of this and, as a result, apologized that their donation never reached TesseracT directly.
The drummer also explains that "we have discovered that some merch sellers are generating in excess of $30k in tops of the course of a five-six week tour."
"No one else on a tour at our level makes anything close to this," Postones continues, "The band members certainly do not."
While he understands tipping culture, which is usually in place to bring a low-wage up to something more "livable," they do no contract the merch seller position as a "low-paid job."
Positing that the merch seller taking home the entirety of their tip money is "unfair," Postones argues that tips should instead be divvied up between everyone in the band's crew, as well as the members themselves, to prevent the merch seller from having a "monopoly on tips."
While TesseracT are unable to immediately reverse this structure, they had now set up a digital tip jar with a QR code, where fans can scan the code with their phone and provide a tip that will be "shared between the band and crew at the end of the tour."
Comments on this post were disabled at some point after the statement was first shared.
Read the full statement below:
On this US tour, we've discovered an imbalance that I wish to shed light on.

As a touring musician, we put a huge amount of energy into bringing our music to our fans. It's our pleasure and it's our passion – but believe me when I say it costs us everything to do this. Touring at our level breaks even. Everything goes toward production, crew, and travel costs.

When you purchase merch from a band at a US show and leave a tip – as is customary – you're not tipping the band. This tip goes to the merch seller.

From speaking with fans, we know some of you thought you were tipping the band. Firstly – thank you. Secondly, we apologise that your tip hasn't reached us – we didn't have vision of this system/ culture until now.

From speaking to peers, we have discovered that some merch sellers are generating in excess of $30k in tips over the course of a 5-6-week tour – which is insane. No one else on a tour at our level makes anything close to this. The band members certainly do not. The other crew members are on agreed fees, nowhere close to this.

We understand that in the US service industry, tipping culture is normal. It brings low-paid jobs up to a, hopefully, liveable level. The job we're hiring though is not a low-paid job.

While it goes against the grain, our suggestion is that all tips taken at the merch desk should be shared across the entourage – band, and crew. We're all here, working hard all day to bring the show to you. It seems unfair for one person to own the monopoly on tips for the entire package.

While it's too late to make this change mid tour, we have set up a digital tip jar that will be shared between the band and crew at the end of the tour. Scan the 'tip the band' QR code at our merch desk if you'd like your tip to reach all of us.

As always, thank you for your continued support. We can't wait to see you out there ♥
READ MORE: Why Do Venues Take Merch Cuts From Bands? - We Asked People Involved
TesseracT Vocalist Dan Tompkins Issues Clarifying Statement
After Postones issued his statement, TesseracT vocalist Dan Tompkins shared a clarifying statement, expressing he personally has no problem with U.S. fans tipping the merch seller, as this is a standard cultural practice in the country.
In other areas of the world, however, where tipping is not customary, he reiterates that fans have not been aware that their tips are not going to the band. Therefore, the digital tip jar is so fans can donate money in the manner they wish, knowing exactly who will be the intended benefactor.
Tompkins' entire statement reads:
Hey Everyone, just to clarify a few things and from my personal point of view, in the US I have no issue with merch sellers being tipped as is the custom. They work extremely hard during show days to help bands make money as do the rest of the crew…simple as that.

However, we've have had quite a few fans come to us and say that they've tipped the band at the merch table.

Please know that you're tipping the hard working merch seller in this way and these tips will not reach us and please do continue to tip the merch seller if you wish.

If you'd like to tip the band / crew you can do so via a small QR code at the merch table - certainly not an expectation.

Peace ✌️
Reactions to Jay Postones' Statement About Merch Seller Tips
It should come as no surprise that there have been some reactions to this from music industry professionals.
Shinedown guitarist Zach Myers calls Postones' statement "the mostly wildly tone deaf post of all time," suggesting he change professions and be a "merch guy" instead, followed by a clown emoji.
Merch seller Thaddeus Gavura shares his thoughts on the matter, saying that anyone who doesn't like how much money the merch seller is making in tips can simply do the job themselves instead. Former Chelsea Grin guitarist Jake Harmond replies, "Any band members who complain that their merch seller is getting tips or is withholding tips from the seller should get their ass beat. And then sell their own merch."
He also shouts at a number of bands he's worked with, thanking them for "understanding that with value comes a price."
Gavura also calls out Postones for disabling comments on his statement, saying he's "soft" for doing so.
Jaide Alicia, another experienced merch seller, says there has only been one instance in her experience where a band wanted to take tips from her "starting mid-tour."
TesseracT Post New Statement In Light of Controversy
Tesseract released a statement in light of the controversy, informing fans they do not intend to take any cut of a merch seller's tips. The band also reiterated past claims that fans had left a tip at the merch stand, incorrectly believing that money would, at least in part, be going to the band members.
See the full statement below.
10 Ways Not to Be an A--hole at Concerts
Because wtf is going on lately?
Gallery Credit: Lauryn Schaffner